Feedly - Get Smarter
Di DevHD
Questa app è disponibile solo sull'App Store per dispositivi iOS.
Descrizione
Your central place to organize, read, and share the information you need to stay ahead of the next big trend in your industry.

Every day, millions of professionals and passionate learners use Feedly on their iPhones and iPads to follow the blogs, magazines, and other sources that matter to them.

With Feedly, you can easily organize all your publications, blogs, YouTube channels, and more in one place and consume and share more efficiently. No more zig zagging. All the content comes to you in one place, in a clean and easy-to-read format.

People use Feedly to read blogs, learn new topics, and track keywords, brands and companies.

Faster access to lots of different sources of news and information means that you can more easily keep up with important trends in your industry and build up expertise on the topics you really care about.

Because Feedly is connect to more than 40 million feeds, you can really go deep and find the niche content that is specific to your work or passion - this is a big difference from alternatives that feel very shallow and random in the content that is available.

From tech to business, design to marketing, media and beyond, Feedly helps you discover great feeds that you can organize in your feedly and read in one place.

Because it is powered by RSS, Feedly is an open system: you can add any RSS feed and read it wherever you go. Just enter the URL of that feed in the search bar or search for it by name.

Feedly offers useful integrations with Facebook, Twitter, Evernote, Buffer, OneNote, Pinterest, LinkedIn, IFTTT, and Zapier so that you can easily share stories with your networks and teammates.

We believe in speed and simplicity. We spent a lot of time making sure Feedly is the best free reader available on the iPhone and the iPad. The app loads fast and offers a simple and clean reading experience.

The best way to start is to search for a blog, magazine or newspaper you like to read and add it to your Feedly.

If you are looking for inspiration, you can open the search panel and browse some of our popular topics. We help you discover the best blogs for tech, business, food, marketing, entrepreneurship, design, baking, photography and more.

Our mission is to deliver in one place all the knowledge and inspiration you need to keep ahead.

Happy reading!

[We are hello@feedly.com and @feedly if you need support or want to report a bug]
Novità nella versione 38.0.0
Introducing an iOS Share extension that lets you save articles you discover in other application into your Feedly boards.

Fixes crash when selectively saving images your discover in your Feedly in your photo library.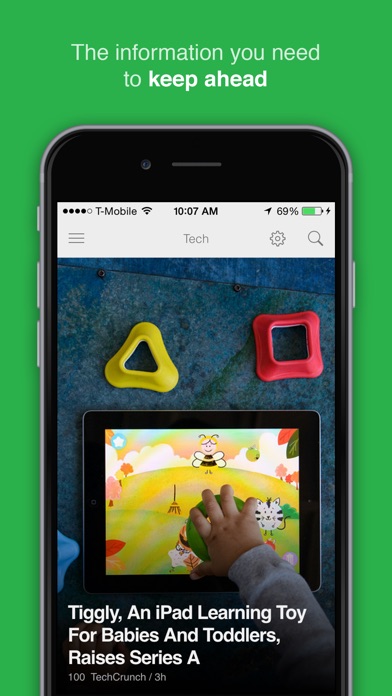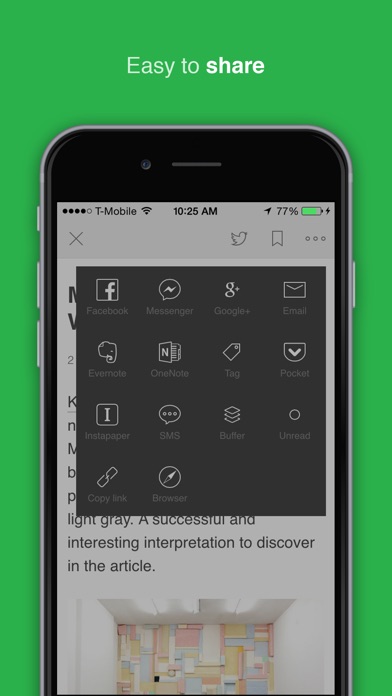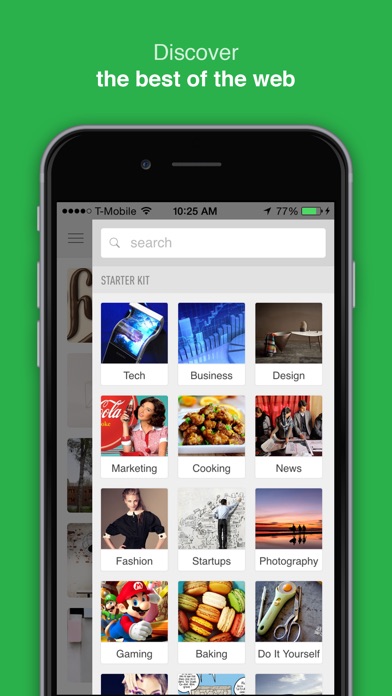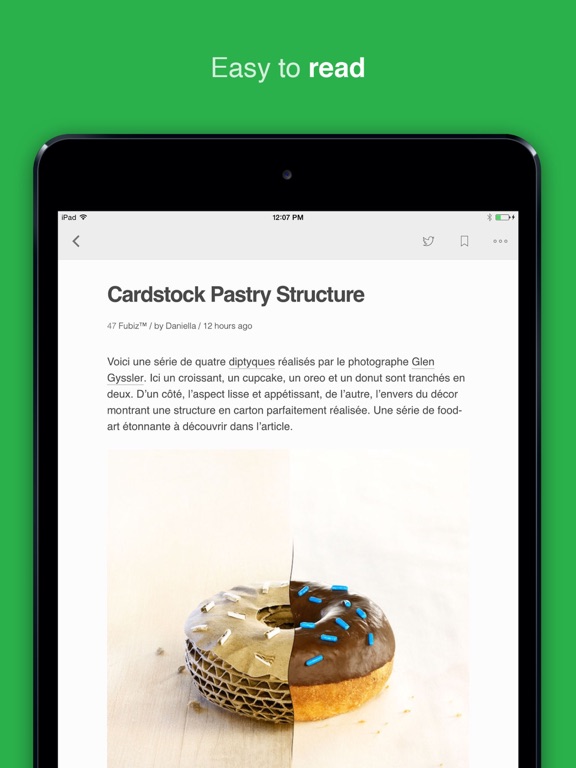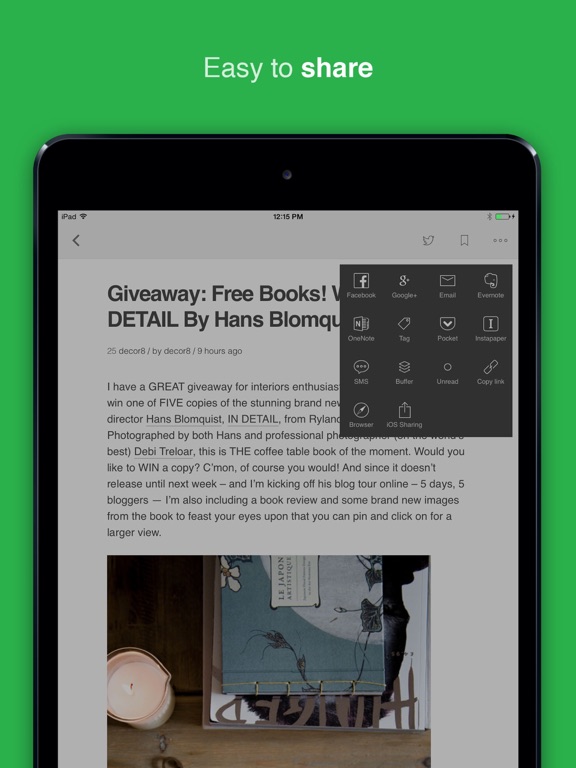 Recensioni clienti
Gesture standard non presenti
Su iPhone 7 Plus è inutilizzabile con un una sola mano. Per uscire da un feed non ci sono gesture, bisogna per forza premere il tasto "indietro" in alto a sinistra. Quindi è scomodissima per i dispositivi Plus e non solo. Lo scorrimento della lista dei feed è strano, non capisco perché non sia ancora possibile scorrere i feed controllando lo scorrimento con il dito, si possono scorrere solo gruppi di feed.

Graficamente accettabile e fa molto bene quello che deve fare. Ma la mancanza delle gesture è molto grave.
Great, but a couple improvements much needed
I love this app.

*** to i_Matto : check better, the gesture is available, it's "scroll from the left border to the right" and will bring you to the articles list.

This said:

- free, inertial scrolling without being forced to a full-page slide of articles each time I scroll up or down would be appreciated.

- sometimes I just can't open the article. Just mark read or unread. Closing and opening the app fixes that.

- sometimes when I open an article I can't read more than the first page, scroll down doesn't work. Can be fixed closing and opening the app.

Thank you.

Luca
Buona app di news
Layout e usabilità straordinarie. Veloce e puntuale.
Preferirei maggior autonomia nel definire i filtri, le keyword da inserire o da non inserire (a me non importa game of thrones, come faccio a rimuovere le news che lo riguardano?).
Nel complesso molto utile
Vedi in iTunes
Quest'app è progettata per iPhone e iPad
Offre l'app di Apple Watch per iPhone
Gratuiti

Categoria:

News

Aggiornato:

04/08/2017

Versione:

38.0.0

Dimensioni:

58.7 MB

Apple Watch:

Sì

Lingua:

Inglese

Sviluppatore:

DevHD Inc
Compatibilità: Richiede iOS 8.0 o versioni successive. Compatibile con iPhone, iPad e iPod touch.