gTasks - Tasks Manager per Google/Gmail liste di attività e promemoria
di Yaniv Katan
Apri iTunes per acquistare e scaricare le app.
Descrizione
● gTasks is a powerful and intuitive tasks manager.
● Supports full synchronization with Google Tasks (GMail/Google Apps) securely over https, naturally integrating into Google Calendar.
● Repeating tasks (daily, weekly...), e.g. "Pay credit card" every month. Once completed, the task's date is updated to the next month.
● Alerts for upcoming tasks including repeating alerts for repeating tasks.
● Location based alerts*, such as "When I arrive home", "When I leave the office" or "When I'm nearby the shopping mall".
● Multi-level sub-tasking.
● Universal app - designed both for iPhone and iPad, neat and clean user interface.
● Very clean, responsive (fast) and intuitive user interface.
● Customizable tasks view & full search support.

* Location based alerts: Due to hardware limitations, this feature is available only on iPhone 4 and above, iPad 2 3G and above, running iOS 5.0 and above.

Optionally, you can sync your tasks with Google Tasks.
Google Tasks is available in free GMail/Google account or Google Apps account.
Syncing your tasks with Google Tasks has the following benefits:
● Sync your tasks between your iPhone and iPad devices.
● No permanent internet connection required. gTasks will sync updated tasks as soon as an internet connection is available.
● Your tasks are backed up.
● Manage your tasks conveniently on your home/office PC, and have them synced to your iPhone/iPad and vice versa.
● Have your tasks in your Google Tasks and Google Calendar.
● Share tasks with your colleagues.

gTasks can be freely used up to 2 accounts, 2 lists per account and 7 tasks per list.
First install this free app and start using it. If you like it and want to use it for more than the limited tasks, you can purchase the upgrade by going to gTasks settings, scroll down and tap "Purchase".

gTasks allows you to manage and sync unlimited amount of tasks through an auto-renewing subscription.
Subscriptions will be charged to your credit card through your iTunes account.
Your subscription will automatically renew unless cancelled at least 24 hours before the end of the current period
You will not be able to cancel a subscription during the active period. You can manage your subscriptions in the Account Settings after purchase.

Privacy policy: http://www.katans.com/a/privacy-policy/genesis.html


Check out this video at:
http://www.youtube.com/watch?v=Dr-cHRmOfwg
Novità nella versione 4.9.4
○ Fixed bugs and improved performance.

We love to hear your feedback.
Go to Settings > Feedback & Support > Support and let us hear your voice :)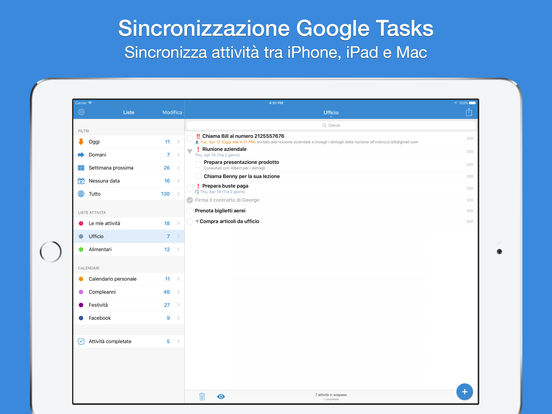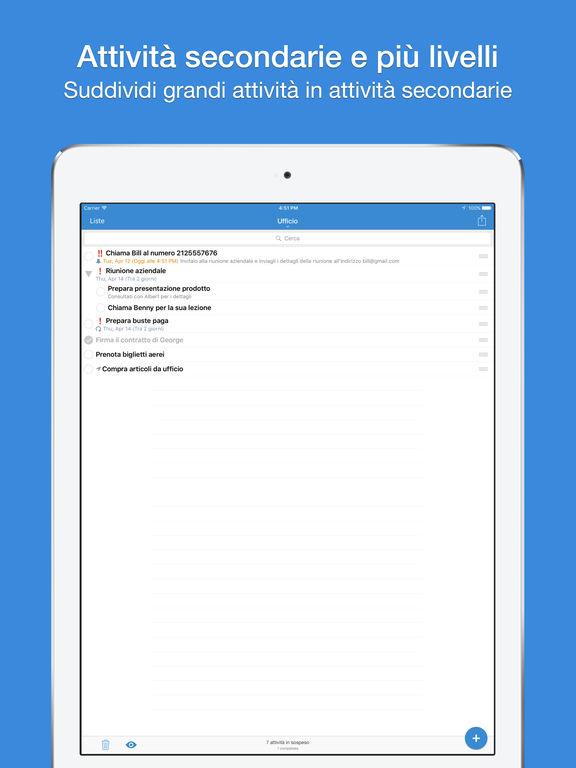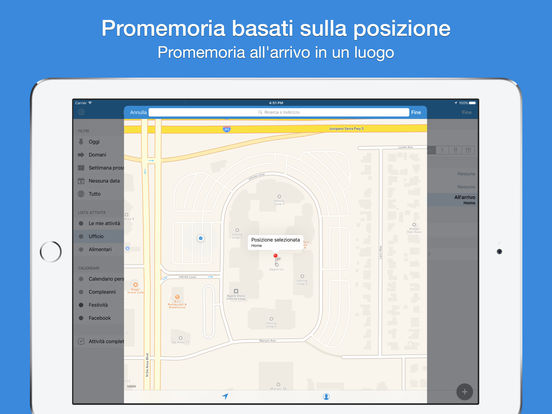 Recensioni clienti
Efficace, fa bene ciò che serve!
Semplice e completa, ovviamente la versione pro. Quella dimostrativa serve solo per giocare...
Ottima
Ottima e molto efficace
Limitata
Se non si acquista la versione pro l'applicazione è veramente limitata nel numero di task inseribili
Vedi in iTunes
Quest'app è progettata per iPhone e iPad
Offre l'app di Apple Watch per iPhone
Gratuiti

Categoria:

Produttività

Aggiornato:

11/07/2016

Versione:

4.9.4

Dimensioni:

28.2 MB

Apple Watch:

Sì

Lingue:

Italiano, Arabo, Bokmål Norvegese, Ceco, Cinese Semplificato, Coreano, Danese, Ebraico, Francese, Giapponese, Inglese, Olandese, Portoghese, Russo, Spagnolo, Tedesco, Turco

Sviluppatore:

Yaniv Katan
Compatibilità: Richiede iOS 8.0 o versioni successive. Compatibile con iPhone, iPad e iPod touch.
Top acquisti In-App
Attività illimitate5,99 €
Unlimited Tasks5,99 €
Unlimited Tasks2,99 €
Unlimited Tasks2,99 €