JAPAN MAP by itsumo NAVI
di ZENRIN DataCom CO.,LTD.
Apri iTunes per acquistare e scaricare le app.
Descrizione
The latest ZENRIN map is now available in English, Chinese (Simplified and Traditional Chinese), and Korean!
The search functions such as street address and category searches will be available these languages.
* The search function currently supports only English.
* It will support other languages as well.

ZENRIN公司的最新地圖可支援英語、中文(简体·繁体)、韓語、日語等語言。
預定提供支援中文(简体·繁体)、韓語的地址和美食等類別搜尋功能。
※目前搜尋功能僅支援英語。
※還將計劃提供其他語言的版本。

ゼンリンの最新地図が英語、中国語(繁体・簡体)、韓国語(ハングル)でも使える!
住所検索やグルメ検索などの検索機能も中国語(繁体・簡体)、韓国語(ハングル)に対応予定です。
※現在の検索機能は英語のみとなります。
※他の言語についても対応を進めています。

Runs on Apple Watch!
・ Convenience stores or cafes nearby are searchable.
・ It displays "Distance" and "Direction" to your destination.
・ Your current location is on push notification to tap the map.
* It is available only in English on Apple Watch.

可支援Apple Watch!
您可以搜尋附近的便利商店或咖啡店等。
本地圖顯示截至到目的地的距離和方向。
輕觸地圖,以推送通知記錄您的目前位置。
※Apple Watch中的ZENRIN公司的最新地圖僅提供英語版本

Apple Watch にも対応!
・周辺のコンビニやカフェなどを検索できます。
・目的地までの"距離"と"方向"を地図上に表示します。
・地図をタップしてプッシュ通知に現在地をメモすることができます。
※AppleWatchは英語のみ対応

JAPAN MAP is a multi-lingual map application which runs on iPhone or iPad.
It displays the map of entire Japan written in both Japanese and a multi-language.
As a matter of cause, it can display only Japanese.

JAPAN MAP為iPhone及iPad專用的多語言地圖App。
我們提供日語和其他語言同時標記的日本全國地圖。
也可以只顯示日語名稱的地圖。

JAPAN MAPは、iPhone/iPad向けの多言語地図アプリケーションです。
日本全国の地図が日本語と他言語で併記された地図を提供します。
もちろん、いつもの日本語だけの地図も使うことができます。

About the Contents
About the Map
This map uses the 1/500000 and 1/25000 topographical map provided by Geospatial Information Authority of Japan (GSI) of Ministry of Land, Infrastructure, Transport and Tourism (MLIT) with its approval. (Approval code平26情使、第244-B15号)

--------------------------------------
Notice
*To use this application, internet connection such as 3G, Wi-Fi or other networks will be required.
*Current location measurement is available only inside Japan.
*Street address and facilities category searches are available only in English.
*Free word search is not yet available.
*There may be a margin of error between the measured current location and your actual location.
--------------------------------------
Novità nella versione 2.4.0
・ The map now supports Chinese (Simplified and Traditional Chinese) and Korean.
地圖顯示目前位置支援中文(簡體·繁體)和韓語。
地図の表示が中国語(簡体字・繁体字)、韓国語(ハングル)に対応しました。
Apple Watch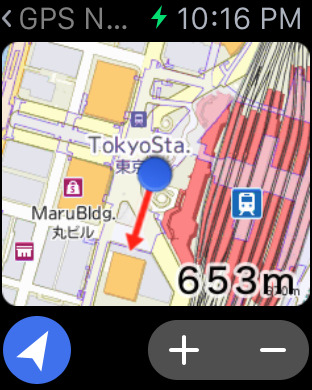 Vedi in iTunes
Quest'app è progettata per iPhone e iPad

Offre l'app di Apple Watch per iPhone
Gratuiti

Categoria:

Viaggi

Aggiornato:

09/07/2015

Versione:

2.4.0

Dimensioni:

8.9 MB

Apple Watch:

Sì

Lingua:

Inglese

Sviluppatore:

ZENRIN DataCom Co.,LTD.
Compatibilità: Richiede iOS 7.0 o versioni successive. Compatibile con iPhone, iPad e iPod touch. Questa app è ottimizzata per iPhone 5, iPhone 6 e iPhone 6 Plus.
Altre app da ZENRIN DataCom CO.,LTD.