Paletto - Typo Filter to diary
Di AND CORPORATION
Questa app è disponibile solo sull'App Store per dispositivi iOS.
Descrizione
■ Paletto 2.0 Released! Free trial for 5 days! Edit and share better! ■

■ Boom: Lifestyle Top1 & Top2 Free App in South Korea.
■ Apply typo filter to your diary with Paletto.■

[JUST TYPE THAT IS ART]
Do you only apply special-effect filter to your photos?
Apply typo filter to your diary just like you do to your photos!
Create unique photo diary using typo filter to express yourself and share it on Instagram.

With a simple screen-touch or two, you can create an awesome diary and a note.
We all have a variety of emotion and character but all diaries and notes look the same. Why don't we make it a little more unique and special?
Using 'typo filter', Paletto adds special sentimentality to your posts and diary.

-------

"We created Paletto because we wanted to find beauty even in the shortest blurb.
All notepads are the same, aren't they?
We wanted to stand out." - Team Paletto

-------

No more boring white-background diary! Easily post your articles or keep your diary just like you choose typo filer on Photoshop.

1. Write your diary
2. Choose typo filter and color filter that best matches with your posts. Simply tap the screen twice. That's all you need!
3. Share Paletto on Social Media : Instagram, Facebook, Twitter etc. Just click on it!
You can also create a decent photo card!
4. 20 kinds of typos and 32 kinds of backgrounds and colors. Updated every day!.

I want to express my emotion a little better. I'd like to share my posts with a lot prettier photos on social media. I want my baby's photos look much cuter online. I want to create a special post for my darling. This is why we have created this app.

-------

"I love journaling, but with a crazy job and a two year old at home, lately I often don't have enough time to sit down and write long, well thought out entries.
Paletto lets me add additional feeling and context to these little snippets through color and typography." - Nicole Cohe

-------

[LOVELY FEATURES]
- Super easy making Typography note.
- Backup by Dropbox
- Passcode Lock with Touch ID
- Reminder for lifelog
- Quick&Suitable for social sharing
- Export to JPG
- Tags
- Search

[Who needs Paletto?]
Treasure each moment, savor each phrase, and show how much you cherish those you see every day.
With Paletto, you can capture the ordinary, little joys in life, treasure sweet memories with your lover, record the diary of your precious baby, or cherish the conversations with your daughter that would have been lost with the passage of time.
Your memories will be as beautiful as ever, and just a glance will make you smile. With Paletto.

[Help! Paletto needs more fonts!]
Paletto currently supports English, Korean, Japanese, German, Portuguese, Spanish, and Indonesian.

Help us provide Paletto in more languages and kits. To do so, we need more fonts.
If possible, embeddable free fonts would be the best. We welcome any language or region. Please help us make Paletto available to more people around the world.

- Help: http://palettoapp.com
- email: contact@palettoapp.com

[Additional Info]
- Homepage: http://palettoapp.com
- Bug, Tech support: support@palettoapp.com
- Instagram: https://www.instagram.com/palettoapp/
- Facebook: https://www.facebook.com/Palettoapp-2046003002290958/
- Twitter: https://twitter.com/Palettoapp/
Novità nella versione 2.1.1
Paletto 2.1.1 Released!

[New Features]
-Grid View Added!
-Adjust the font size via buttons!
-Fixed App Crashing Issues.
-Fixed Grid View Crashing Issues.
Istantanee iPhone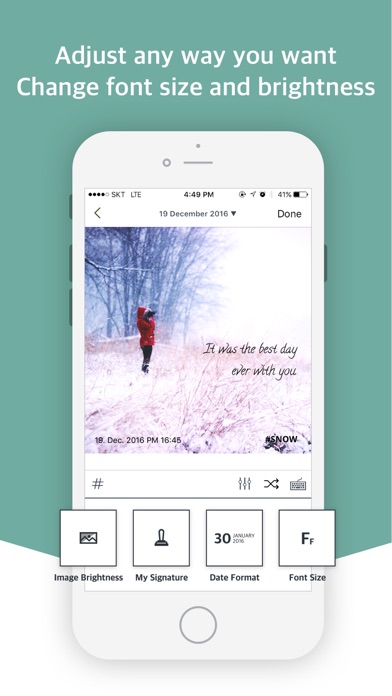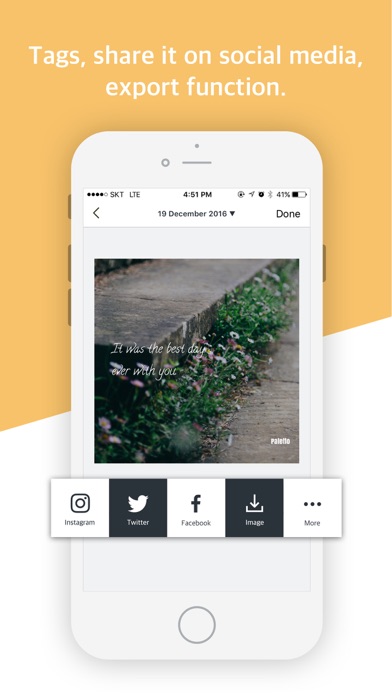 Vedi in iTunes
Gratuiti

Categoria:

Stili e tendenze

Aggiornato:

09/09/2017

Versione:

2.1.1

Dimensioni:

135 MB

Lingue:

Cinese Semplificato, Coreano, Francese, Giapponese, Indonesiano, Inglese, Portoghese, Spagnolo, Tedesco

Sviluppatore:

AND CORPORATION
Compatibilità: Richiede iOS 9.0 o versioni successive. Compatibile con iPhone, iPad e iPod touch.
Top acquisti In-App
PALETTO PRO KIT2,29 €
Remove Ads1,09 €
Altre app per iPhone di AND CORPORATION