Pocket Informant - Day Planner with full GTD-style Tasks
di Web Information Solutions, Inc.
Apri iTunes per acquistare e scaricare le app.
Descrizione
Pocket Informant is a professional day planner integrating calendaring and powerful task management, along with rich notes and contacts. Our users are passionate and rightfully so. Their calendars and tasks drive them to success and Pocket Informant helps them get there. Join the almost million users who depend on Pocket Informant daily and have for almost 15 years.

"Tried it all, and found the best. From functionality to support, I could not have asked for a better app!"
------
"This app is the reason I bought an iPad. I traded in my DayRunner and other tools because Informant covers them all."

Works with your built-in calendar data, Google, Toodledo, Evernote or our own Informant Sync.  FREE download includes 7-day trial of full feature-set. Requires one-time purchase in-app for full feature-set. This is a try-before-you-buy because we are confident that you will LOVE Pocket Informant!

UPGRADE TO PREMIUM (one-time purchase)
In addition to allowing unlimited calendars, Reminders and tasks, Premium includes the following:
• Print your calendar/tasks (list format)
• Sync with Google, Toodledo, and Evernote
• Airdrop, Email or Message your events, tasks & notes
• Rich Text Notes and Contact Management
• Task Smart Filters

AWESOME CALENDARING
• Type (or speak*) naturally! Simply enter phrases like "Coffee with Mom Tuesday at 8am".
• TravelAssist™ helps manage the timezone mess! Let Informant automatically setup your timezones for you – both inside and outside your trip dates!
• Today Widget allows you to see and access your Informant data from your device home screen!
• Travel ETA to your next event
• Show Event Conflicts by Calendar
• Location Aware - PI suggests locations as you type. See today's events plotted on a map. Tap to get driving directions to your events.

GET HOLIDAY AND OTHER CALENDARS: We've partnered with SchedJoules to offer you a huge selection of calendars that you can purchase from their calendar store (integrated into Informant): everything from Name Days, Holidays, Phases of the Moon, Sports Calendars, and more.

POWERFUL TASKS
• Type (or speak*) naturally! Enter phrases like "Take out garbage every Friday at 8am".
• Import Apple Reminders into any Project or Task List
• Checklists - for tasks that contain lists - like groceries, packing, etc.
• Fully integrated in the calendar - or as a separate view
• Filtering - several handy built-in filters or create your own Smart Filters.
• Templates - create templates that automatically pre-populate new tasks
• Task Modes - Simple, GTD, or Franklin Covey. Manage your tasks in your own way!

SMART TITLE
Automatically bring up templates and contacts as you enter an event or task title to setup meetings, calls, and more!
Link to phone numbers, addresses, email addresses for quick access

ADVANCED LOCATION SUPPORT
Get task alerts when you get near a custom area around your locations (geofencing) - or indoors using Apple's iBeacon technology. Geofencing works great for outdoor locations – iBeacons handle the indoor locations!
Automatically change your Calendar or Task filters based on location

WEATHER
Planning a day out on the beach? Check the forecast on your calendar! Requires in-app purchase. Free trial included.

SYNC LETS YOU WORK OFFLINE
• Informant Sync - The best way to keep all your Informant data in sync across all your iOS & Android devices. Available as an in-app subscription.
• Google Calendar & Tasks (Premium Feature)
• Toodledo (Premium Feature)
• Evernote (Premium Feature)
• Access iPhone/iPad Events and Reminders directly

CUSTOMIZABLE
Several built-in themes to fit your style! Colors, icons, tags, and more!

SO MUCH MORE!
Check out our website (http://pocketinformant.com/) for more information!
If you have questions, please visit the links below or send an email to press@webis.net

*Dictation requires iPhone 4S or later, 5th gen iPod Touch or 3rd gen iPad or later
GTD and Getting Things Done are ® of the David Allen Company
Novità nella versione 4.72
Continued fixes for iOS 7 customers
Apple Watch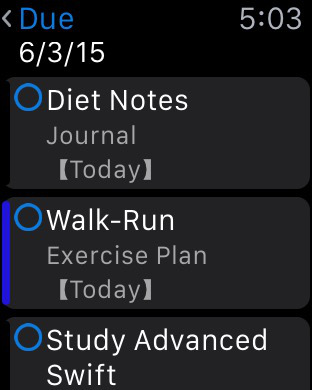 Recensioni clienti
Great app, finally fixed
Great app, has a lot of functions and is complete. However on ios 7.1.2 on iPhone 4s it crashed on start. Even if in the changelog of last update you say that the app does not work on ios 7.1 you did not change the info of the app: in this way the apple server still offers the app to ios 7.1 users (and installs it if automatic updates are activated) and it is impossible to get back to the older version! (Usually when buying or redownloading an app if the Info says the latest version is not compatible the apple store will only offer automatically the last version compatible with your ios). So why did you not change the info available in the app page (bottom of the page)? In this way you caused a great problem for people that use this app for work and also we cannot download the older version! Two updates, still crashed, after deleting the app two times and reinstalling it a third time, now finally it works, ot was quite painful. I am giving 3 instead of 5 stars for this
Ormai irrinunciabile
Da anni la utilizzo, scelta principalmente per avere in un unica schermata ToDo e Calendario, offre tantissime possibilità ed è aggiornata spesso. Consigliatissima!
Affidabile e completa ma...
manca solo la possibilità d' inserire foto nelle note.
Vedi in iTunes
Quest'app è progettata per iPhone e iPad
Offre l'app di Apple Watch per iPhone
Gratuiti

Categoria:

Produttività

Aggiornato:

08/07/2015

Versione:

4.72

Dimensioni:

51.8 MB

Apple Watch:

Sì

Lingue:

Italiano, Bokmål, Norvegese, Cinese, Coreano, Francese, Inglese, Olandese, Polacco, Portoghese, Russo, Spagnolo, Tedesco, Turco

Sviluppatore:

Web Information Solutions, Inc.
Compatibilità: Richiede iOS 7.1 o versioni successive. Compatibile con iPhone, iPad e iPod touch. Questa app è ottimizzata per iPhone 5, iPhone 6 e iPhone 6 Plus.
Top acquisti In-App
Meteo0,99 €
Full Premium Upgrade14,99 €
Informant Sync 1 Year14,99 €
Ferie Nazionali Italia0,99 €
Fasi lunari calendario0,99 €
Calendario - Serie A Calcio Men Italia 2014-2015 edizione0,99 €
Calendario - Serie A Calcio Men Italia 2015-2016 edizione0,99 €
Feste religiose0,99 €
Informant Sync 1 Month4,99 €
Calendario - Football Brazil 2014 edizione0,99 €
Altre app da Web Information Solutions, Inc.