Relax Melodies Oriental Meditation Premium: White noise & sleep zen sounds for relaxation, yoga and health
Di iLBSoft
Apri iTunes per acquistare e scaricare le app.
Descrizione
•• MOST-EFFECTIVE sleep aid brand ••
•• OUTSTANDING bank of 102 sounds ••
•• SLEEP like you haven't in a LONG time! ••

Give yourself a break and get back the sleep you deserve through relaxing sessions with the Oriental themed version of the popular and original Relax Melodies App! By falling into a peaceful state, it will help you achieve a deep sleep and feel much better when you awake. No more lacking of sleep or insomnia for you!

Just like its big brother app, Relax Melodies Oriental is a unique and innovative concept that will make you sleep. Its simpleness allows you to create personalized mixes by combining high quality white noise sounds and music that connect with you.

Mix, Play & Sleep. As simple as it sound, it works! Join other million of users and let us know how it worked for you.

Enjoy now the exclusivity of this Oriental themed version of Relax Melodies, the leader in sleep assistance.

== FEATURES ==

• 102 high quality ambient sounds, including 6 binaural beats frequencies for brainwave entrainment.
• iTunes songs integration. Create unique playlists with your favorite songs and combine them with our relaxing melodies.
• Play your mix in background. You can still relax while using your other apps.
• Mix your favorite sounds together with different volume to create your own personal melodies and get infinite possibilities!
• Beautiful high-res image associated to every sound for easy mental visualization
• Image slideshow of selected sounds for a complete integration with your mix
• High quality Retina graphics
• Avant-garde and easy to use individual sound volume adjustments
• Include 5 off the shelf favorites for easy startup
• Create, Save, Name, Sort and Replay your favorites easily
• Clock display with brightness adjustment available in 2 different themes
• Multiple Alarms & Timers system. Use your own favorite mix as an alarm to wake up slowly and refreshed.
• Connect with Airplay devices!

== 6 Binaural Beats ==

Dreamless Sleep / Dreams / Deep Meditation / Pre-Sleep / Relaxation / Concentration

== TESTIMONIES ==

I love that you can combine the different sound together. All of the sounds are beautiful. I love this app. It helps me sleep at night.

Love falling to sleep with this playing, very relaxing & peaceful.

I use it 4 or 5 times a week to help me sleep.. Or power nap (uh, I mean meditate, yeah that's it). My 7 year old uses it to get to sleep sometimes too.

I love the versatility and ease of creating your own melodies. The sleep alarm and clock are nice accessories.

This is my very first review . I had to take the time to do this because this is the best app ever. I have insomnia n I didn't want to use meds. This app is the best alternative ever. I'm asleep within 10 mins. LOVE!!! Great work

== JOIN THE COMMUNITY OF QUALITY SLEEP ==

A quality sleep will not only make you feel better but has also a lot of benefits on your health, temper and productivity. With Relax Melodies Oriental, you can now help your mind and body to take advantage of these benefits. Join now the relaxed community of millions of users where your hours of sleep will turn into bliss!
Novità nella versione 4.1
We listened to your feedback, and we fine tuned our new design!

- Adjusted sound volume
- Improved interface. Find sounds, melodies, brainwaves, guided meditations and courses all in one place.
- Fixed background audio issue
- iPhone 6 Plus bugfixes
- Many bug fixes and usability improvements
Istantanee iPhone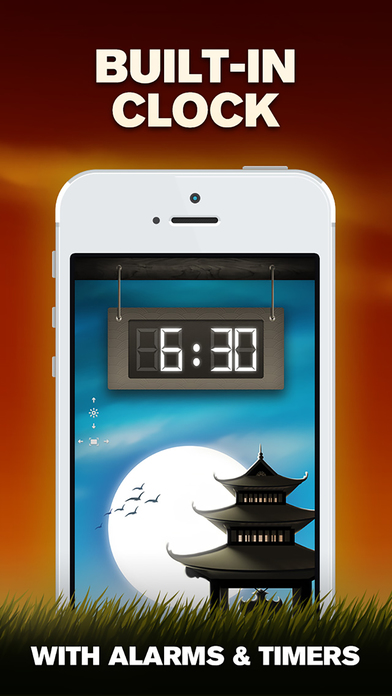 Recensioni clienti
Non vado mai a dormire senza
Adoro questa app, prima di andare a dormire accendo la musica e mi rilassa sempre.
In più la nuova versione ha i corsi e le meditazioni guidate...le ho comprate e sono davvero ben fatte. Spero ne aggiungano altre quanto prima!!
Ottima davvero.
Try this at home
Forse la prima app di meditazione che non suona come una fregatura ma segue percorsi ben strutturati. I suoni sono da modularsi - le impostazioni di default sono molto alte - ma è divertente provare le combinazioni.
Ho eliminato le altre app
Prima avevo sull'ipad molte app che riproducevano suoni della natura, di ambiente e binaurali... Le ho eliminate tutte per far spazio solo a questa meravigliosa app :)
Vedi in iTunes
2,99 €

Categoria:

Salute e benessere

Aggiornato:

05/12/2014

Versione:

4.1

Dimensioni:

124 MB

Lingue:

Italiano, Cinese Semplificato, Francese, Giapponese, Inglese, Russo, Spagnolo, Tedesco

Sviluppatore:

iLBsoft
Compatibilità: Richiede iOS 6.0 o versioni successive. Compatibile con iPhone, iPad e iPod touch.
Top acquisti In-App
Introduction to MeditationGratuiti
Zen Nature Ambience for Massage0,99 €
Isochronic Tones - Brain Wave for Deep Sleep Cycles0,99 €
Special Offer - Lifetime Access9,99 €
Calming Urban Sounds for Sleeping & Dreaming0,99 €
Colored Noises - Tinnitus Reliever Helper0,99 €
Spiritual High2,99 €
Better Time Management2,99 €
Find Peace in Nature2,99 €
Attract Healthy Relationships2,99 €