HYDEPARK PHOTOGRAPHY n. 1
The Magazine Made By Photographers
hydeparkphotography.net
Questo libro è disponibile per il download con Apple Books su Mac o dispositivo iOS. I libri Multi-Touch possono essere letti con Apple Books su Mac o dispositivi iOS. I libri con elementi interattivi funzionano meglio sui dispositivi iOS. Apple Books su Mac richiede OS X 10.9 o versione successiva.
Descrizione
Hyde Park Photography is the magazine made by photographers thought for the photography addicted on the hydeparkphotography.net web site. 
Our mission is to provide an international showcase for photographers around the world. Our magazine is for photographers who love themselves sharing their work online, and would love to see their images in a digital publishing magazine. 
Hyde Park Photography is a showcase of new photographers with a selected best work submitted to http://hydeparkphotography.net.
Immagini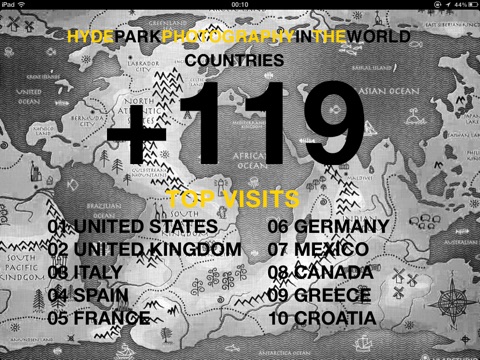 Recensioni clienti
A think different magazine
This is the magazine that I have always dreamed about. Hyde Park Photography magazine is a real international showcase and photographic culture place. Each issue of this magazine I could read it in 10 years, and never will appears old. An investment for the readers but also for the photographers involved in this project.
Ottimo
Davvero ben fatto, da avere se si ama la fotografia
Beautiful
Amazing Magazine.... I appreciate the video-interview. Waiting for the new issue...
Vedi in iTunes
Gratis

Categoria:

Fotografia

Pubblicato:

03/07/2012

Editore:

INDEX

Pagine:

100

Lingua:

Inglese
Dello stesso autore: hydeparkphotography.net