Reflexology PRO for iPad
By Danijel Lasic
This app is only available on the App Store for iOS devices.
Description
★★★★★ Reflexology PRO for iPad ★★★★★

Reflexology is an ancient practice that uses pressure techniques on certain parts of the foot and hand to heal various medical conditions.

Today, by using knowledge of anatomy and physiology, reflexology has a more scientific approach. Various researches have proved its healing possibilities.

This application contains:

DETAILED IMAGES AND TEXT REGARDING MORE THAN 60 BODY ORGANS/PARTS(!):
(Adrenal gland, Anus, Appendix, Arm, Ascending colon, Back of head, Bladder, Breast, Descending colon, Diaphragm, Duodenum, Ears, Elbow, Eustachian tube, Eyes, Face, Fallopian tube, Gallbladder, Heart, Hepatic flexure, Hip, Ileocecal valve, Kidney, Knee, Liver, Lung, Lymph drainage, Lymph nodes of axilla, Lymphatic system, Mid-back, Neck, Esophagus, Ovary - testis, Pancreas, Parathyroid gland, Pelvic muscles, Pineal gland, Pituitary gland, Rib cage, Sacroiliac joint, Sciatic nerve, Shoulder, Side of head, brain and neck, Sigmoid colon, Sigmoid flexure, Sinuses, Small intestine, Solar plexus, Spine, Spleen, Sternum, Stomach, Teeth, Thymus gland, Thyroid gland, Top of the head and brain, Trachea, Transverse colon, Ureter tube, Uterus - prostate, Vocal cords...)

MORE THAN 25 COMMON MEDICAL DISORDERS! Each has its own references to reflex areas which need to be treated!

EVERY REFLEX AREA HAS ITS OWN VISUAL INSTRUCTIONS (for feet and hands, and detailed visual locations regarding:
★ Sole of right foot
★ Sole of left foot
★ Top of right foot
★ Top of left foot
★ Medial and lateral side of right foot
★ Medial and lateral side of left foot
★ Palm of right hand
★ Palm of left hand
★ Back of right hand
★ Back of left hand

FOR EVERY BODY ORGAN there is a representative image which shows location of chosen organ in human body, and textual description of main functions of that body organ.

FULL SCREEN OPTION! - you can see instructions/locations image of every reflex area in full screen mode!

ALL REFLEX AREAS OPTION! - you can quickly see all reflex points for all foot/hand sides!

OPTIONS FOR CUSTOMIZATION OF APPLICATION!
★ button sounds toggle
★ location of buttons (for left handed or right handed users)
★ various themes/skins which change the appearance of the application buttons, backgrounds, etc.

LARGE AMOUNT OF TEXT REGARDING:
★ reflexology in general
★ history of reflexology
★ longitudinal zones
★ transverse zones
★ benefits of reflexology
★ structure of feet
★ common feet problems
★ feet care
★ structure of hand
★ common hand problems
★ hand care
★ various massage/pressure techniques! (used to perform reflexology treatment)

★★★★★
This application is specially designed for iPad's big screen!

★★★★★
We also have some great ideas that will be implemented in future updates!

VISIT US: www.appidia.net
FOLLOW US: twitter.com/appidia
What's New in Version 1.3
- bug fixes
- adjustments for iOS 7
iPad Screenshots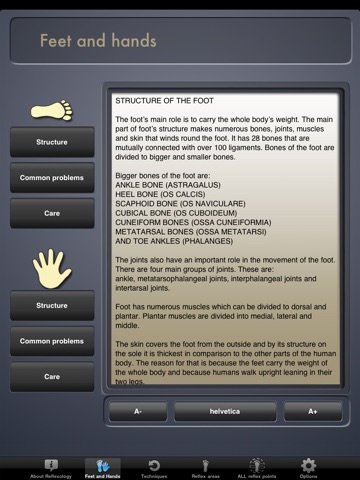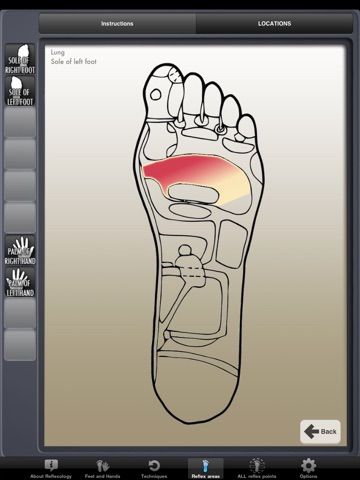 View in iTunes
USD 6.99

Category:

Medical

Updated:

03 April 2014

Version:

1.3

Size:

28.4 MB

Language:

English

Developer:

Danijel Lasic
Compatibility: Requires iOS 6.1 or later. Compatible with iPad.