Drafts: Quick Capture
デベロッパ:Agile Tortoise
この App は、iOS デバイス用の App Store でのみ入手可能です。
説明
Drafts, where text starts. Quickly capture text and send it almost anywhere! New low price, Great new iOS 10 features!!!

#### iOS 10 ready with Messages app, Dictation and more!
#### Macworld, Eddy Award Winner, 5 Mice!
#### Lifehacker Pack for iPhone/iPad
#### "Easily one of the best iOS apps I've ever used." – Merlin Mann
#### See drafts in action at agiletortoise.com/screencasts

Drafts is the quick, easy way to capture and share text. In Drafts, text comes first – open the app and get a new, blank draft – ready to type. Don't get bogged down in a timeline to tweet. Don't tap your way through multiple screens to get down an email or SMS. Don't navigate folders, create files and name them just to jot down a note or create a todo.

Extensive output options let you send text to Twitter, Facebook, Mail, Message, a Calendar event, quickly save (or prepend/append) to Dropbox, Google Drive or Evernote and much more. Advanced multi-step actions and Javascript integration can combine all of these options in a single tap and more. Drafts can make any workflow shine!

## LATEST iOS 10 & DEVICE SUPPORT
* Message app to insert text snippets from drafts.
* Quick dictation.
* iPad Multitasking + Keyboard Shortcut Bar support.
* Spotlight search indexing of inbox drafts, with search continuation support.
* Widget, Share extensions & 3D Touch support.
* Apple Watch app to capture and browse drafts.

## EDITING & STORAGE
* Simple, distraction-free editing environment supports landscape editing.
* Light, Dark and Sepia themes.
* Support use of any font installed the device for editing.
* Unique "Arrange" feature lets you reorder lines by drag and drop.
* Markdown and Social syntax highlighting modes.
* Universal app syncs across your devices using Apple's new CloudKit.
* Version histories for drafts allow you to browse and rollback to previous versions.
* Optionally track creation, modification location data for your drafts.
* Fully customizable extended keyboard row, with support for simple text snippets and Javascript-based keys make everything from quick entry to powerful string manipulation with Regular Expression possible. Find and install ready to use keys in our directory!
* Search full text.
* Word and character counts.
* Link mode makes phones numbers, emails, links and address you have captured into tappable links.

## ACTIONS
* Integrates with system services to send text, including Mail, Messages, Calendar, Reminders and more.
* Post to Twitter.
* Create, Append and Prepend to files/notes in iCloud Drive, Dropbox, Box.com, OneDrive, Google Drive & Evernote.
* Multi-step actions let you combine multiple steps easily. Post to Twitter and log to Dropbox in one tap. Add to your journal and email in one tap. Many more possibilities.
* Javascript support to create advanced text manipulation actions.
* Almost all Drafts action steps are now more powerful and customizable, with additional templates and tags.
* Forward text to other apps which support URL schemes.
* Markdown support is better than ever with updated built-in preview styles, and the ability to create as many custom style preview as you want.
* Actions sync across devices.

## ABOUT US

Drafts is one of the most actively developed apps on the App Store. We love to hear your feedback and ideas. For news and tips, follow @draftsapp on Twitter/Facebook, or contact us at info@agiletortoise.com. For documentation and help, visit: http://help.agiletortoise.com.
バージョン 4.8.2 の新機能
Fixing up a few iOS 11 issues and getting ready for the latest devices!

- **Update:** Improvement to layout of extended keyboard to work well with the latest devices.
- **Fix:** "Clear" function in versions list would not properly delete all versions.
- A few other minor updates and fixes.

Visit our blog for more detailed release notes: agiletortoise.com/blog

Help & Support: info@agiletortoise.com
News and Tips: @draftsapp on Facebook and Twitter

Review and ratings are always appreciated!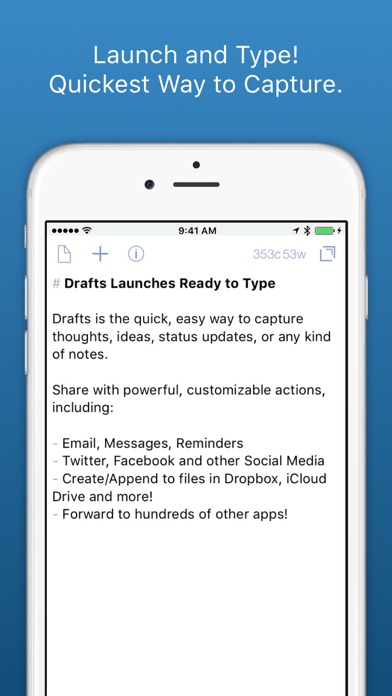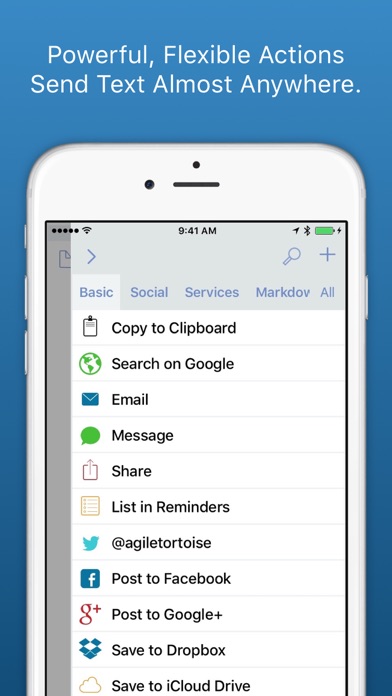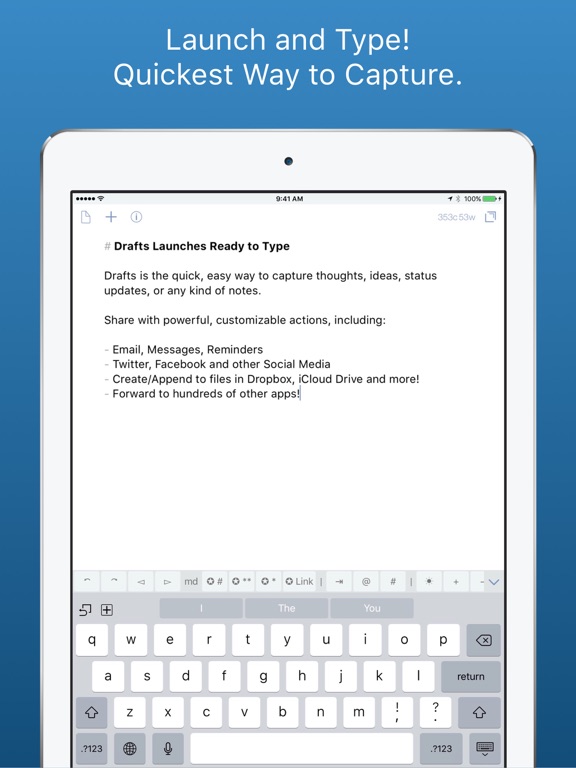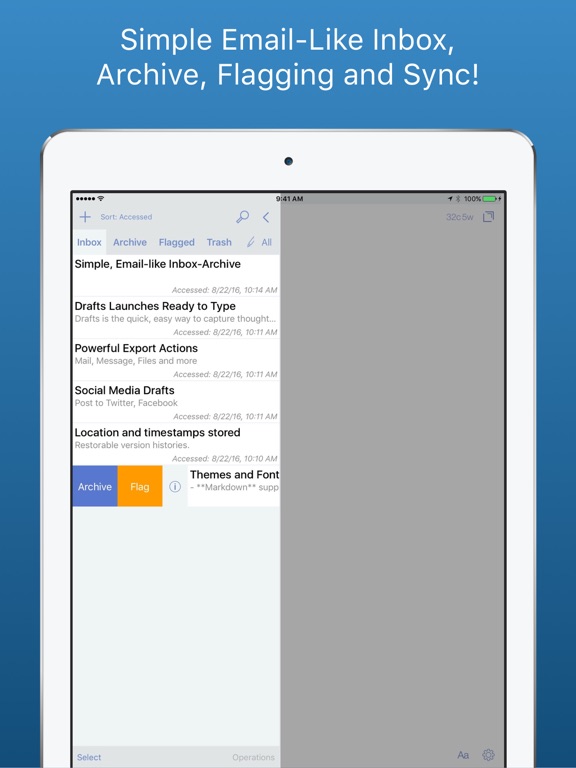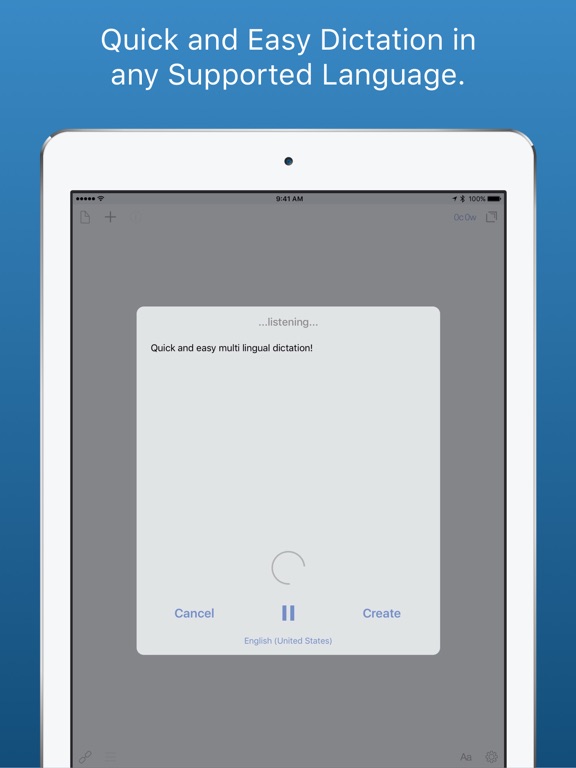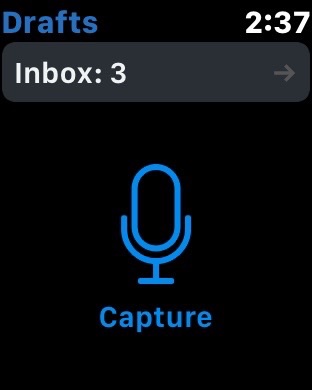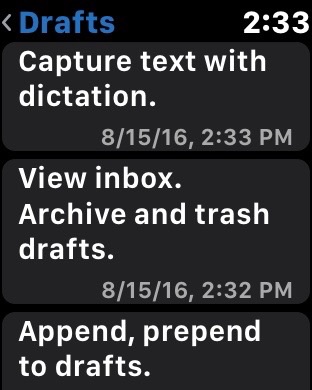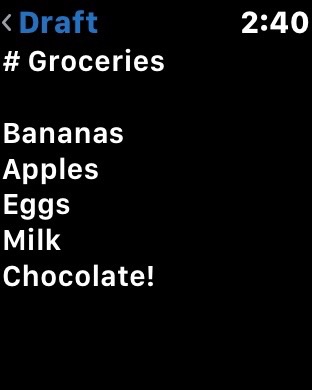 iTunes で見る
この App は iPhone、iPad の両方に対応しています。
iPhone 用 Apple Watch App も提供
¥600

カテゴリ:

仕事効率化

更新:

2017年10月31日

バージョン:

4.8.2

サイズ :

73.1 MB

Apple Watch:

対応

言語:

英語

販売元:

Agile Tortoise
互換性: iOS 10.3 以降。iPhone、iPad、および iPod touch に対応。
トップ App 内課金
Generous Tip¥360
Appreciative Tip¥120
Charitable Tip¥600