Guides by Lonely Planet
デベロッパ:Lonely Planet Global, Inc.
この App は、iOS デバイス用の App Store でのみ入手可能です。
説明
Get to the heart of a destination with Guides by Lonely Planet. Packed with offline maps, must-see sights, neighborhood guides and audio phrasebooks and backed by advice from on-the-ground experts, our city guides are the ultimate resource before and during a trip.

With a currency converter, neighborhood guides, transport info, and 'near me' functionality, Guides is a trustworthy travel companion that will help you make the most of your experience.

• Explore city guides curated by our experts
• Navigate with easy-to-use offline maps
• Discover a city's Must see sights, or dig deeper with collections
• Speak like a local with phrasebooks in 18 languages
• Get into and around the city with transport info
• Uncover the vibe that's right for you with neighborhood guides
• Save places with simple bookmarking
• Find the perfect activity with powerful filtering
• Travel confidently with essential tips

Our writers live and breathe each city they visit, reviewing every place that makes it into our carefully curated guides.

This version of Guides includes the following 177 cities, with more to come soon: Adelaide, Agra, Akureyri, Amsterdam, Ankara, Antalya, Antigua, Antwerp, Athens, Auckland, Austin, Avignon, Banff Town, Bangkok, Barcelona, Beijing, Belfast, Belgrade, Belize City, Bengaluru, Berlin, Bordeaux, Boston, Bratislava, Bruges, Brussels, Bucharest, Budapest, Buenos Aires, Busan, Byron Bay, Cairns, Calgary, Canberra, Cape Town, Cardiff, Catania, Chandigarh, Chengdu, Chiang Mai, Chicago, Chisinau, Cluj-Napoca, Coimbra, Dakar, Darjeeling, Darwin, Delhi, Dhaka, Dubai, Dublin, Dubrovnik, Edinburgh, Edmonton, Evora, Florence, Frankfurt am Main, Fremantle, Fukuoka, Geneva, George Town, Ghent, Glasgow, Goreme, Granada, Graz, Guatemala City, Halifax, Hamburg, Hangzhou, Hanoi, Hilo, Hiroshima, Ho Chi Minh City, Hobart, Hong Kong, Honolulu, Hyderabad, Innsbruck, Istanbul, Izmir, Jaipur, Jaisalmer, Jakarta, Jerusalem, Kaohsiung, Kathmandu, Kochi (Cochin), Krakow, Kuala Lumpur, Kuta & Legian, Kyoto, Lahaina, Leh, Lihue, Lisbon, Ljubljana, London, Los Angeles, Luang Prabang, Madrid, Managua, Maputo, Marrakesh, Marseille, Melaka City, Melbourne, Mexico City, Milan, Montreal, Moscow, Mumbai, Munich, Nagasaki, Naples, Nashville, New Orleans, New York City, Nice, Osaka, Ottawa, Palermo, Palma de Mallorca, Panama City, Paris, Perth, Phnom Penh, Portland, Porto, Prague, Puerto Vallarta, Reykjavik, Riga, Rio de Janeiro, Rome, Salzburg, San Francisco, San Jose, San Salvador, Santiago, Sarajevo, Seattle, Seoul, Seville, Shanghai, Siem Reap, Singapore, Sofia, Split, St Petersburg, Strasbourg, Suva, Sydney, Syracuse, Tainan, Taipei, Tallinn, Tangier, Tehran, Tokyo, Toronto, Valencia, Vancouver, Varanasi, Venice, Victoria, Vienna, Vientiane, Vilnius, Warsaw, Washington DC, Wellington, Xi'an, Yangon, Yerevan, Zagreb, Zurich

Questions? Feedback? We're always listening at AppSupport@lonelyplanet.com

Happy travels!
バージョン 1.6.10 の新機能
NEW IN 1.6.10: A few fixes for bugs and layout issues.

OTHER RECENT IMPROVEMENTS:

NEW CITY GUIDES: We've added a dozen new city guides! Say hello to Jerusalem, Seville, Santiago and Melbourne as well as eight other cities in Australia! Keep an eye out for more guides in the coming weeks.

CITY GUIDE VIDEOS: In select city guides you can now watch short, informative videos that help you discover what shouldn't be missed when you're in the city. Check out Belfast, Seville, Santiago, and Tallinn to learn why we've chosen them for Best in Travel 2018, our list of can't-miss destinations for the year to come. And learn more about Best in Travel at lonelyplanet.com/best-in-travel.

NOTIFICATION CENTER WIDGET: Guides now has a widget so you can see the best stuff near you at any time by just swiping down from the top of your screen. To install the widget, go to Notification Center, swipe right to get to widgets, scroll to the bottom of the screen, and tap Edit to select the "Guides" widget.

DRAG AND DROP: We've also added support for iOS 11 Drag and Drop! Found a Place you want to Favorite? Just tap and hold it, then drag it to the Favorites tab to add it to your Favorites. You can now reorder your Favorites with Drag and Drop as well.

Questions? Comments? We're always listening at AppSupport@lonelyplanet.com.
iPhone スクリーンショット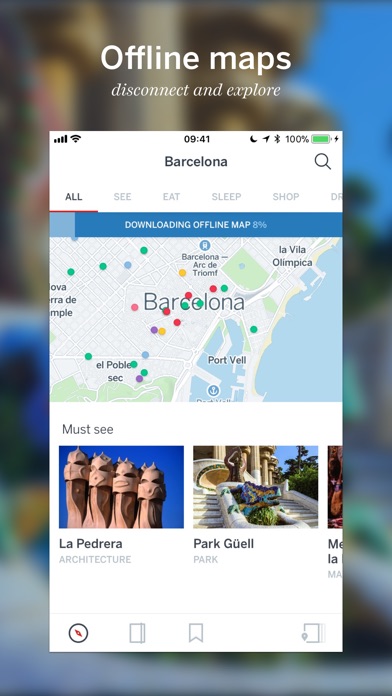 iTunes で見る
無料

カテゴリ:

旅行

更新:

2017年12月13日

バージョン:

1.6.10

サイズ :

144 MB

言語:

英語

販売元:

Lonely Planet Global, Inc.
互換性: iOS 10.0 以降。iPhone、iPad、および iPod touch に対応。
トップ App 内課金
All¥720
All - Free無料
Thai¥240
French¥240
Spanish (Latin American)¥240
Lonely Planet Global, Inc.による iPhone App