iCam - Webcam Video Streaming
デベロッパ:SKJM, LLC
この App は、iOS デバイス用の App Store でのみ入手可能です。
説明
iCam allows you to remotely monitor multiple live video and audio webcam feeds from your iPhone, iPod touch or iPad over WiFi and EDGE/3G/4G/LTE.

iCam also includes support for iCam Cloud, a service that automatically backs up iCamSource motion events to the cloud as soon as they are recorded. Event backups can then be easily viewed from iCam or the web if the iCamSource ever goes offline or the computer is stolen.

iCam has been featured on the Today Show, CNN, and Good Morning America in addition to the "Dog Lover" iPhone TV Ad - http://skjm.com/news.php

Popular uses include baby monitor, pet cam, nanny cam, spy cam, and security camera.

Record and playback Motion Events and Receive Push Notifications on your iPhone, iPod touch, or iPad when Motion is Detected by your iCamSource(s) - Visit http://skjm.com/icam/vid.php for video demonstrations.

Please note that to use iCam you will also need to download the free iCamSource software from http://skjm.com/icam/ or purchase our iCamSource Mobile app.

The iCamSource software supports Windows Vista/7/8/10 and macOS 10.9 and later. iCamSource Mobile supports camera-enabled iOS devices running iOS 8.2 or later.

iCam users also have access to iCamWeb, allowing you to connect to your iCamSource(s) from most any modern, Java-enabled web browser : http://skjm.com/icam/web/

NOTICE: If you are ever having issues please contact support instead of just leaving a bad review as we have no way of contacting you to help resolve your problem. Thanks!

You can also visit http://skjm.com/icam/support.php#faq for a list of other Frequently Asked Questions.

*** iCam Pro, the next generation of iCam, is also available! ***

iCam Pro features improved video quality, improved bandwidth usage, and many other features. Please visit http://skjm.com/icampro/ for more information.

The iCam Cloud service requires the purchase of a Cloud Storage auto-renewable subscription. There are three subscription levels available, starting at US$4.99/month for 5 GB of event storage. Please visit http://skjm.com/icam/help/cloud.php for more information, including links to the iCam Cloud Terms of Service and Privacy Policy.

The optional Unlimited Private Proxy Data auto-renewable subscription is currently US$4.99/month and can be cancelled at any time. For more information on Proxy Support, please visit http://skjm.com/icam/help/proxy.php

Terms of Use: http://skjm.com/icam/terms.php
Privacy Policy: http://skjm.com/privacy.php
バージョン 2.8 の新機能
+ iCam Cloud

- iCam Cloud is a service that automatically backs up iCamSource motion events to the cloud as soon as they are recorded.
- Event backups can then be easily viewed from iCam or the web if the iCamSource ever goes offline or the computer is stolen.
- Please visit http://skjm.com/icam/help/cloud.php for more information.

+ Improved support for IPv6-only networks.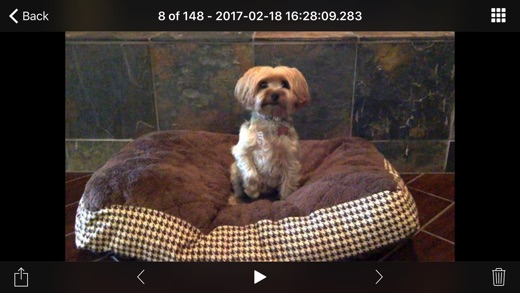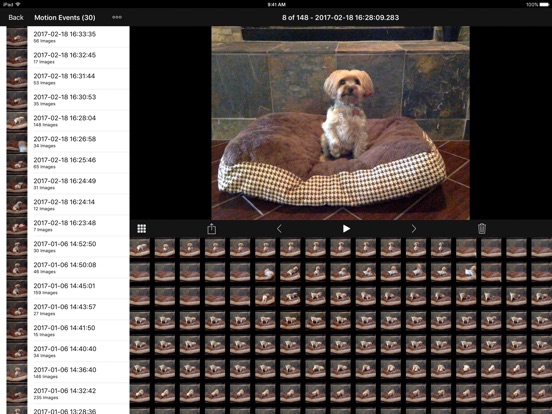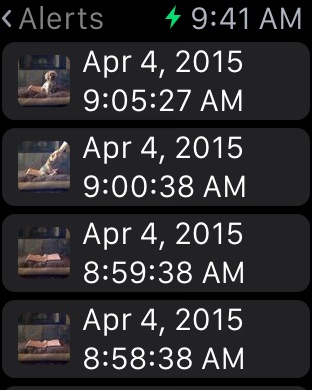 iTunes で見る
この App は iPhone、iPad の両方に対応しています。
iPhone 用 Apple Watch App も提供
¥600

カテゴリ:

ユーティリティ

更新:

2017年3月4日

バージョン:

2.8

サイズ :

21.1 MB

Apple Watch:

対応

言語:

英語

販売元:

SKJM, LLC
互換性: iOS 9.0 以降。iPhone、iPad、および iPod touch に対応。
トップ App 内課金
25 MB of Private Proxy Data¥120
Small Contribution¥120
Medium Contribution¥600
iCam Unlimited Private Proxy Data (Subscription)¥600
Large Contribution¥3,000
5 GB¥580