Sweat: Kayla Itsines' Bikini Body Fitness Workouts
デベロッパ:The Bikini Body Training Company Pty Ltd
App を購入、ダウンロードするには iTunes を開いてください。
説明
Sweat with the Kayla Itsines BBG Program and join the world's biggest female fitness community and fast track your journey to Bikini Body Confidence today! Join now and enjoy 7 days of fitness training for free!

Together, Kayla Itsines, Sjana Elise Earp and Kelsey Wells join Sweat's mission of helping women live their best life through health and fitness. This means giving women the confidence, strength and happiness they need to achieve their goals.

Sweat is the go-to place for women's health and fitness, now hosting multiple trainers and programs:
• Kayla Itsines' BBG program includes high-intensity plyometric training using minimal space & equipment. Kayla has also developed BBG Stronger, a new weights-based program for gym goers..
• Sjana Elise Earp's Yoga program includes vinyasa-style resistance flows and yin-based recovery flows to improve strength, flexibility and posture.
• Kelsey Wells' post-pregnancy program includes resistance workouts designed to increase core strength and improve posture for new mums.

The goal isn't weight loss, it's to make women around the world be happy in their own bodies and be bikini body confident. Feel comfortable in your own skin with fitness training and coaching from Kayla Itsines!

Fitness & Workouts
• Get your fitness back on track in just 28 minutes each day!
• No gym required. Get your female fitness workouts completed from the comfort of your own home, from cardio to resistance training

Nutrition
• Professional nutrition and coaching. Choose from daily meal plans and menus including recipes that you can customize for standard, vegetarian, pescetarian, lacto-vegetarian, ovo-vegetarian and vegan eating preferences

Motivation
• Compare weekly progress pictures side-by-side privately, or share them with friends and BBG Community and stay accountable
• Over 300 pages of educational content to expand your knowledge on fitness, nutrition, weight loss and maintaining a healthy lifestyle
• Compete with other women in global female fitness challenges and compete with your friends and share your results with the BBG Community

• Available in 8 languages (English, German, French, Italian, Spanish, Portuguese, Dutch and Chinese (Simplified))

Sweat has Apple's HealthKit integrated. The app will provide heart rate, calories and step counting metrics for all exercise and workouts.** Metrics tracked and available to the user are dependent on device model.
• Complete your entire workout from your watch with no need for your phone.
• See your metrics throughout your workout and push yourself to the limit
• Taptic and audio notifications to keep you motivated.
• Easily track your workouts using the Apple Watch Activity Ring.
• Have the freedom to jump between workouts on your phone and watch.

Enjoy beginner fitness workouts from the comfort of your lounge room or exercise with advanced workouts in the gym. Never lose sight- you'll always be supported by a rapidly growing, global community of bikini body confident women while you sweat!

Take control of your health and fitness and download Sweat today!

SUBSCRIPTION PRICING & TERMS
Sweat is free to download. All customers are welcome to a free 7-day trial period. Should you choose to continue use of the Sweat app, we offer a single auto-renewing subscription option:

Just USD $4.61/week ($19.99/month)

Payment will be charged to your credit card through your iTunes account at confirmation of purchase. Subscription renews automatically unless cancelled at least 24 hours prior to the end of the subscription period. There is no increase in price when renewing.

Subscriptions can be managed and auto-renewal turned off in Account Settings in iTunes after purchase. Once purchased, refunds will not be provided for any unused portion of the term. Read our full Terms of Service and our Privacy Policy at http://www.kaylaitsines.com/pages/terms-and-conditions
バージョン 3.0.2 の新機能
WELCOME TO THE NEW SWEAT - More workouts, more trainers, more SWEAT!

Sweat continues to reshape the fitness industry by expanding the Sweat app to include multiple programs and trainers so you can train how you want, when you want. You can now workout alongside Kayla Itsines, Sjana Elise and Kelsey Wells.

Love the new Sweat? Rate us with 5 stars and share your love with the Community!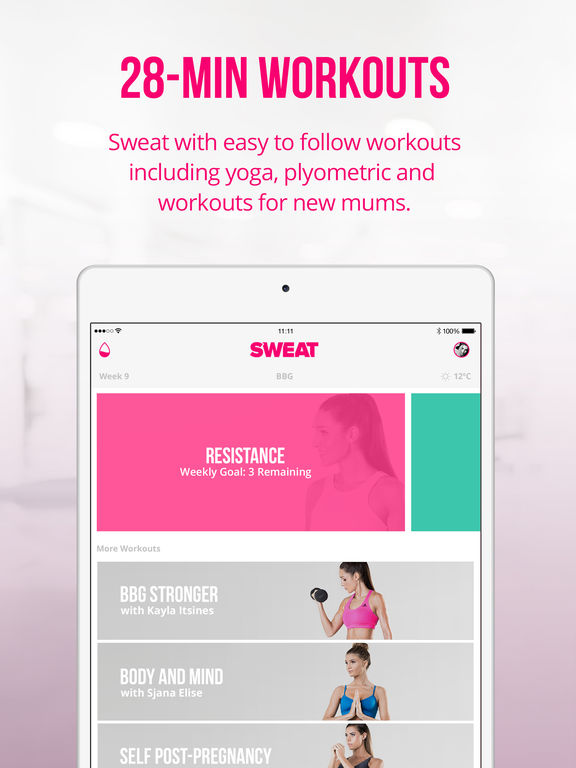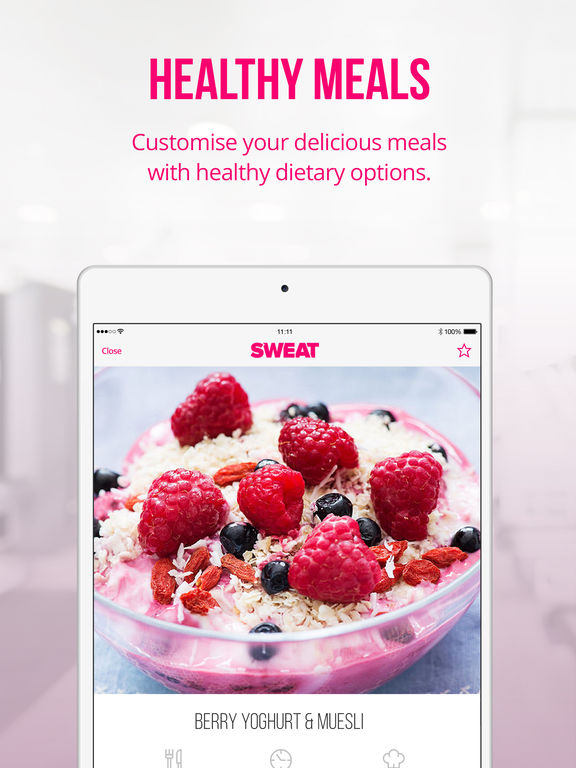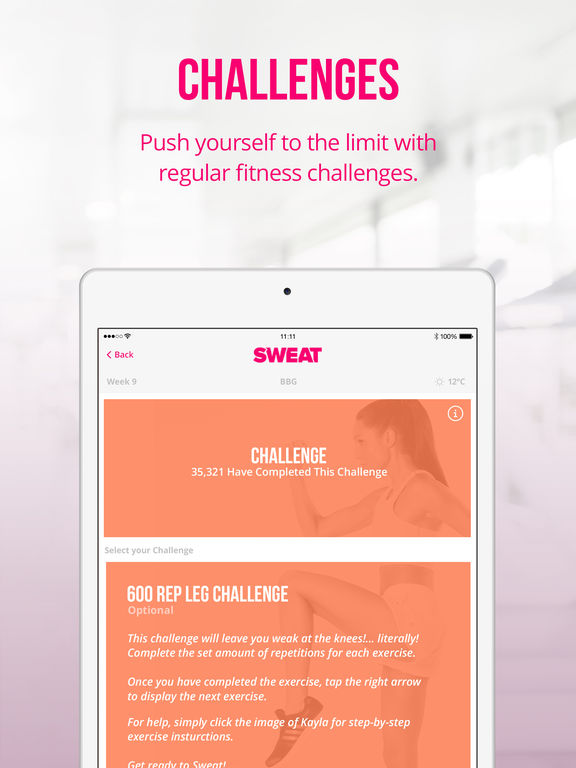 iTunes で見る
この App は iPhone、iPad の両方に対応しています。
iPhone 用 Apple Watch App も提供
無料

カテゴリ:

ヘルスケア/フィットネス

更新:

2017年5月21日

バージョン:

3.0.2

サイズ :

107 MB

Apple Watch:

対応

言語:

イタリア語、オランダ語、スペイン語、ドイツ語、フランス語、ポルトガル語、簡体字中国語、英語

販売元:

The Bikini Body Training Company Pty Ltd
互換性: iOS 9.0 以降。iPhone、iPad、および iPod touch に対応。
トップ App 内課金
Sweat with Kayla Subscription¥2,400
Sweat with Kayla Subscription¥2,000
Sweat Subscription¥2,300
Promo Sweat Subscription¥1,550
Sweat with Kayla Subscription¥2,000
Sweat with Kayla Abonnement¥1,600
Sweat with Kayla Subscription¥6,800
Sweat with Kayla Abonnement¥2,400
Sweat Subscription¥2,300
Promo Sweat Subscription¥13,400