Duplicate Photos Fixer Pro
デベロッパ:Systweak Software
App を購入、ダウンロードするには Mac App Store を開いてください。
説明
***** 95% OFF : SPECIAL OFFER FOR LIMITED TIME (Original price $18.99) *****
***** GET IT NOW ******
Duplicate Photos Fixer Pro is an ultimate photos fixing tool that smoothly scans and deletes duplicate or similar photos depending on the matching level you choose. This captivating tool works with photos from Photos and iPhoto, along with photos from external storage and your system's hard drives as well. Free up ample of disk space by deleting a large number of similar and duplicate photos in just a click!

Duplicate Photos Fixer Pro works like a charm and has the ability to detect duplicate and similar photos wherein:
• You click photos of the same scene in quick succession to capture the perfect shot
• Your photos are scattered all over the system, external storage devices, Photos and iPhoto and hard drives
• You clutter the system by creating backups of pictures and now want to remove the junk

Why use Duplicate Photos Fixer Pro?
• Drag-and-Drop Folders/Photos
Simply drag and drop folders to easily scan for photos inside them. You can add more photos from your Photos and iPhoto library and other folders as well.

• Custom Comparison Settings
You can fully customize your comparison settings out of the available methods by adjusting the settings according to your requirement, regardless of the image size or format.

• Speed
Duplicate Photos Fixer Pro is extremely fast when it comes to scanning and comparing a large number of photos within seconds. This is due to the powerful algorithms injected during the development of this tool that make the search of duplicate photos extremely fast, giving excellent comparison results.

• Efficiency / Real-time Results
Without re-comparing photos, you can re-group the comparison results by changing the matching level on the slider in real-time.

• Auto-Mark Duplicates
Use the Auto-Mark feature to mark all duplicate photos in every group except one, depending upon the preferences.

• Compact Viewing
The interface of Duplicate Photos Fixer Pro is designed in such a way that all occurrences of photos are classified into different groups and are viewed as large photos group in each line.

• Quick Look
Before moving ahead and deleting photos, you can have a clear look at them instead of opening them individually, using this feature.

Keywords
photos, duplicate photos photo, photos duplicate, duplicate iphoto photos,iphoto duplicate,delete duplicate photos,find duplicate photos,duplicate photo,remove duplicate photos,
mac duplicate photos, duplicate photos iphone, duplicate photos finder, duplicate cleaner
バージョン 1.9.3 の新機能
New filters added to search duplicate photos based on:
Date Filters: Created, Captured, Imported (Photos Library only)  
Time Filters: Today, Yesterday, Within Last 7 Days, Within Last 15 days, Last Month, Last Year and Since Beginning.
スクリーンショット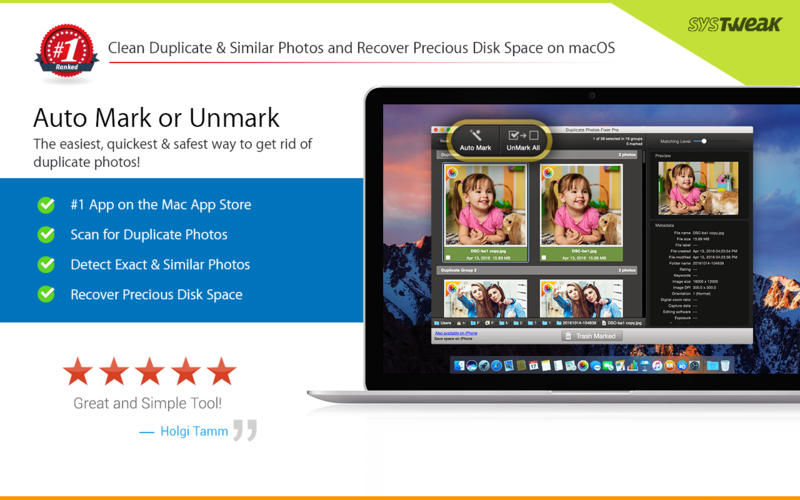 カスタマーレビュー
Waste of time.
Finding duplicates in folders works, but nothing gets deleted. The pictures do not go to the trash and are repeatedly found upon rescan.

Dupicates found in a Photos library will be moved to a folder where you can select and delete them.

What a waste.
Mac App Store で表示
¥120

カテゴリ:

写真

更新:

2017年5月22日

バージョン:

1.9.3

サイズ :

7.2 MB

言語:

日本語、ドイツ語、フランス語、英語

販売元:

Systweak Software Private Limited
互換性: OS X 10.7 以降