MusicJOT
By Mona Lisa Sound, Inc.
This app is only available on the App Store for iOS devices.
Description
MusicJOT is a powerful music notation app that's also easy to use. Write quickly and naturally on a staff and watch it rendered into beautifully notated music. Interact directly, quickly dragging notes around to change their pitch or duration and choose advanced features from pop-up palettes. Listen to your composition with our full-featured audio playback engine, featuring unlimited tracks and 128 built-in General MIDI instruments. Export your scores in MusicXML or MIDI and pick them up in any desktop notation app such as Finale® or Sibelius® for final tweaking and printing.

Features:
• Enter music with your own natural handwriting and a stylus. Optimized for Apple Pencil®. Also directly supports Adonit® stylus.
• Alternative palette-driven system for notes and music symbols.
• Layers let you control and de-clutter what is displayed.
• "Virtual Pointer" allows spot-checking notes, local playback of notes or chords and entering/selecting events.
• The "Visual Road Map" shows your composition's repeat structure.
• Lyric support with automatic syllable flowing.
• Number of staffs and measures limited only by your device.
• Group instruments together, such as a woodwind section in an orchestral score.
• MusicJOT doesn't force you to maintain legal notation. Correct measures at any time with the Illegal Measure Buttons.
• Advanced settings allow fine tuning of dozens of parameters to tailor your notation style.
• Complete contextual help system, including a device-resident manual and tutorials.
• Individual staffs can be transposed for transposing instruments, such as trumpets and saxophones.
• Batch note manipulations, such as transpositions and copy/paste with merge, append and replace.
• Directly change note pitches (diatonic, chromatic) or durations by dragging when not in handwriting mode.
• Playback support for tempo markings and dynamics.
• Music spacing adjustable.
• Context sensitive menu system after selections for many often used operations such as octave transpositions, note/rest toggle, common triplets, and simple repeats, etc.
• Score manager allows creation of new scores from templates or custom setup.
• Air print directly from MusicJOT.
• Multiple voices per staff.
• Staff Manager
What's New in Version 1.2.5
Bugs Fixed:
Fixed an issue where there was too little text room for abbreviations in the Staff Manager.
Fixed a bug where invoking the repeats panel from the last measure and then switching to another tab was crashing.
Fixed an issue where adding a lyric to a note that already had text was crashing.
Improved zooming and scrolling performance, especially with large documents.
Fixed an unexpected quit with large documents on older iPads.
Fixed an issue when popping up panels. Sometime they were either partially or totally offscreen.
Fixed an issue where selecting at the very bottom of the screen was inhibited by the presence of the context sensitive menu whether visible or not.
Fixed an issue where saving the document (either automatically or manually) might clobber memory and crash.
Fixed a serious issue where some users could not load a previous score without crashing.
Fixed an issue where some older documents that used multiple voices were flipping stems in the wrong direction.

Features Added:
Added visible drag handles to shapes such as slurs, hairpins, regions, etc.
Added a virtual pointer style user pref.
Added a Reset Defaults in the Options drop down.
Added meter shortcuts to context sensitive menu.
Updated help files.
iPad Screenshots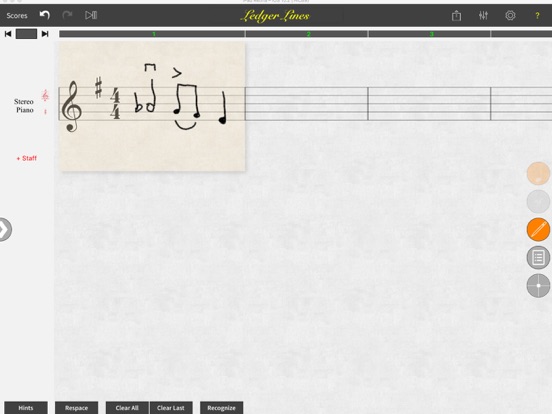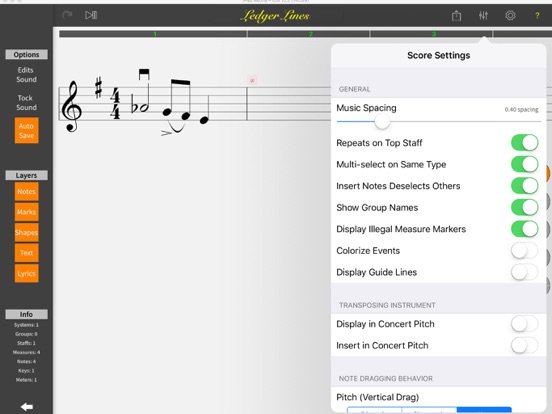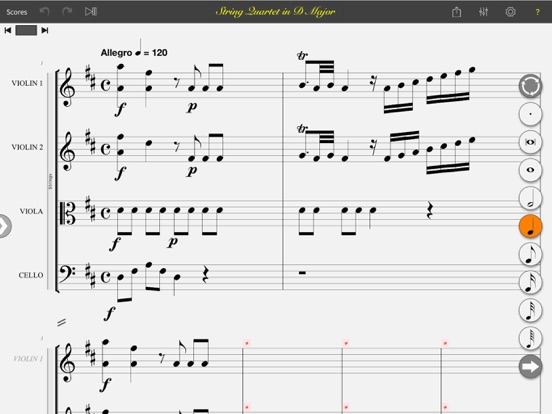 Customer Reviews
まだちょっと固い?
ペンで記入するとその場で清書される感じはとても気持ちいいです。
しかしまだ、細かいバグのような挙動が目立ちます。

臨時記号がついた音符を、小節をまたいでタイで繋ぐことが出来ないようなので、早めの対処をお願いします。
View in iTunes
¥3,600

Category:

Music

Updated:

Nov 30, 2017

Version:

1.2.5

Size:

79.9 MB

Language:

English

Seller:

Mona Lisa Sound, Inc.
Compatibility: Requires iOS 10.3 or later. Compatible with iPad.