Thefuture.fm Radio
デベロッパ:Dubset Media Holdings, Inc.
App を購入、ダウンロードするには iTunes を開いてください。
説明
Thefuture.fm Internet Radio is your access to free music curated by the world's best DJs. Discover the best mixtapes, the latest podcast, plus mixes featuring your favorite songs from all over the world: Los Angeles to Miami, New York City to Ibiza, and everywhere in-between.

* create & save a custom playlist of your favorite DJs in your personal internet radio station; access your music anytime using our mobile player
* discover new music and search our extensive library for even more mixes from your favorite artists -- discover some new DJs!
* conveniently browse our free music library by genre, with a selection ranging from top 40 to rock to hip hop to electronic dance music (EDM) and beyond.
* discover the latest & greatest DJ music with our featured section, curated by music enthusiasts and DJs alike
* quickly find out the most popular music on the app with our top-section
* dance along to our free music library while you search our artist & dj profiles; where they came from, who they are, and where they're going
* facebook connect your account to share music from across the site & your favorite playlist -- let your friends know what you're listening to!

If you're already a member just log in, or use Facebook connect to create your account and start listening to a world of free music, mixtapes, & more on our mobile player. Take comfort in the fact that Thefuture.fm Internet Radio on your phone is fully integrated with the web, so what you discover & add to your playlist here, will always be saved on there too.

Features:
* Save, favorite and follow your favorite DJs in your own radio channel. Easily create playlists and keep track of what you've listened to.
* Discover new music using our search engine; a smart search that thinks like a DJ. Just type in something you're into, and we'll give you results that match your mood.
* Conveniently browse for music by genre by selecting any of the 40+ genres ranging from minimal house to Dubstep and R & B.
* Browse through suggested mixes in the Featured-section for fresh material from the DJs we think you'll love.
* Check out the Top-section for quick access to the most loved mixes right now.
* Read about your favorite DJs on their DJ page.

Sign up in just a couple of seconds using Facebook connect, or if you're already a member, just log in. Take comfort in the fact that Thefuture.fm on your phone is fully integrated with the web, so nothing gets lost in between.
バージョン 4.0.3 の新機能
Thanks to everyone who's downloaded our all-new iPhone app and to those of you that sent us their feedback.

We strive to make your listening experience as smooth and exciting as possible.

The latest version includes:
- small bug fixes
iPhone スクリーンショット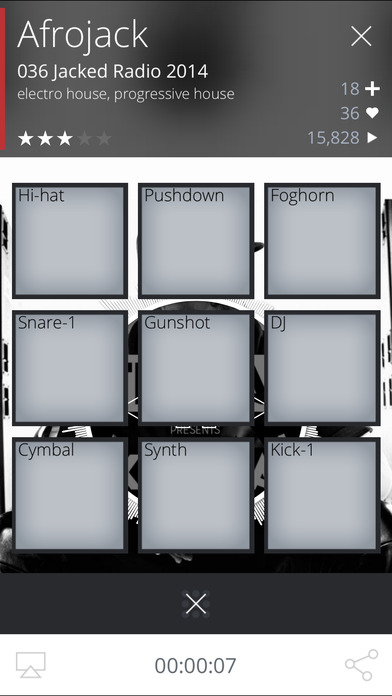 カスタマーレビュー
I can't do sign up.
I can't do sign up .
iTunes で見る
無料

カテゴリ:

ミュージック

更新:

2015年1月9日

バージョン:

4.0.3

サイズ :

15.9 MB

言語:

英語

販売元:

Dubset Media Holdings, Inc
互換性: iOS 7.0 以降。iPhone、iPad、および iPod touch に対応。