TimeTag
開発: Capparsa
App を購入、ダウンロードするには Mac App Store を開いてください。
説明
TimeTag is the timesheet app that you love. It offers simple time keeping with powerful results. Its premise is simple: It allows you to track and tag your time with ease. Featuring the "Big Green Button", TimeTag brings everything you would want from a timesheet just a few clicks away.

TimeTag intelligently organizes and groups all your time records so you can quickly see how your time was spent at a glance. Exporting is simple, and generates spreadsheets or reports to import to other apps or services.

The new 2.0 update brings an iPad-like interface to the Mac, and makes it even faster and easier to use. Records and timers are always visible, and exporting is just one click away. Managing timers from the menu bar is now faster, so you can start, stop and set activities for timers without clicking into the full app.

WAYS TO USE TIMETAG
*Keep track of hours spent on different school subjects
*Log hours for contract work
*Be more productive
*Build a record of how all your time is spent throughout the week

FEATURES
-Simple interface focused on simply recording time
-Time Logging with Descriptive Tags
-Supports simultaneous timers
-Data export (CSV, HTML, Text) with Preview
-Fast, functional interface
-Can safely exit the application with an active timer going
-Menu Bar Access for Starting/Stopping Timers
-Powerful filter for dates, tags, and categories
-Automatic tag grouping per day
-Edit time records when needed
-Ability to add in your own time entries, in case you forget!
-Note taking on individual time records

NEED MORE INFO?
Not sure if TimeTag is right for you? Feel free to check out our website for more material or you can always contact us in one of many ways (Email, Twitter or Facebook). We want you to love TimeTag as much as we enjoy working on it!

NEWS/CONTACT
You can find out more about what we're working on, or send us an email with questions or issues, etc:

Blog: http://www.capparsa.com/blog/
Twitter: @capparsa
Like us on Facebook: http://www.facebook.com/Capparsa
Email: timetag@capparsa.com

We love great ideas and your feedback! If you have any feature ideas, please feel free to email us with the suggestion. Lots of features have gone in already that have been suggested by customers and more are coming!
バージョン 2.000 の新機能
2.0 is here!

As always, it's a good idea to export any records before updating! :)

IN THIS VERSION
-Entirely new design, inspired by the new iPad version's interface
-New menu bar design to make it even faster to start/stop timers, and change tags
-Full screen view now supported!
-New manage tags & categories screen
-New timer screen featuring "the big green button"
-You can now print exported records directly in the app
-Export records faster from the File menu
-New total button which counts hours worked and amount earned with 1 click
-Tag and category details at a glance (hours worked and amount earned)
スクリーンショット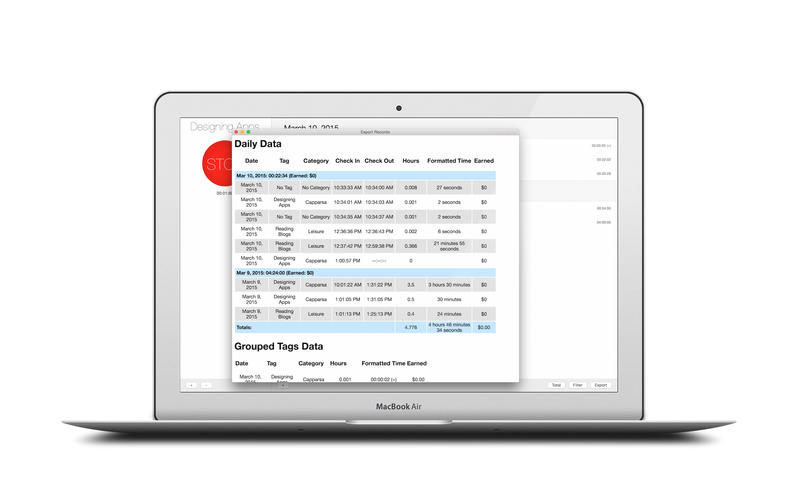 Mac App Store で表示
無料

カテゴリ:

仕事効率化

更新:

2015年3月16日

バージョン:

2.000

サイズ :

3.2 MB

言語:

英語

販売元:

Capparsa LLC
互換性: OS X 10.10 以降、64ビットプロセッサ