Trainline Europe (Captain Train) - train tickets
By Capitaine Train
Open iTunes to buy and download apps.
Description
Trainline, previously Captain Train, is the quickest and easiest solution for booking train tickets online in Europe. Since 2011, more than 1.8 million users trust us to book their tickets in France (SNCF, iDTGV, OUIGO, OUIBUS), Germany (Deutsche Bahn, HKX), Italy (Trenitalia, Italo, Thello), Spain (Renfe), the U.K. (Eurostar), Switzerland (Lyria), and Belgium and the Netherlands (Thalys).


==== TRAINLINE: THE NEW NAME FOR CAPTAIN TRAIN ====

Back in March 2016, we said hello to Captain Train—our French equivalent—and teamed up with them to build the best online train ticket platform in Europe. Captain Train is now part of the Trainline Group and our team and our mission remain the same: we're here to make train travel easier and smarter for people in the UK, France and the whole of Europe.


==== WHAT THE MEDIA SAYS ABOUT US ====

"It's already built up a fanbase by being more user-friendly" — The Guardian

"This looks good. The whole site is clean, fast and zippy. If only all travel booking was like this!"— Business Insider

"In most cases, I now recommend using www.trainline.eu" — Mark from Seat61.com


==== BUY TICKETS AT THE BEST PRICE ====

• Pay no booking fees or hidden costs. We have the lowest prices.
• Select your preferred seats for the train
• Find and book tickets for all trains in France, Germany, Italy, Spain and nearby countries: TGV, ICE, Eurostar, Thalys, Lyria, Renfe, etc.
• Find the best prices amongst the most comprehensive offers: Prem's, Loisir, iDTGV, etc.
• Take advantage of your discount and loyalty cards: Eurostar Frequent Traveller, Thalys TheCard, etc.
• Pay whenever you want, thanks to our pre-booking feature.
• Pay however you want: Visa, MasterCard, AMEX or PayPal.
• Exchange or cancel your tickets within the app.


==== BOOK YOUR TRIP SUPER FAST ====

• Register your loyalty and discount cards along with your personal information.
• Save time by creating a passenger profile for any fellow travellers.
• Select your favourite destinations instantly.
• Review your upcoming or previous journeys.
• Receive your e-tickets in PDF format or store them on your loyalty card.
• Add your journeys to your calendar and Passbook in only one click.


==== TOO GOOD TO BE TRUE? ====

Like many users you may ask yourself how we make money.

It is quite simple. Like any other official travel agent (certified by the SNCF or the Deutsche Bahn) we earn a commission for each ticket sold. There is no additional fee for our clients because our prices are aligned with the rail operator's fares.


==== YOU HAVE READ THIS FAR? ====

You rock! Tweet "the wagon is mobile", and mention @trainline_eu. We will answer you with some emoji hearts and a train picture.

Help: http://faq.trainline.eu
Blog: https://blog.trainline.eu
Twitter: https://twitter.com/trainline_eu
Facebook: https://www.facebook.com/trainline.eu
Instagram: https://www.instagram.com/trainline
What's New in Version 38
It appears that it will soon be possible to respond to comments left on the App Store by our beloved users. Our iOS developers are starry-eyed at the thought and delighted that they finally have a chance to respond directly to your comments and thoughts. Until now, they've been fairly jealous of their Android counterparts, who were privileged enough to respond to a review and give the customer their personal feedback.

Yet before they have to chance to respond to that slightly passive-aggressive 2-star review, they have concocted a new version of the app. You can read all about the new features below and we hope you do so before providing us with (what we will surely hope to be) your (positive) feedback!

MASTER KEY
We have pushed and edged the collaboration with iCould Keychain a tiny bit further in favour of your security. Keychain will now keep your password stored safe and sound in iCloud, allowing you to login to your account even faster. If you're not so inspired by this, yet you still want to keep your travel information for you and yourself only, it's time to say goodbye to your old 1234 password; Keychain can generate an ultra-secure password for you. It will be as complicated as the horrific 24-character long WiFi password of your rental apartment, but you won't have any need to type it since it will be stored on your phone. Yet you may sign out from time to time in case you want to enjoy the true beauty of this improved Keychain integration.

OH MAMA MIA, MY TICKET BOOKLET HAS ARRIVED!
For our dear Italian amici, we have some buone news for you! The Trenitalia discount ticket booklets are now finally supported on your phone too. Add your 10 trip, 3x2 or 5 for 4 booklets to your account, and you can book your tickets for zero euros on a whim!

THE (BENELUX)URY OF THE PRINTER
A new batch of tickets have now been made available on our app. You can now book tickets for Belgium, the Netherlands, Switzerland, Austria and the Czech Republic on your phone. Yes, we are aware that some of these countries are not actual BeNeLux countries, yet we couldn't come up with a wittier title. However, you can rejoice in the fact that your printer cartridges will be resting, while you can enjoy the gentle sound of the rail tracks beneath you while you eagerly await arriving at your destination. Hint: choose Switzerland because they have better chocolate than the Belgians.

OUR BLESSED VISITORS
The booking experience for our users without an account is now much more fluid and we've added new functionalities. If you're a bit lost, we will refer you to the best suited place in our Help Section, which has been further adapted to guide you in reserving your tickets. You can also share the URL of your booking before making a purchase, so that another person may pay for the ticket. So give a little kiss to your mother for paying for that ticket ;)

CHEEKY TRANSFERS
If your transfer time was longer than an hour (or two, or three), our app may have given you a few little fright and indicated that the transfer was less than a minute. So for all those that are not Liam Neeson or Jason Bourne, rest assured, we have now corrected it. You no longer need to be jumping from one platform to another in order to catch your next train and to then only discover that you had enough time to actually enjoy a nice coffee with a little snack. Our transfer times are now all back in order. Operation Blackbriar is now complete!

A LITTLE TOUCH UP
A few pixels have been adjusted, especially with our widget that would do a little jiggle when displaying the track numbers. The wobbly search results were also fixed up, dusted and polished. Enjoy!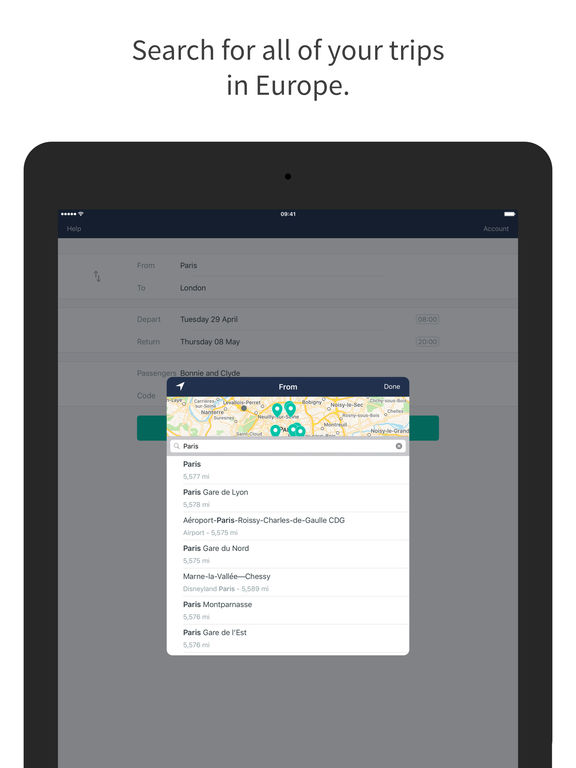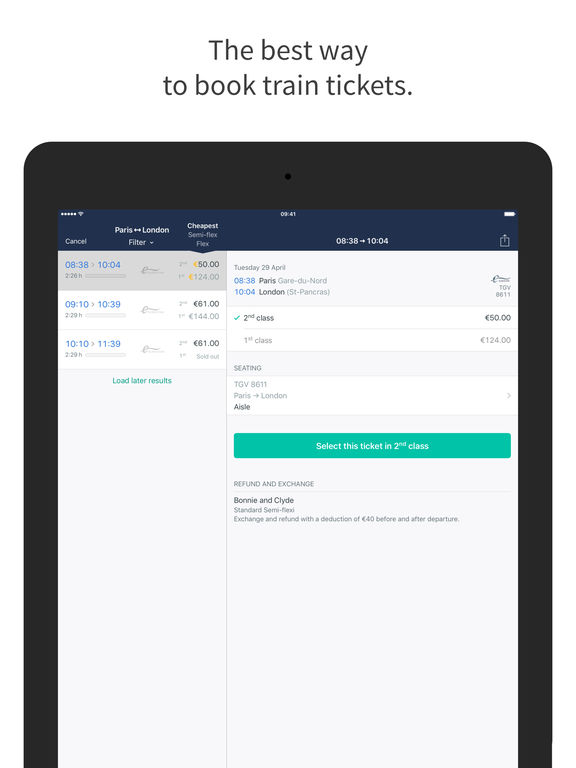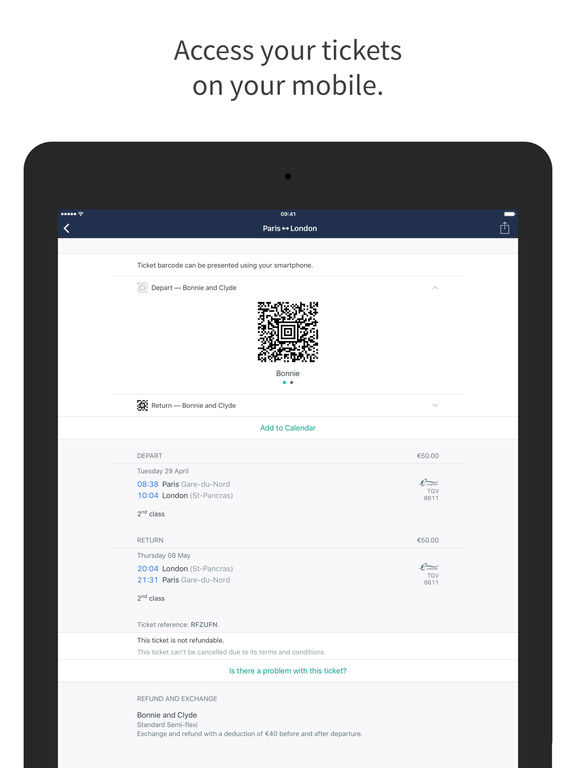 View in iTunes
This app is designed for both iPhone and iPad
Offers Apple Watch App for iPhone
Free

Category:

Travel

Updated:

Mar 13, 2017

Version:

38

Size:

37.3 MB

Apple Watch:

Yes

Languages:

English, French, German, Italian, Spanish

Seller:

Capitaine Train
Compatibility: Requires iOS 9.0 or later. Compatible with iPhone, iPad, and iPod touch.