ACRONYM!
Re:Creative Studios, LLC 제작
이 앱은 iOS 기기의 App Store에서만 사용할 수 있습니다.
설명
ACRONYM! - When you need something to do while waiting for your turn in those "turn-based" word games...

ACRONYM! - A game completely free of birds!

ACRONYM! is an online multiplayer word game where players join a room with up to 9 other players. Players are given a random acronym and compete by creating logical or humorous meanings. After time expires, each player votes anonymously for their favorite meaning (but not their own).

For example, the game might give you the acronym "TGR" to which you could submit, "This Game Rocks", or for "ILA" you could submit "I Love ACRONYM". The possibilities are endless, and only your creativity will win over the votes of the other players in the room. Do you have the vocabulary and quick wit to succeed? Download ACRONYM and put your humorous use of the english language to the test!

Features:
-Play instantly against players over the internet
-Play as little or long as you want; points tally over time
-Quick play matches you up with players automatically
-Real time game play; no waiting for turns
-Retina display graphics
-Game Center integration (Achievements and Leaderboards)
2.0 버전의 새로운 기능
TBP: Turn Based Play!

If you've never been able to play because no one is online when you are playing, you will enjoy the new turn-based game option. Turn-based play consists of 5 players and 3 rounds (a 3, 4, and 5 letter acro). You can start as many turn-based games as you want, and when others log in to play, they will complete their turns. The scoring system is a little different in turn-based play, and is more similar to traditional acro.
iPhone 스크린샷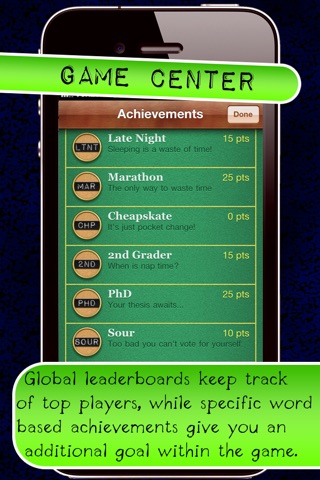 iTunes에서 보기
무료

카테고리:

게임

업데이트:

2012.08.09

버전:

2.0

크기:

17.5 MB

언어:

영어

개발자:

Re:Creative Studios, LLC
호환성: iOS 4.0 버전 이상이 필요. iPhone, iPad 및 iPod touch와(과) 호환.
Re:Creative Studios, LLC의 iPhone 앱 더 보기