Philadelphia Eagles
Philadelphia Eagles 제작
iTunes를 열어 앱을 구입하고 다운로드합니다.
설명
This is the official mobile app of the Philadelphia Eagles. Make your iPhone, iPod Touch or iPad a unique part of your game-day experience for Eagles games. Want to catch breaking news of the team? See real-time statistics for every drive? Watch LIVE or on-demand video clips of press conferences and player interviews? Follow post-game blogs and pre-game previews of the matchups?
Now, you can stay in touch with the Eagles anytime, anywhere, on your iPhone, iPad or iPod Touch.

FEATURES include:
- News: Real-time breaking news from the Eagles, previews of upcoming matchups, post-game blogs
- Video: Video-on-demand clips of Eagles' press conferences, coach and player interviews
- Photos: Gallery of game-time action
- Audio: Podcasts
- Stats: Real-time statistics and scores from the official NFL stats engine, head-to-head stats of the matchup, player stats, drive-by-drive stats, box score, out-of-town scores around the league
- Standings: Division and conference standings
- Fantasy: Keep track of your favorite fantasy players
- Depth chart: Shown by offense, defense and special teams
- Social media: Aggregated twitter of all of your favorite Eagles tweeps, check in to the stadium on game-day, one-click tweet of all media items, one-click facebook posting of all media items
- Digital keepsake: Your game-time moment superimposed on the stadium jumbotron in the form of a unique digital keepsake
- Schedule: Schedule of upcoming games, and scores/stats of previous games from the season, ticket purchase for games
- Concessions: Interactive map of the stadium with searchable concessions-stands and amenities
- Problem-reporting: Reports of various problems and issues around the stadium
- Evolving home-screen: Pre-game, in-game, post-game, off-season countdown, draft-day

Support/Questions/Suggestions: Email webteam@philadelphiaeagles.com
3.0.0 버전의 새로운 기능
• Updated design and navigation
• Contextualized app experience that delivers the most relevant features to you based on status of the game
• New game stats and top performers content cards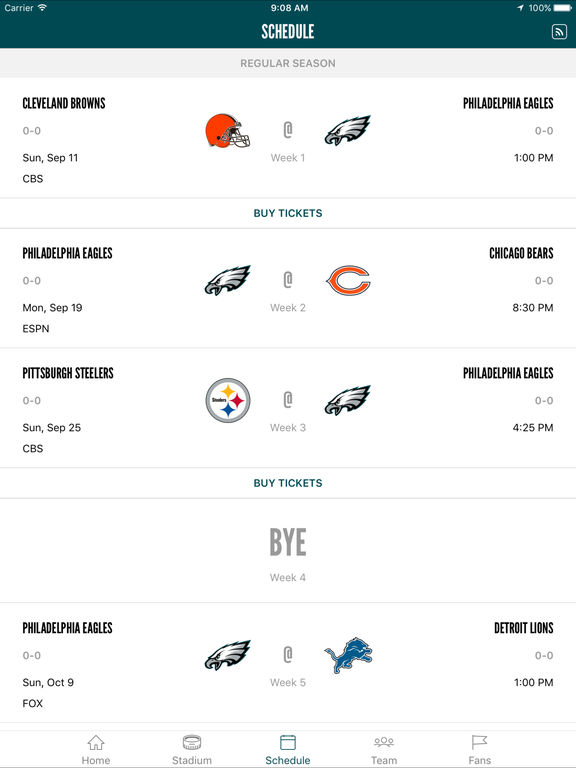 iTunes에서 보기
이 앱은 iPhone 및 iPad 전용입니다.
무료

카테고리:

스포츠

업데이트:

2016.09.09

버전:

3.0.0

크기:

134 MB

Apple Watch:

사용 가능

언어:

영어

개발자:

Philadelphia Eagles
호환성: iOS 8.0 버전 이상이 필요. iPhone, iPad 및 iPod touch와(과) 호환.