ESPN
ESPN 제작
iTunes를 열어 App을 구입하고 다운로드합니다.
설명
The ESPN App is the #1 Sports App in the market. The app gives you up-to-the-minute scores and news with loads of video highlights. Sign in and customize the ESPN App to get scores, news, and alerts from all of your favorite teams and leagues!

What do you get with ESPN?
- Fast access scores and highlights from the MLB, NFL, College Football, NBA, College Basketball, MLS, and more.
- Your favorite teams and leagues front and center – sign in to make the ESPN app yours.
- Watch video highlights of your favorite games and easily share on Facebook, Twitter, Email and SMS.
- Check out the "Now" views for real-time updates and commentary. Now combines up-to-the-minute ESPN updates on every sport or team with the freshest photos, videos and social media content from around the sports universe.
- Not near a TV? Watch any event on any ESPN channel simply by tapping on the On-Air tab.
- Stream live ESPN Radio for free — just tap on the On-Air tab and hit "Play".
- Use Handoff to switch between your Apple Watch and your iPhone.

--

Feedback:
- Follow us on Twitter for the latest updates and to provide feedback on the app: twitter.com/ESPN_FanCentral
- Use the Feedback form in the app's Settings menu to let us know how we're doing.

Terms of Use: http://disneytermsofuse.com/

Privacy Policy: https://disneyprivacycenter.com/
4.4.0 버전의 새로운 기능
[+] Favorite Sports! — Personalize the app by picking your favorite leagues. The scores you care about most will show up at the top of the home screen of the app.
[+] Gearing up for the fantasy season? — Get an edge in your fantasy league with the new Fantasy Football clubhouse, filled with real-time fantasy news and videos from Matt Berry, Tristan H. Cockcroft, Christopher Harris, and other fantasy analysts.
[+] Bug fixes and performance improvements. We got in shape this offseason and are ready to report to training camp.
Apple Watch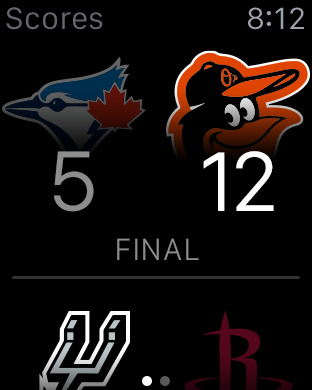 iTunes에서 보기
이 App은 iPhone 및 iPad 전용입니다.
iPhone용 Apple Watch App 제공
무료

카테고리:

스포츠

업데이트:

2015.07.15

버전:

4.4.0

크기:

33.1 MB

Apple Watch:

사용 가능

언어:

한국어, 그리스어, 네덜란드어, 노르웨이어(니노르스크), 덴마크어, 독일어, 러시아어, 베트남어, 부크몰, 노르웨이어, 스웨덴어, 스페인어, 영어, 우크라이나어, 이탈리아어, 인도네시아어, 일본어, 중국어(간체), 중국어(번체), 체코어, 카탈로니아어, 터키어, 포르투갈어, 폴란드어, 프랑스어

개발자:

ESPN Inc.
호환성: iOS 8.0 버전 이상이 필요. iPhone, iPad 및 iPod touch와 호환. 이 App은 iPhone 5, iPhone 6, iPhone 6 Plus에 최적화되었습니다.