FollowDerby
Silver Pride Software Ltd 제작
iTunes를 열어 App을 구입하고 다운로드합니다.
설명
FollowDerby is your one stop resource for Derby County related news and gossip. We scour the internet and bring you all the news and updates about the super Rams straight to your iPhone or internet enabled iPod Touch. You can then discuss the issues of the day with fellow fans using the integrated chat facility.

FEATURES:

- Latest news about Derby County from multiple sources.
- Premier real-time chat facility.
- Join in with the interactive chat on the news of the day.
- Create your own articles and blogs to start the debate.
- Share scores in real-time with your fellow fans
- NEW* - add images and link youtube videos.
- NEW* - predict the score

So, get going and join in the banter with your fellow Gooners to talk everything football related and more besides.

***** IMPORTANT PLEASE NOTE *****

Please be aware that if you make abusive or offensive comments or try to circumvent the apps swear filter you will be prevented from making further comments in the app.
2.3.1 버전의 새로운 기능
Bug Fixes.
New Share Comments and report user features.
iPhone 스크린샷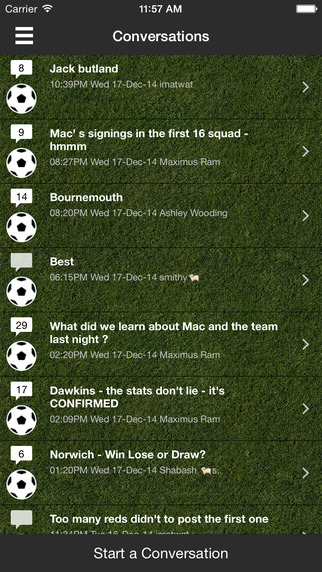 iTunes에서 보기
무료

카테고리:

스포츠

업데이트:

2015.06.01

버전:

2.3.1

크기:

3.4 MB

언어:

영어

개발자:

Silver Pride Software Ltd
호환성: iOS 7.0 버전 이상이 필요. iPhone, iPad 및 iPod touch와 호환. 이 App은 iPhone 5, iPhone 6, iPhone 6 Plus에 최적화되었습니다.
Silver Pride Software Ltd의 iPhone App 더 보기