HDR Studio
Union Well Limited 제작
Mac App Store를 열고 앱을 구입하고 다운로드합니다.
설명
******* HOLIDAY BIG SALE! 75% OFF! *****

HDR Studio is the first all-in-one photography software that includes magical features-- ease of use, lightning fast, sophisticated HDR processing, and a collection of Photo Effects.

As a special introduction to our friends, download the software today and get 50% off the original price -- for limited time only!

HDR Studio features:

# HDR Mode:

Multiple Exposures and Tone Mapping come together in our world class HDR technologies, with masterful alignment, ghost removal, and local tone mapping, to create amazing HDR photos easily.

Our Alignment technology works so well, that even handheld multi-shot sets, come out beautifully -- you may never need a tripod again to made great HDR images.

Ghost Removal features enable you to shoot amid moving objects in your HDR image, as minor object movements during the multi-shot capture are automatically compensated for in the final image, allowing you to always get a clean and clear outcome.

Ranging from the surreal to the ultra faithful photorealistic, our two Tone Mapping engines allow for the full range of expression based on your desires.

# Quick Edit Mode:

This mode enables you to quickly adjust your photos with Cropping tool, Automatic Enhancement, Highlight Effects, Noise Reduction, Brightness, Contrast, as well as Color Saturation adjustment.  Most image editing tasks can be quickly and easily done in this mode. 

Automatic enhancement empowers you with innovative technology that automatically enhances the detail, color and contrast of a single standard jpeg images with only one click.

The Highlight Effects are a collection of photographic effects, with vignettes and borders to perfectly finish out and frame your image.


# Control and Fine Editing is Yours:

With over 15 parameters, in 7 categories, you can completely fine tune and control your final image.  Some of these tools include, curve adjustment, color balance, color temperature and tint adjustment, lens correction, highlight/shadow adjustment, white/black point adjustment, noise reduction and many more, all easy to use.  Speeding the process from source image, to final product, nearly all tools allow you to watch changes in real time.

# Raw File Processing, Naturally:

HDR Studio includes a sophisticated RAW converter and supports RAW files captured by most major companies -- more than 150 camera models from Canon, Nikon, Sony, Olympus, Panasonic and others, as well as those using Adobe (DNG). Newly released RAW formats are included in updates as they become available.

# Real Time Processing:

Across the board, we have made great strides in optimizing the visual experience for you, our friends, and so 95% of the adjustment and controls are speedily applied in real time! 
1.1.6 버전의 새로운 기능
1. Fix minor bugs
스크린샷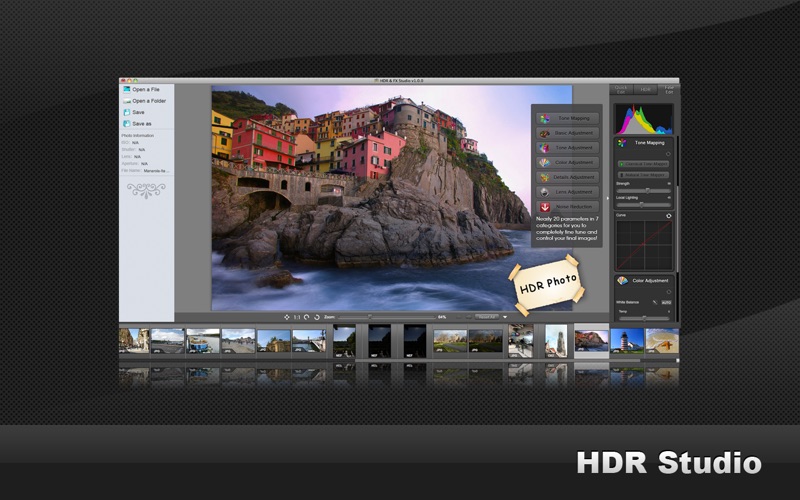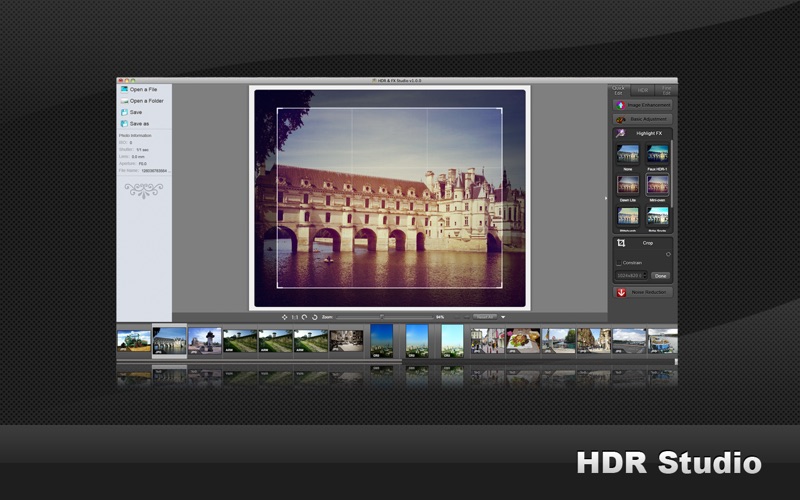 Mac App Store에서 보기
USD 2.19

카테고리:

사진

업데이트:

2012.02.12

버전:

1.1.6

크기:

29.4 MB

언어:

영어

개발자:

DUAN BAOPING
호환성: OS X 10.6 버전 이상
Union Well Limited의 콘텐츠 더 보기