Laser Doodle HD
Joel Eckert 제작
iTunes를 열어 App을 구입하고 다운로드합니다.
설명
See it in action! Press the App Support button for an in-depth Video Tutorial.

Support for the iPad retina display

Draw realistic laser beams with ease. Move your finger across the screen and watch as you get photorealistic results. Play with fully customizable sizes and colors. You don't need any drawing ability. Laser Doodle HD takes care of everything!

INSTRUCTIONS

When you first launch Laser Doodle HD you will see ten buttons: two at the top, and eight at the bottom.

TOP TOOLBAR

1. The top left "+" button gives you the option to import an image from your Photo Album.

2. The camera icon gives you the option to take a photo, if your iPad has a camera.

3. The top right "Folder" button will allow you either to save your finished image to your Photo Album or to Email it.

BOTTOM TOOLBAR

1. "Line" Tool - Use the Line tool to create a laser beam on the screen. Until you draw another line or deselect the tool, you can move the line, change the core and glow colors, and alter the diameters of the brushes.

2. "Move" Tool - Use the Move tool to convert the last line you drew to outline shapes with moveable endpoints. When you have repositioned your line to your satisfaction, press the line tool again to see it rendered.

3. "Freehand" Tool - Use the Freehand tool to draw with your finger. The freehand tool uses the glow brush to draw.

4. "Eraser" Tool - With your finger, use the Eraser tool to remove unwanted artwork.

5. "Undo/Redo" Tool - Use the Undo/Redo tool to erase your last action. Press it again to retrieve it.

6. "Color Picker" - Use Color Picker to set your core and glow colors.

7. "Brush Settings" - Use Brush Settings to change the diameter of the core, glow, and eraser. The eraser can be either a soft or hard brush.

8. "Trash" Tool - When you press the Trash tool, options will be presented to you. "Erase Artwork" erases all your drawings. "Erase Everything" erases your drawings and your imported image. The "Show/Hide" Tool shows or hides all the tools and the status bar. This function is useful if you need to draw in an area that is obscured by the tools or the status bar. To bring back the toolbar, rotate the iPad to any different orientation.
1.3 버전의 새로운 기능
Updated for iOS 8.
iPad 스크린샷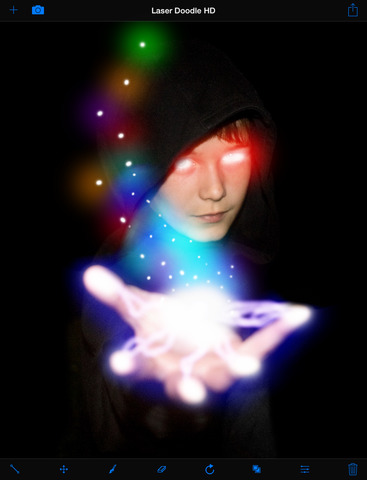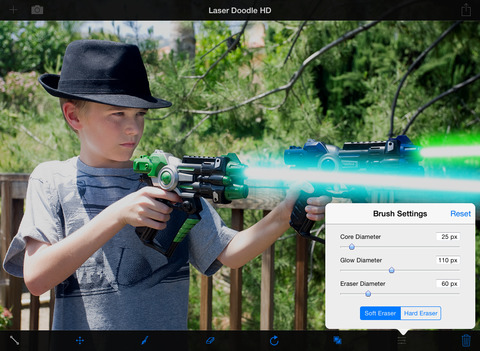 iTunes에서 보기
USD 5.49

카테고리:

엔터테인먼트

업데이트:

2015.05.11

버전:

1.3

크기:

21.5 MB

언어:

영어

개발자:

Joel Eckert
호환성: iOS 8.0 버전 이상이 필요. iPad과(와) 호환.