Milly Molly and the Bike Ride
Kiwa Media 제작
iTunes를 열어 App을 구입하고 다운로드합니다.
설명
You will be amazed at how these wonderful children's stories come to life with QBook. Children love being able to run their fingers over the text to hear the story and touch any word to hear it said or spelt. They will happily spend hours coloring in the book and they can record themselves as well.

It's great fun for kids of all ages and it helps with early learning and literacy development. They can even explore other languages and have loads of fun while they do it. This is the perfect gift for your children and it's educational as well.

The hugely successful Milly, Molly series of books relate the adventures of two little girls from different ethnic backgrounds with their multi-cultural friends. The books have been written to promote the acceptance of diversity, sound values and the learning of life skills. "We may look different but we feel the same."

Milly and Molly can't be late. They mustn't be late! In this story Milly and Molly remind themselves of the time when distractions interrupt their bike ride to Grandma's and they arrive punctually at twelve o'clock.

Features:

• Personalize each book with 'this book belongs to ...' page.
• Swipe-to-Read™ the words to hear and playback the story at your own pace.
• Touch-to-Hear™ individual words spoken.
• Touch-to-Spell™ to hear the letters that spell each and every word.
• Auto Play to enjoy the narration.
• Use the My Narration function to read and record the story yourself and customize your book.
• Use the Color Palette to paint each page and save this to customize your book.
• Choose the Easy/Hard Word Find puzzle to find words from the story.
• Choose the Easy/Hard Memory Pairs game and match the card pairs.
• Save your high scores and advance up the levels.
• Includes the Milly, Molly song.

Multi-Language QBooks

QBook™ offers a true multi-language experience and is a great tool for learning new languages for both young and old. This QBook includes the narration, text, games and user interface in these languages:

US English
Spanish
Italian

Requirements:

Compatible with iPhone and iPod Touch (Requires headset mic for recording features)
Requires iPhone OS 3.1 - 4.2
(not fully compatible with iOS5)


Patent 532174
Patent Pending - All rights reserved

Kiwa Media produces multi-language digital content, creates IT solutions and develops products and services for the digital publishing and entertainment industries.
1.4 버전의 새로운 기능
• iOS4 Compatible
• User interface improvements
iPhone 스크린샷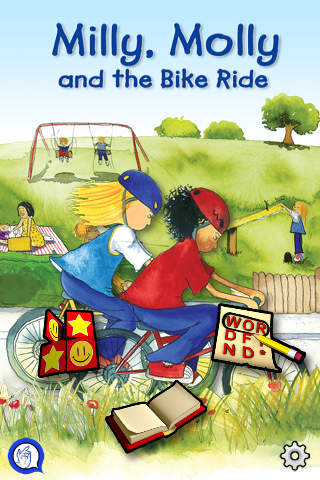 iTunes에서 보기
$1.99

카테고리:

도서

업데이트:

2010.07.26

버전:

1.4

크기:

36.5 MB

언어:

스페인어, 영어, 이탈리아어

개발자:

KIWA International Ltd
호환성: iOS 3.1.2 버전 이상이 필요. iPhone, iPad 및 iPod touch와 호환.