Phaeton for iPad
Tau Ceti Systems 제작
iTunes를 열어 App을 구입하고 다운로드합니다.
설명
The Phaeton brings 18th-century astronomy to the iPad through a modern interpretation of five astronomical instruments of antiquity: the Tellurion, the Grand Orrery, the Astrolabe, the Lunarium and the Jovilabe.

The Tellurion depicts various phenomena of day, night and the seasons due to the rotation of the earth on its axis, the tilt of its axis and its revolution around the sun. It also displays the moon's position in its orbit, its apparent phase and can be used to predict eclipses.

The Grand Orrery shows the positions of the major planets and the position of the sun in the zodiac.

The Astrolabe simultaneously provides the local apparent solar time, local sidereal time, the sun's altitude above the horizon, its azimuthal direction, its declination from the equator and its zodiacal position. (Currently, altitude and azimuth for northern hemisphere users only.)

The Lunarium depicts a realistic view of the moon as seen from the observer's position including phase, position angles and lunar librations.

The Jovilable shows the configuration of Jupiter's Galilean satellites and allow predictions of transits, occultations and eclipses.

The app support web site provides contact information for inquiries and comments.
2.1.0 버전의 새로운 기능
Version 2.1.0 adds the Lunarium and Jovilabe instruments.

The Astrolabe's climate plate is now dynamically constructed for the observer's precise latitude.

Graphics have been optimized for iOS 8.1.
iPad 스크린샷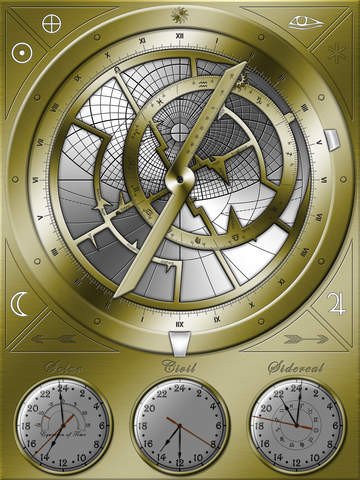 고객 리뷰
Great!!
This is my most favorite app for iPad.
It shows elaborate description of orrery.
I love it and wish to download in my iPhone.
iTunes에서 보기
무료

카테고리:

교육

업데이트:

2015.01.30

버전:

2.1.0

크기:

46.9 MB

언어:

영어

개발자:

Burton Joosten
호환성: iOS 8.1 버전 이상이 필요. iPad과(와) 호환.