USVIHA
M3W, Inc. 제작
iTunes를 열어 App을 구입하고 다운로드합니다.
설명
USVI Hotel & Tourism Association App features listings of members of the Association whom have game or coupon that phone user can receive while moving around the Island. This allows users to find great prizes & coupons from local members of the Hotel & Tourism Association. Utilizing the newest technologies, when you enter a zone or (geo-fence), you will receive an automatic notification that there is an active game or coupon available from a nearby Association Member.
Discover the best deals in the US Virgin Islands and take advantage of all free prizes and coupons.

PLEASE NOTE: Continued use of GPS running in the background can dramatically decrease battery life."
1.1 버전의 새로운 기능
Fixed Bugs
Improved Performance
iPhone 스크린샷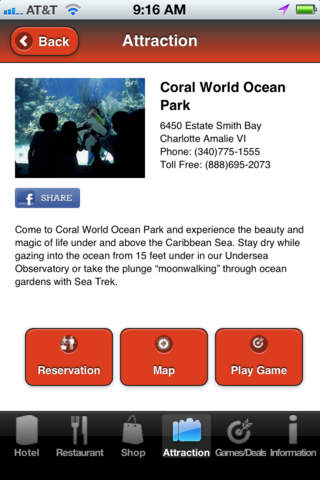 iTunes에서 보기
무료

카테고리:

여행

업데이트:

2012.01.19

버전:

1.1

크기:

3.5 MB

언어:

영어

개발자:

Thomas Griffin
호환성: iOS 3.0 버전 이상이 필요. iPhone, iPad 및 iPod touch와 호환.
M3W, Inc.의 iPhone App 더 보기