VCLink
AVer Information Inc. 제작
iTunes를 열어 App을 구입하고 다운로드합니다.
설명
The VCLink application integrates your smartphone into the solution for an unparalleled video conferencing experience!
This free download provides a new level of flexibility and convenience!
Features include:
Phonebook Sync and Storage - Take your HVC 110/130/310/330 phonebook with you wherever you go so you'll always
have your contacts handy.
Full Access and Control - Transform your smartphone into a fully operational HVC remote control.
Mobile Content Sharing - Share live images captured through the smartphone's camera during meetings.
Skype Connection - Bringing Skype user into your video conferencing when connecting to VCBridge.
2.02.06 버전의 새로운 기능
Support iOS 7.

Support EVC100/EVC130 models (Version 1.08 and later).

Fixed the crash problem when user first time installs app and uses "Phone Book" feature.
iPhone 스크린샷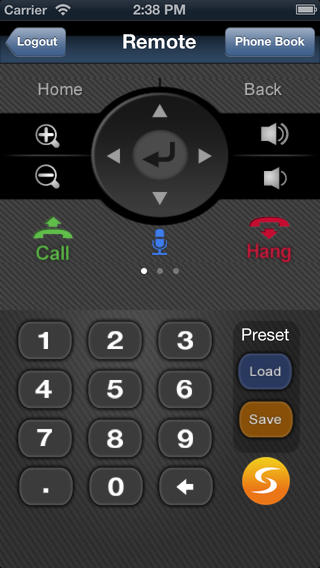 iTunes에서 보기
무료

카테고리:

유틸리티

업데이트:

2014.02.17

버전:

2.02.06

크기:

2.9 MB

언어:

영어

개발자:

AVer Information Inc.
호환성: iOS 5.0 버전 이상이 필요. iPhone, iPad 및 iPod touch와 호환. 이 App은 iPhone 5에 최적화됨.
AVer Information Inc.의 iPhone App 더 보기