W Hotels Worldwide
Starwood Hotels & Resorts Worldwide, Inc. 제작
iTunes를 열어 앱을 구입하고 다운로드합니다.
설명
You like music. We like music. You love to discover new music. We have hotels around the world where we hear the latest tracks from people we meet who also love to discover music.
From bonfires on the beach in Barcelona, to pool parties in the Hollywood Hills, we are always listening.
Whatever you're in the mood for, we have the perfect playlist.
We put those playlists into this app.
Find the right mix to fuel your workout. Get your Zen on. Stay out all night or never get out of bed.
And listen to the latest playlists from our W DJs and their friends all over the world.

This app plays great music, but of course it has more:
- Discover and book W Hotels Worldwide
- Explore W Escapes and make your next Escape Plan
- Browse our feed of articles and lifestyle content selected by our global network of W Insiders – the local experts in every W Hotel
- Get local tips, find directions with maps, see the latest Instagram photos or take a first look at each hotel's photo gallery
- Find out first about special events and exclusive W Happenings in each destination

http://www.starwoodhotels.com/whotels/terms_conditions.html
2.0.3 버전의 새로운 기능
Updates to content feeds.
iPhone 스크린샷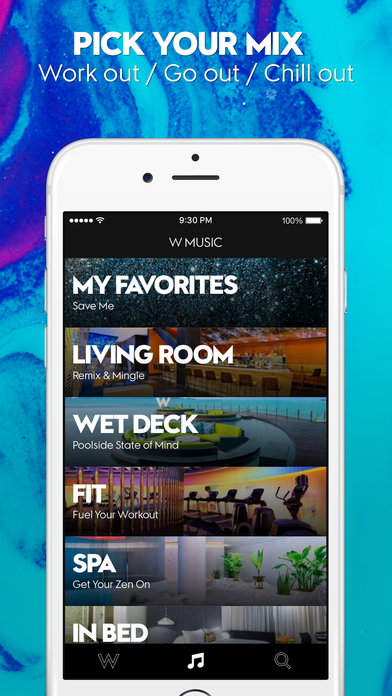 iTunes에서 보기
무료

카테고리:

여행

업데이트:

2017.07.25

버전:

2.0.3

크기:

45.3 MB

언어:

영어

개발자:

Starwood Hotels and Resorts
호환성: iOS 10.0 버전 이상이 필요. iPhone, iPad 및 iPod touch와(과) 호환.
Starwood Hotels & Resorts Worldwide, Inc.의 iPhone 앱 더 보기