XMF Remote R8
FUJIFILM Corporation 제작
이 앱은 iOS 기기의 App Store에서만 사용할 수 있습니다.
설명
*** IMPORTANT NOTICE ***
- This app is compatible with XMF Remote R8 and R9 server.
When connecting to XMF Remote R9.1 server or later, please use [browser mode] client on you web brouser instead.

When connecting to XMF Remote R7 server, you must download "XMF Remote R7" app.
To see which version of XMF Remote system is running on your server, start XMF Remote client (java edition) and find the version number written on the splash screen .

- This app does not support iOS6 or later.

Changes from XMF Remote R7 app
- Improved preview speed for high-resolution pages
- Step-by-step page approval workflow display (comform to XMF RemoTe R8 function)
- Keep user settings (Annotation view on/off, spread order, etc...) after re-starting

----
Check and annotate on iPad !
"XMF Remote" is the iPad app for the FUJIFILM online proofing system "XMF Remote server". You can view, annotate, approve/reject for the print preview pages stored on "XMF Remote Server".

Condition
"XMF Remote" communicates with "XMF Remote Server" to start up. You need to acquire "Network address", "Login account", "Password" from Printers
who manages "XMF Remote Server".

With "XMF Remote", you can:
- View preview pages
- Annotate with proof tools
- View page information
- Approve/Reject pages
- View annotation list and jump to the annotated area

How to use
1) Specify "Login ID", "Password" and "Server Address" when "XMF Remote" starts up
e.g.) LoginIDprooferA
Passwordxxxxxxxxx
Server Addresshttps://192.168.1.11
2) After login, you should push and down one of the job shown at the left side, then you can find the help button with FUJIFILM Logo.
3) Help describes how to use the XMF Remote.
8.0.1 버전의 새로운 기능
- Fixed some issues in proof tool.
iPad 스크린샷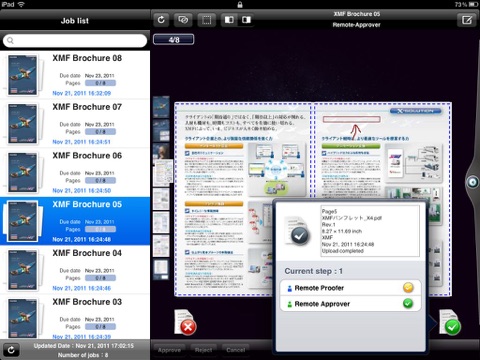 iTunes에서 보기
무료

카테고리:

생산성

업데이트:

2012.01.30

버전:

8.0.1

크기:

15.6 MB

언어:

독일어, 스페인어, 영어, 일본어, 프랑스어

개발자:

FUJIFILM Corporation
호환성: iOS 4.2 버전 이상이 필요. iPad와(과) 호환.
FUJIFILM Corporation의 iPad 앱 더 보기