Korek
By HIC MEDIA SAL
This app is only available on the App Store for iOS devices.
Description
"Korek Self-Care" is a distinctive mobile application that grants Korek Telecom subscribers instant access to a wide range of services offered by Korek Telecom, the fastest growing Mobile operator in Iraq. No other application provides the essence of features that are provided by "Korek Self-Care". It places Korek subscriber in control and gives him/her the freedom to subscribe, update, upgrade and manage his/her services at any time, from anywhere. The application's customized, friendly user interface makes it a vital companion for every Korek Telecom subscriber.

Features:
- Create a user profile, update the information, change the language and disable the profile.
-Subscribe, change and upgrade data packages.
- View your balance, consumed data.
- Get the latest promotion s, subscription services from Korek Telecom.

"كورك-إختياراتي" تطبيق متميز للجوال من كورك تيليكوم يمنح مشتركيها إمكانية الوصول المباشر الى مجموعة شاملة من الخدمات التي تقدمها كورك، مشغل الإتصالات الاسرع نموا في العراق. يعتبر " كورك-إختياراتي" اول تطبيق من نوعه من كورك حيث لا يوفر أي تطبيق أخرى نفس الإمكانيات. يوفر التطبيق لمشتركي كورك القدرة على السيطرة و الحرية لإجراء عمليات الاشتراك، التحديث و الترقية و إدارة خدماتهم في أي وقت و في أي مكان. تطبيق سهل الإستخدام مما يجعله أداة حيوية لكل مشتركي كورك.
:المميزات
انشاء ملف المستخدم، تحديث المعلومات، تغير اللغة و الغاء تفعيل ملف المستخدم-
الاشتراك، تغيير و ترقية باقات الانترنت-
الاستعلام عن الرصيد و البيانات المستخدمة-
الحصول على احدث العروض و خدمات الاشتراك من كورك تيليكوم-


(کورەك بژاردەکانم) ئاپێکى جیاوازە بۆ مۆبایل کەوا ڕێگە بە بەشداربووانى کورەك دەدات راستەوخۆ دەستیان بگات بە چەندین جۆرى خزمەتگوزارى پێشکەشکراو لەلایەن کورەك، ئەو تۆڕەى کە زۆر بەخێرایى گەشە دەکات لە سەرانسەرى عێراق. هیچ ئاپێکى دیکە هەمان تایبەمەندى (کورەك بژاردەکانم)ى پێشکەش نەکردووە. ئەم ئاپە وا لە بەشداربووانى کورەك دەکات بتوانن بە کۆنترۆلکراوى بمێننەوە و بەسەربەستى بەشدارى لە خزمەتگوزارییەکان بکەن و نوێی بکەنەوە و پلەی خۆیان بەرز بکەنەوە و بەرێوەى ببەن لە هەر کات و شوێنێك. ئاپێکى تایبەتمەندە، رووکارەکەى دۆستانەیە ئەمەش واى لێدەکات ببێتە هاوڕێیەکى چالاك بۆ هەر بەشداربووێکى کورەك.

:تایبەتمەندییەکان
دروستکردنى پرۆفایلى بەکارهێنەر، نوێکردنەوەى زانیارییەکان، گۆڕینى زمان، لەکارخستنى پرۆفایل-
بەشداریکردن، گۆڕین و بەرزکردنەوەى پاکێجەکانى ئینتەرنێت-
زانينى باڵانس و برى ئینتەرنێتى بەکارهاتوو-
بەدەستهێنانى تازەترین ئۆفەر و بەشداریکردن لە خزمەتگوزارییەکانى کورەك-

Korek's Official Mobile Application
What's New in Version 1.1
bugs fixes
iPhone Screenshots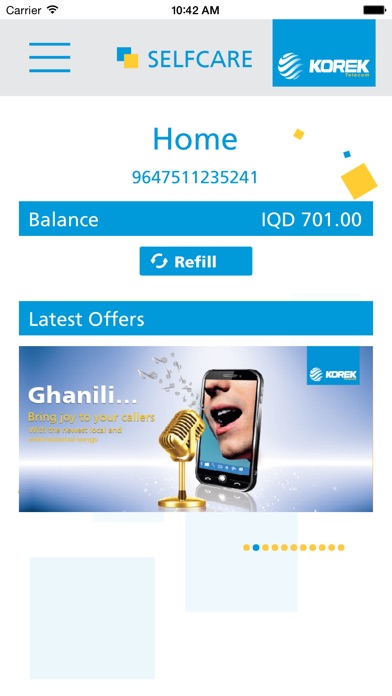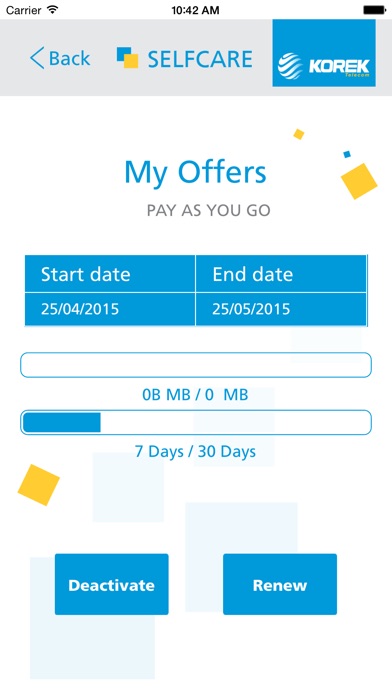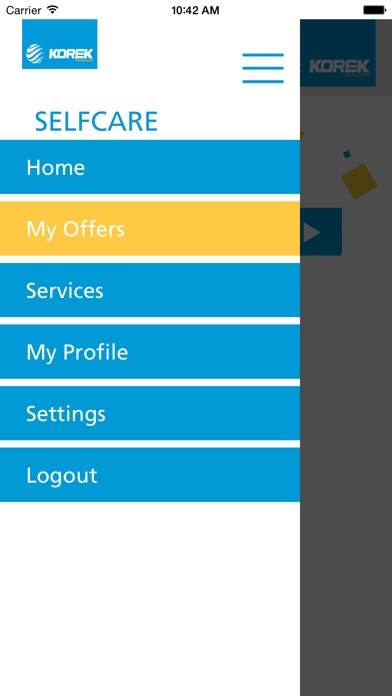 View in iTunes
Free

Category:

Utilities

Updated:

18 August 2015

Version:

1.1

Size:

13.5 MB

Language:

English

Developer:

HI.C.MEDIA SAL
Compatibility: Requires iOS 7.0 or later. Compatible with iPhone, iPad and iPod touch.
More iPhone Apps by HIC MEDIA SAL