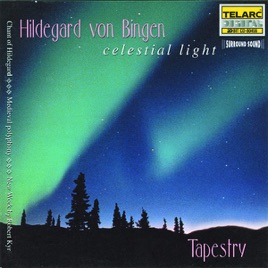 | | TITLE | TIME |
| --- | --- | --- |
| | | 5:46 |
| | Novi sideris Lumen respenduit | 3:42 |
| | | 1:38 |
| | | 5:13 |
| | | 6:36 |
| | | 2:29 |
| | | 4:13 |
| | From the Circling Wheel: I. Song to the Creator (O verbum Patris) | 5:54 |
| | From the Circling Wheel: II. Song of the Virgin to her Son (O fili dilectissime) | 5:17 |
| | From the Circling Wheel: III. Song to the Virgin (O Magna res) | 4:55 |
| | | 2:46 |
| | | 2:41 |
| | | 4:42 |
| | | 6:59 |
About Tapestry
Tapestry is a vocal trio specializing in music of the Medieval and contemporary eras.

It was founded in 1994 by Laurie Monahan, who remains the quartet's director. Monahan, a mezzo soprano, has a notable history in the American early music movement. She has performed and taught early music repertoire since about 1980, and was a co-founder of the ensemble Project Ars Nova (P.A.N.) In the 1980s she participated in the Sequentia group's pioneering recording of music of the medieval German Abbess Hildegard von Bingen. Since then she has continued to be associated with the ecstatic music of this mystic composer and literary figure.

The other founders of the group were Cristi Catt and Daniela Tosic. They were acquainted with each other as fellow graduate students at the Longy School of Music, where both frequently participated in Medieval and late twentieth century music.

Catt is a high soprano. In addition to her musical training, she has a background in theater. She brings to the ensemble an interest in drama, narrative, and movement of the performers.

Tosic, the alto, comes from the Slavic vocal tradition, contributing special richness to their vocal blend. She also is a fine calligrapher, and often writes out the scores and parts for the group from the original medieval notation.

They approach their concerts from the point of view of observing the early music's historic context and authentic performance style, but as if it were a living, contemporary sort of music. They undertake experiments in vocal color and use movement while performing to take advantage of the performing space, whether it be a hall or church, or some other, non-traditional venue. They frequently add accompanying instruments, such as medieval harp, vielle, and percussion.

Their first recording was on the Telarc label's Music of Angels, a project of the Ensemble P.A.N. where they appeared as guest artists. Their 1997 release, the first in their own right, was Celestial Light, a recital of Hildegard's music times to celebrate the 900th anniversary of her birth.
ORIGIN

Boston, MA

FORMED

1994