Capitán Dadis
Jon Lee Anderson
This book is available for download with iBooks on your Mac or iOS device, and with iTunes on your computer. Books can be read with iBooks on your Mac or iOS device.
Description
En la mañana del 28 de septiembre de 2009, decenas de miles de personas marcharon al estadio nacional de fútbol de Guinea para protestar por la junta militar que gobernaba el país. Durante una hora larga, los hombres de Moussa Dadis Camara se movieron entre la multitud cortando, disparando y golpeando hasta la muerte a, al menos, 156 personas. También desnudaron y violaron conjuntamente a más de un centenar de mujeres, usando bayonetas, zapatos, trozos de madera y cañones de armas. Una de las víctimas que sobrevivieron, vio con terror cómo los soldados mataban a una chica que yacía en el suelo junto a ella por el procedimiento de meterle el cañón de un Kalashnikov en la vagina y apretar el gatillo. Otra vio a un soldado que clavó su bayoneta en los genitales de una mujer y que, a continuación, se dedicó a lamer la sangre.

Jon Lee Anderson voló a Guinea unas semanas después de la masacre. "Para entonces, algunos de los funcionarios del Gobierno de Dadis parecieron comprender la gravedad de su situación y se tomaron mi visita como una oportunidad de enmendarla". Esa visita es el núcleo central de la crónica sobre un país entrelazada con un perfil de Dadis, "un pequeño y extravagante capitán del ejército" que se había hecho con el poder gracias a un golpe de Estado en diciembre de 2008 tras la muerte del dictador, Conte, lo había cambiado todo. Durante la mayor parte de los siguientes nueve meses, Dadis había mostrado un carácter divertido, pero impredecible, con su propio programa de televisión al estilo de Hugo Chávez, tipo 'reality show', en el que libraba una campaña populista contra la corrupción.
Screenshots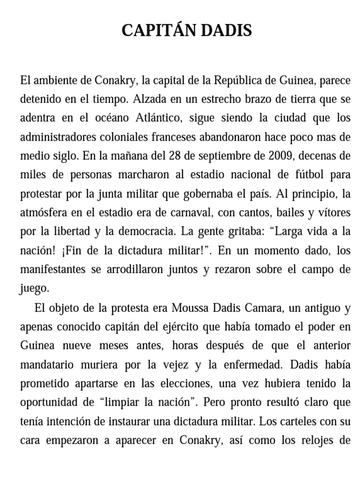 View in iTunes