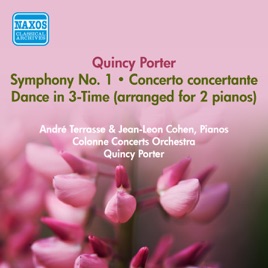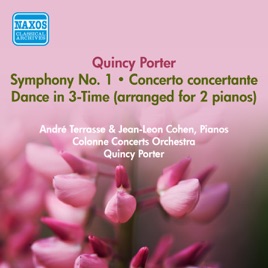 Porter, Q.: Symphony No. 1 - Concerto Concertante - Dance in 3-Time (Terrasse, Cohen, Colonne Concerts Orchestra, Porter) (1955)
TITLE
TIME

Symphony No. 1: I. Allegro moderato

Quincy Porter & Colonne Concerts Orchestra

9:32

Symphony No. 1: II. Andante

Quincy Porter & Colonne Concerts Orchestra

7:15

Symphony No. 1: III. Allegro

Quincy Porter & Colonne Concerts Orchestra

6:28
18:42

Dance in 3-Time (arr. for 2 pianos)

Andre Terrasse & Jean-Leon Cohen

8:51
5 Songs

℗ 2000 Naxos Classical Archives
About Quincy Porter
Quincy Porter was among the more important American composers of his time and best known for his chamber works, particularly for his nine string quartets. Some of his larger compositions, in fact, have an almost chamber music quality, like the Ukrainian Suite (1925), for string orchestra, and Music for Strings (1941). Porter was a musical conservative, his early works having a highly accessible character, hardly in advance of the expressive language of arch-conservative Howard Hanson. Porter's later compositions, his Symphony No. 2 for example, had a tougher veneer, with more dissonance and at times a sense of austerity. Still, his music is always approachable, even if it never quite generated the sense of color and folk-like character of certain Copland works. Porter had one great hit, the Pulitzer Prize-winning Concerto Concertante (1954), originally called the Concerto for two pianos and orchestra. It is largely forgotten today, as is most of Porter's music, but performances and recordings of his works have generated a significant following since the 1990s.

Quincy Porter was born in New Haven, CT, on February 7, 1897. From 1907 he studied violin. In 1914 he enrolled at Yale, where his composition professors were Horatio Parker and David Stanley Smith. Porter had later studies at the Schola Cantorum in Paris with André Caplet (violin) and Vincent d'Indy (composition).

Porter played violin in the Capitol Theatre Orchestra in New York City in the early '20s, and also studied composition there with Ernest Bloch. In 1922 he began teaching at the Cleveland Institute of Music. His earliest significant works date to his Cleveland years, the first two string quartets (1922-1925) and the Ukrainian Suite (1925).

Following a three-year stay in Paris, Porter joined the faculty at Vassar College (1932). His First Symphony came near the end of his Vassar tenure, it was premiered by the New York Philharmonic in 1938, the year Porter was appointed dean at Boston's New England Conservatory of Music. After serving as director there for his last four years, Porter joined the music faculty at Yale (1946). Porter's works were more in demand after receiving the Pulitzer Prize for his Concerto Concertante in 1954. His Harpsichord Concerto and orchestral suite New England Episodes (both 1958) drew considerable attention from critics and public alike. Porter's 1962 Second Symphony (premiered 1964) was his last major composition. Porter retired from Yale in 1965 and died the following year of a stroke.
Top Albums by Quincy Porter
See All