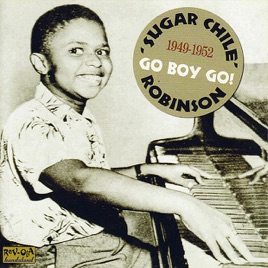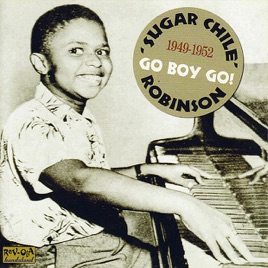 | | TITLE | TIME |
| --- | --- | --- |
| | | 2:25 |
| | | 2:31 |
| | | 2:14 |
| | Caldonia (What Makes Your Big Head So Hard?) | 2:26 |
| | | 2:01 |
| | | 2:08 |
| | | 2:35 |
| | | 2:11 |
| | | 2:52 |
| | | 2:28 |
| | | 2:14 |
| | Rudolph the Red Nosed Reindeer | 2:35 |
| | | 2:18 |
| | | 2:13 |
| | The Hunkie Man (Ice Cream Man) | 2:19 |
| | The Green Grass Grows All Around | 3:01 |
| | | 2:03 |
| | | 2:29 |
| | | 2:59 |
| | | 2:45 |
| | | 2:06 |
| | | 2:13 |
| | | 3:04 |
| | | 2:35 |
| | Caldonia (From No Leave, No Love) | 2:24 |
| | Sugar Chile Boogie / Hen House Door / Robinson Boogie / Tuxedo Junction (From The Soundtrack Of A 1947 Short Film) | 6:47 |
| | After School Blues (From 1951 Universal International Featurette) | 4:00 |
| | Numbers Boogie (From 1951 Universal International Featurette) | 2:08 |
About "Sugar Chile" Robinson
Born in Detroit, MI, in 1940, little Frankie Robinson began toying with the piano as soon as he was big enough to sit on the bench and reach the keyboard. Legend has it he managed to play something resembling "Tuxedo Junction" on the ivories before he'd attained the age of three. Frankie Carle claimed to have discovered the kid in 1945, and a meteoric career was set in motion when the precocious child performed at the White House for President Harry S. Truman. He also sat in with Lionel Hampton's orchestra. In 1946, cast as the "boy piano player," Robinson sang and played "No Leave, No Love" in Charles Martin's MGM motion picture of the same name. This welterweight comedy also starred Van Johnson, Guy Lombardo, Keenan Wynn, and British actress Patricia Kirkwood.

Now billed as "Sugar Chile" Robinson, Frankie started making records in Los Angeles for the Capitol label in 1949, backed on his first session by bassist Leonard Bibb and drummer Zutty Singleton. "Numbers Boogie" was his big hit, climbing to number four on Billboard's R&B chart by the end of the year. "Caldonia" crested at number 14. Robinson was now a national act, and he toured the U.S. playing in front of packed houses coast to coast. He also cut eight more sides for Capitol, this time accompanied by Jimmy Richardson and Red Saunders. Later that year the young star went on the road with Count Basie and appeared in a 15-minute film with that bandleader's sextet and Billie Holiday, among others. The staging was as contrived as anything else in this boy's career. Basie sat playing the piano as Robinson stalked in wearing cowboy hat and holsters, cap guns drawn. Forcing the Count away from his instrument at gunpoint, Sugar Chile sat down and demonstrated remarkable musical ability for a lad of ten years. He appeared on radio and television, played the London Palladium, and swept through Europe in 1951. At the age of 12 Robinson made his best and most mature recordings — also using organ and celeste — in June of 1952.

His recording career then suddenly came to an end, and it is a shame that nobody was taping the proceedings one night in 1954 when Robinson showed up at the Blue Note in Chicago, sitting in with baritone saxophonist Gerry Mulligan. No one has come forward with an explanation for why this promising young artist split the scene when he did. A theory exists that he went on to assist in operating the Lando record label in Detroit during the 1960s, and a recent rumor states that Sugar Chile Robinson resurfaced in his hometown, just after the turn of the millennium, playing the piano once again like old times. In 2007 Revola Records released Robinson's complete recordings on CD as Go Boy Go!
ORIGIN

Detroit, MI

BORN

1940