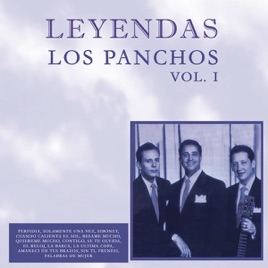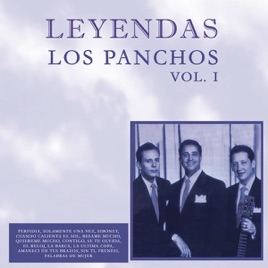 Los Panchos, Vol. I (Remasterizado)
| | TITLE | TIME |
| --- | --- | --- |
| | | 2:51 |
| | | 2:45 |
| | | 2:50 |
| | | 2:56 |
| | | 3:00 |
| | | 2:45 |
| | | 2:51 |
| | | 2:21 |
| | | 2:42 |
| | | 2:39 |
| | | 2:41 |
| | | 2:24 |
| | | 2:42 |
| | | 2:28 |
| | | 2:40 |
15 Songs

℗ 1982 Sony Music Entertainment Mexico, S.A. De C.V.
About Trío Los Panchos
The quintessential classic bolero trio, Los Panchos were formed in New York in 1944 by Mexicans Alfredo Bojalil Gil and Chucho Navarro and Puerto Rican Hernando Avilés. The trio's innovative format, which would become a standard of the genre, featured three voices and three guitars, as well as Gil's distinctive use of the Mexican requinto guitar, an instrument he created himself, for all the lead parts. Los Panchos became one of the most famous Latin American musical acts of the 20th century, making their name synonymous with the bolero and exporting the genre all over the world, selling million of records, and appearing in countless films. Some of their finest recordings were made in collaboration with female vocalists, notably American singer Eydie Gorme, but also Argentines Estela Raval and María Martha Serra Lima. Main composers Gil and Navarro remained the trio's core throughout the decades, while the lead vocal spot was assumed by a succession of male singers, including Julio Rodríguez, Johnny Albino, Enrique Cáceres, and Rafael Basurto.