DNB Latvija
By DNB ASA
This app is only available on the App Store for iOS devices.
Description
Tava banka Tavā telefonā!

Izmēģiniet DNB mobilo aplikāciju un novērtējiet iespēju ērti, ātri un vienkārši lietot internetbanku mobilajā telefonā! Ar DNB mobilo aplikāciju varēsiet lietot internetbankā biežāk izmantotās funkcijas, kā arī dažādus papildu rīkus ērtākai ikdienai.

Izmantojiet Ātro piekļuvi un ātri un droši pieslēdzies mobilajai bankai ar vienkāršu, paša izdomātu PIN kodu.

Ar Ātro piekļuvi varēsiet:

• Apskatīt viena vai vairāku kontu kopējo atlikumu
• Ātri un ērti veikt maksājumus iepriekš izvēlētiem saņēmējiem līdz 300 EUR (1000 EUR dienā)
• Apskatīt pēdējos 10 veiktos/saņemtos maksājumus
• Nosūtīt savu konta numuru uz e-pastu (savus rekvizītus)

Autorizējoties ierastajā veidā, izmantojot kodu karti/kalkulatoru ierastajā veidā, jūs varēsiet apskatīt visu informāciju par kontiem un kartēm, veikt maksājumus jauniem saņēmējiem, apskatīt maksājumu vēsturi un apstiprināt sagatavotos un daļēji parakstītos maksājumus.

Būtiski uzņēmumiem – pieslēdzot automātiskos paziņojumus, saņemsiet paziņojumus, kad nepieciešams apstiprināt maksājumu.

Mobilās bankas aplikācijā jūs varēsiet arī aprēķināt valūtas kursu, apskatīt tuvāko ceļu līdz bankai, kā arī nepieciešamības gadījumā sazināties ar banku.


[ENG]
Your bank in your phone!

Try DNB mobile application and enjoy the power of convenient, fast and easy online banking in the mobile phone! The most popular online banking functions and a whole variety of additional tools – all in one DNB mobile application!

Use Quick Access and connect to online banking quickly and securely with a simple, self-created PIN code.

With Quick Access you can:
• View total balance of one or more accounts.
• Quickly and conveniently make payments to pre-selected beneficiaries up to 300 EUR (1000 EUR per day).
• View available balances of all accounts.
• View the last 10 made/received payments.
• Send the info about your account number by e-mail.

After authorization with the help of a code card or a code calculator you will be able to view all the information about accounts and cards, make payments to the new beneficiary, view the payment history and confirm prepared and partially subscribed payments.

Important for the businesses – by enabling Push notifications you will receive notifications when there is a payment request for approval.

This useful mobile banking application will calculate the exchange rate, show the nearest way to the bank and, if necessary, will help you contact the bank!


[RUS]
Твой банк в Твоем телефоне!

Испытайте мобильное приложение DNB и оцените возможность удобно, быстро и эффективно пользоваться интернет-банком в мобильном телефоне! Наиболее часто используемые функции интернет-банка и различные дополнительные инструменты – в одном удобном мобильном предложении от DNB!

Воспользуйтесь Быстрым доступом – быстро и безопасно подключайтесь к мобильному банку с помощью простого PIN-кода, который придумаете сами.

С помощью Быстрого доступа вы сможете:

• просмотреть общий остаток на одном или нескольких счетах;
• быстро и удобно совершить платежи заранее выбранным получателям на сумму до 300 EUR (1000 EUR в день);
• просмотреть 10 последних входящих и исходящих платежей;
• отправить реквизиты своего счета по электронной почте.

После авторизации с помощью карты кодов или калькулятора кодов вы сможете просмотреть всю информацию о расчетных счетах и картах, совершить платежи новым получателям, просмотреть историю платежей и подтвердить подготовленные и частично подписанные платежи.

Важно для предприятей – подключая Автоматические уведомления, Вы получите уведомления о платежах, которым необходимо подтверждение.

В приложении для мобильного банка вы также узнаете валютный курс, определите ближайший маршрут до банка, а при необходимости и свяжетесь с банком.
What's New in Version 3.5.8
•ENG: Access your accounts even faster and easier – now also using your fingerprint!
•LAT: Piekļūsti saviem kontiem vēl ātrāk un ērtāk - tagad arī ar pirkstu nospiedumu!
•RUS: Подключись к своим счетам еще быстрее и удобнее – теперь и с помощью отпечатка пальца!
iPhone Screenshots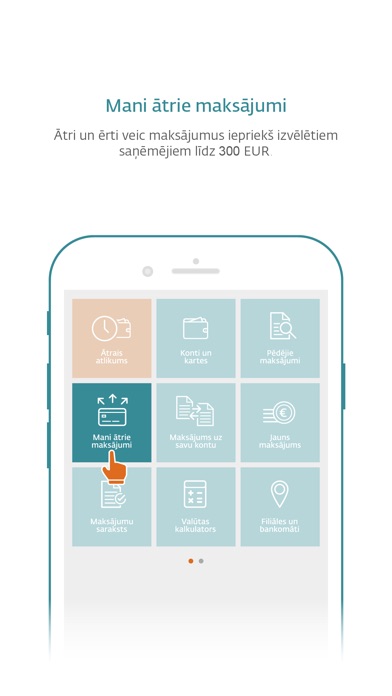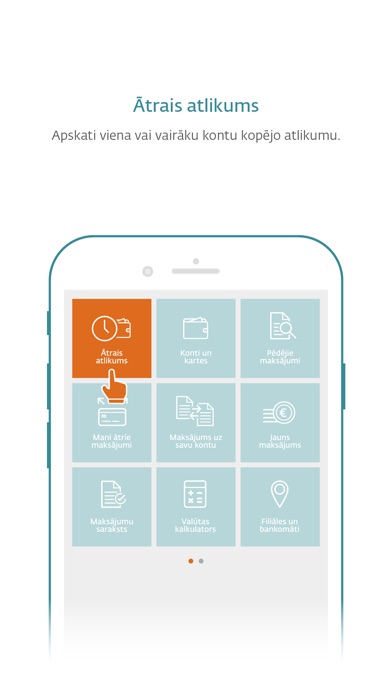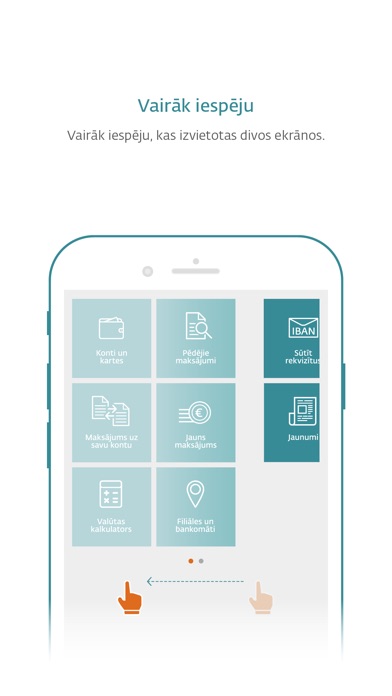 View in iTunes
Free

Category:

Finance

Updated:

14 September 2017

Version:

3.5.8

Size:

38.6 MB

Languages:

English, Latvian, Russian

Developer:

DNB ASA
Compatibility: Requires iOS 7.0 or later. Compatible with iPhone, iPad and iPod touch.