GO Chat
By Guangzhou Jiubang Digital Technolgy Co.,LTD
This app is only available on the App Store for iOS devices.
Description
GO Chat, a feature in the most popular SMS app, GO SMS Pro, has been packaged as a standard iOS app, is launching in iTunes!

***About GO Chat***
GO Chat, an IM application that available for iOS system, is developed by Guangzhou Jiubang Digital Technology Co. Ltd., with more comprehensive functionality and cool UI, making chatting easier. You can send/receive text/pictures/voice messages online (all free), more instant, running more stable. So what, come to download it!

*** Features ***
1. Multi-platform supporting: the iOS GO Chat can send/receive messages with multi-device accessibly.
2. Free charge: You can send text/pictures/voice messages by GPRS/3G/WIFI, all for free
Instant messaging, supporting offline messages
3. Voice talk: You can speak to others, instead of text
4. Support group chat, you can creat a group and invite your friends to chat together
5. Push message: The offline message will be pushed to the desktop, so no message will be missed
6. Friends recommend function: The system will match the friends who are also using GO chat in your address book
7. Find nearby: Find the nearby GO Chat users by location, help you meet more friends
8. Multi-way dating: Find friends who are in the same company/same school/same city with you
Based on real identity, can help you find your contact friends
9. Multi-mode login: You can login with GO ID/email/phone number
10. Support running in iOS 4 and above, perfectly in iOS 5

***How to use? ***
1. Download GO Chat
2. Launch GO Chat and register an account with your real name, let your friends find you faster
3. After registration, system will match the friends who are also using GO chat in your contact automatically, and also recommend other friends that you may konw
4. Send/receive messages with your friends, all messages will be transfered via network, the flow of costs will be charged by the local operators

Hope you love this app and recommend to your friends~
Any problems, please feedback to iosgochat@gmail.com


** Related website **
- Visit our Blog: http://gosms.goforandroid.com
- Email to us: iosgochat@gmail.com
- Visit our facebook profile: http://www.facebook.com/apps/application.php?id=178919808825035


GO聊(GO Chat)登陆iTunes应用商店啦~
是的,安卓设备上最受欢迎的短信应用"GO短信加强版"中的GO聊功能,隆重推出iOS版GO聊独立应用!只要你装上GO聊,就可以免费收发信息~~

什么是GO聊?GO聊是由3G门户(3G.cn)开发的一款适用于iOS与Android平台的即时聊天工具,界面酷炫,好友间可以互发语音短信、图片和文字,让聊天变得更简单!
***功能介绍***
1. 多平台支持:iOS版GO聊可与Android版GO短信无障碍收发消息
2. 完全免费:支持GPRS、3G网络或WIFI,免费收发文字、图片和语音信息
3. 语音对讲:轻轻一按,向对方说话就能收到,从此不再是拇指一族
4. 消息离线推送:离线消息将及时推送至桌面,让您与好友时刻保持联系
5. 好友推荐功能:系统将自动为您推送本地通讯录中使用GO聊功能的好友
6. 查找附近的人:通过当前所处位置查看附近的人,找到身边有缘人
7. 多方式交友:一键查找与您同公司、同学校、同城市的好友
8. 多方式登录:支持GO聊ID、邮箱和手机号登录
9. 完美支持iOS 5

***怎样使用GO聊?***
1. 下载GO聊
2. 打开GO聊,完成注册(建议在注册过程中输入真实姓名,让你的好友更快找到你)
3. 注册成功后,系统将自动帮你找寻手机通讯录中也使用GO聊的朋友,还会自动向你推荐可能认识的好友
4. 只要双方都装有GO聊就能互发免费信息,所有消息均走无线网络通道,使用过程中的流量费用将由当地运营商收取
What's New in Version 1.8
GO Chat v1.8 update(2012-06-08):
-Solved voice talk crash problem, fixed and optimized some other issues;
iPhone Screenshots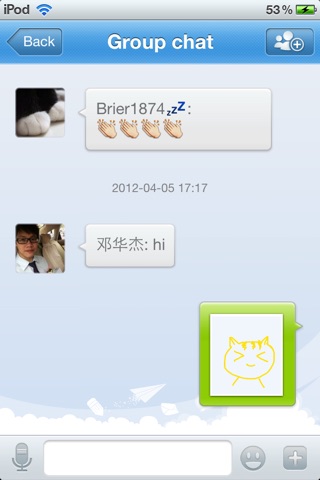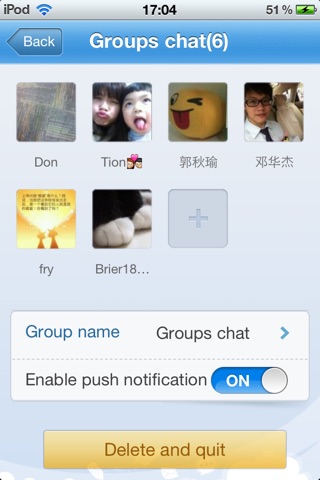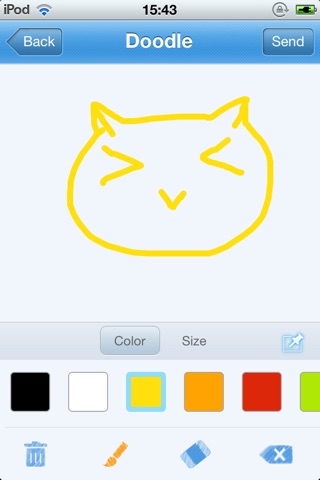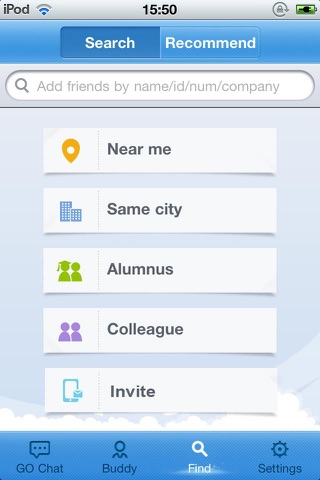 View in iTunes
Free

Category:

Social Networking

Updated:

15 June 2012

Version:

1.8

Size:

8.4 MB

Languages:

English, Simplified Chinese

Developer:

Guangzhou Jiubang Digital Technolgy Co.,LTD
Compatibility: Requires iOS 4.0 or later. Compatible with iPhone, iPad and iPod touch.