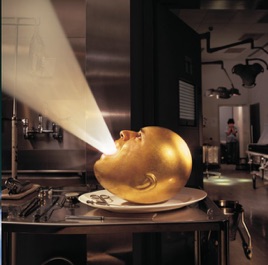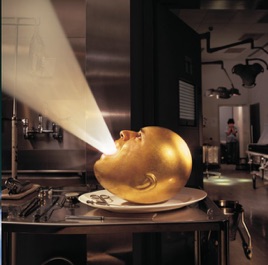 De-Loused in the Comatorium
| | TITLE | | TIME |
| --- | --- | --- | --- |
| | | | 1:35 |
| | | | 4:23 |
| | Roulette Dares (The Haunt of) | | 7:30 |
| | | | 1:28 |
| | | | 7:05 |
| | | | 6:20 |
| | | | 12:28 |
| | This Apparatus Must Be Unearthed | | 4:57 |
| | | | 6:18 |
| | Take The Veil Cerpin Taxt | | 8:41 |
10 Songs, 1 Hour
Released:

24 Jun 2003

℗ 2003 The Mars Volta, Licensed Exclusively to Universal Records, a Division of UMG Recordings, Inc.
About The Mars Volta
Picking up the pieces from At the Drive-In, Cedric Bixler-Zavala and Omar Rodriguez-Lopez formed the Mars Volta and wasted little time branching out into elements of hardcore, psychedelic rock, and free jazz that expanded on the boundaries of their previous work. Although their previous band's demise ultimately arrived before they were able to truly capitalize on their mounting commercial triumphs, the Mars Volta immediately impressed with their willingness to eschew conventional logic and push themselves into new artistic directions instead of opting for the more marketable sounds. (Interestingly, their progressive yet streamlined approach gave them the early lead among critics against their former bandmates in Sparta, the more emo-leaning of the bands resulting from the split.) Bixler-Zavala and Rodriguez-Lopez enlisted friends Ikie Owens (also of the Long Beach Dub Allstars) and Jeremy Michael Ward, and the Mars Volta debuted with the EP Tremulant in 2002. Still, as much of their reputation was built on the strength of their live show, their highly energetic performances resulted in a wave of word-of-mouth hype that elevated the band to near-mythic proportions because so little of their recorded material was available to the public. Sadly, Ward passed away May 25, 2003 at the age of 27 from an apparent drug overdose. The Mars Volta had recently returned from an European tour supporting the Red Hot Chili Peppers, where they introduced brand-new tracks from the full-length De-Loused in the Comatorium, which was released via Universal the following June.

The band returned in early 2005 with their second full-length, the ambitious song cycle Frances the Mute. (They also issued the live set Scab Dates later that year.) Leading up to the release of third album Amputechture in September 2006, drummer Jon Theodore quit and was replaced by Blake Fleming (who had played on early Mars Volta demos). The album also featured an expanded role for the Red Hot Chili Peppers' John Frusciante. Less than a year later, in late 2007, the new single "Wax Simulacra" paved the way for the fourth Mars Volta album, The Bedlam in Goliath, which debuted at number three on the American albums chart. Less than two years later, the band had prepared their follow-up, a slightly quieter outing titled Octahedron that became their debut for Warner Bros. Rodriguez-Lopez has also recorded multiple times, producing more than a half-dozen albums within the span of as many years. In 2011, it was announced that At the Drive-In would be reuniting, though this didn't slow down Bixler-Zavala and Rodriguez-Lopez, who released their sixth album as the Mars Volta, Noctourniquet, in early 2012. ~ Matt Fink
ORIGIN

El Paso, TX

GENRE

FORMED

2001
Millions of songs.
Zero ads.
New subscribers only. Plan automatically renews after trial.