Classics
De Andrew Kazmierski
Abre iTunes para comprar y descargar Apps.
Descripción
*** ON SALE THROUGH THE HOLIDAYS! ***

Many of you have been contacting us with questions about Apple's recently announced iBooks for iPad. We have no involvement, but we are proud to have influenced the future user interface of digital reading.

--

Escape into some of the greatest stories ever written.

Experience digital reading in a way that is so natural, and so obvious, it just feels right.

It begins with a collection of over a dozen hand-picked, literary masterpieces…

THE COLLECTION
• *NEW* Through the Looking-Glass (ILLUSTRATED)
• *NEW* The Odyssey
• *NEW* The Art of War
• *NEW* The Wonderful Wizard of Oz
• *NEW* The Illiad
• *NEW* The Count of Monte Cristo
• *NEW* Frankenstein
• Dracula
• Treasure Island
• Pride & Prejudice
• A Christmas Carol (ILLUSTRATED)
• Alice's Adventures in Wonderland (ILLUSTRATED)
• Gulliver's Travels
• The Time Machine
• The Adventures of Huckleberry Finn
• The Call of the Wild
• Flatland (ILLUSTRATED)
• 20,000 Leagues Under the Sea
• Robinson Crusoe
• The Jungle Book
• The Metamorphosis
• Paradise Lost
• Hound of the Baskervilles

"You get the feeling of actually reading a book" - Jim Dalrymple, Macworld

FEATURES
• An intuitive and elegantly designed reading experience with realistic 3D page flips that track to your finger. You can even drag a bit to take a peek at the next page, or finish reading a sentence as you start turning!
• Flick up and down in your virtual bookcase to view your collection, tap a book to open, and tap and hold to drag and sort your books
• Tap the table of contents button on the top right for quick navigation between chapters
• View how far you are in a book at a glance with a subtle progress display integrated into the top bar
• Classics automatically remembers your place with a satin bookmark when exiting the app or book
• Options to toggle 'page flip' animation to a more minimal 'slide', and to turn the page flip sound off and on can be found in your iPhone's settings application

"You're really getting a much nicer book experience… it's a gorgeous program." - Leo Laporte, MacBreak Weekly
Novedades de la versión 1.3
• Fixed ordering in the chapter list of "Flatland."

NEW TO THE COLLECTION
• "Through the Looking-Glass" by Lewis Carroll
• "The Odyssey" by Homer
• "The Art of War" by Sun Tzu

If you haven't already, be sure to leave a review (we love hearing what you think of our app!), and check out our new Facebook group to leave book requests and ask questions: http://tinyurl.com/classicsfacebook

Thank you for your continued support!
Capturas de pantalla del iPhone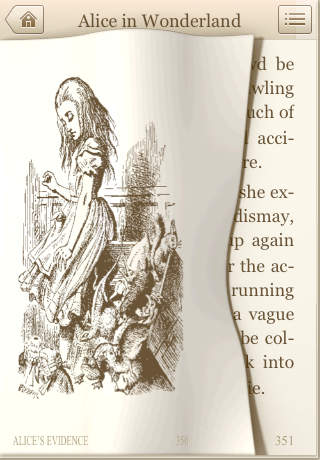 Reseñas de usuarios
Excelso!!!
Muy buena aplicación muy buenos gráficos, las paginas están adaptadas al tamaño del touchscreen, un tamaño de letra decente, muy buenos títulos y sobre todo los efectos. De ellos puedo decir que son en verdad buenisimos, el hecho de que los libros se te presentan acomodados en un librero y mejor aún que los puedes acomodar a tu gusto, por otro lado está el libro, que al pasar las páginas es como si de verdad pasaras las páginas de un libro de verdad, otro aspecto que me gustó es que cuando cierras el libro (o regresas al menú principal), automáticamente se coloca sobre la página en lectura un separador. Y por si fuera poco puedes escuchar tu música mientras lees. Así que si eres de las personas que les gustan leer clásicos es una muy buena compra, ya que vale muchisimo más de lo que cuesta.
Idioma
Excelente app pero seria ideal q estuvera en varios idiomas
Los clásicos en tu bolsillo
"Metamorfosis" de Kafka, "La maquina del tiempo" de Wells, "La illiada y la odisea" de homero, clásicos que todo mundo debería de leer y esta aplicación lo hace posible ofreciendose de forma gratuita, es una lástima que no este en español, sin embargo si estas aprendiendo inglés te pueden ayudar a conocer palabras rebuscadas del idioma.
Ver en iTunes
$99.00

Categoría:

Libros

Actualizado :

16/07/2009

Versión:

1.3

Tamaño:

48.0 MB

Idioma:

Inglés

Vendedor:

Andrew Kazmierski
Compatibilidad: Requiere iOS 2.0 o posterior. Compatible con iPhone, iPad y iPod touch.
Más Apps para iPhone de Andrew Kazmierski