Manual for the United States of America
De Clint Bagwell Consulting
Abre Mac App Store para comprar y descargar apps.
Descripción
The popular iPhone app is now available for Mac! Whether you need to cram for a History final or just got a new job leading a world superpower, having America's founding documents close at hand is essential. We combined our free copies of the Constitution and the Declaration of Independence along with several other important references into one easy to use application.

Included:
-List of U.S. Presidents with bios
-List of U.S. States with information
-Supreme Court Justices with bios
-Selected opinions from landmark Supreme Court cases
-Declaration of Independence, with signer bios
-Articles of Confederation
-U.S. Constitution, with signer bios
-Federalist Papers
-Anti-Federalist Papers
-Washington's Farewell Address
-Louisiana Purchase Treaty
-Treaty of Guadalupe Hidalgo
-Emancipation Proclamation
-Lincoln's 2nd Inaugural Address
-Gettysburg Address
-United Nations Charter
-Censure of Joseph McCarthy
-1963 Nuclear Test Ban Treaty
-1964 Civil Rights Act
-Indian Bill of Rights
-2001 Patriot Act
-American Recovery and Reinvestment Act of 2009
-How Our Laws Are Made
-U.S. Flag Code with image/measurements, history, and manner of display
Novedades de la versión 1.1
Updated government officials info, improved text layout.
Capturas de pantalla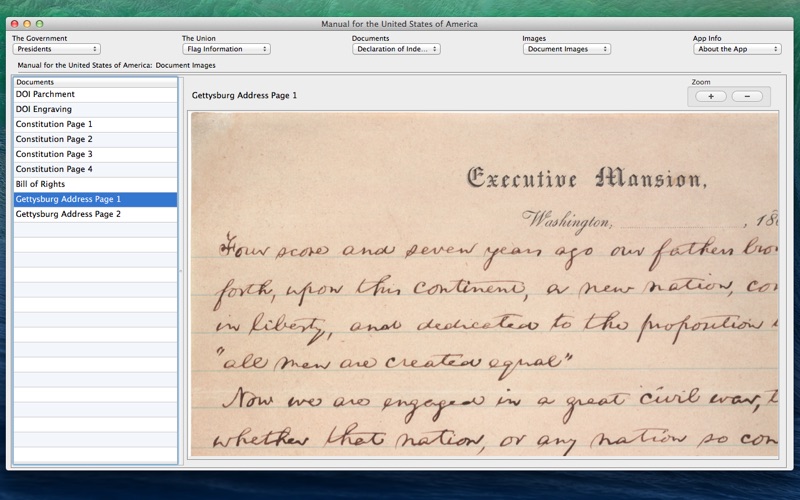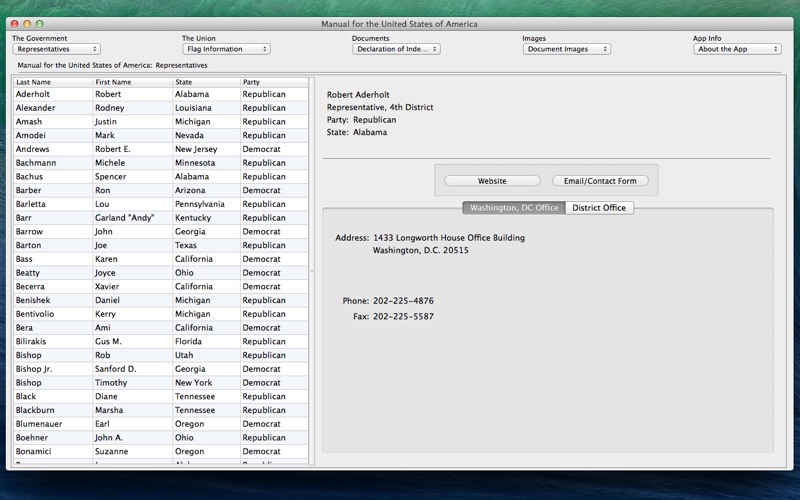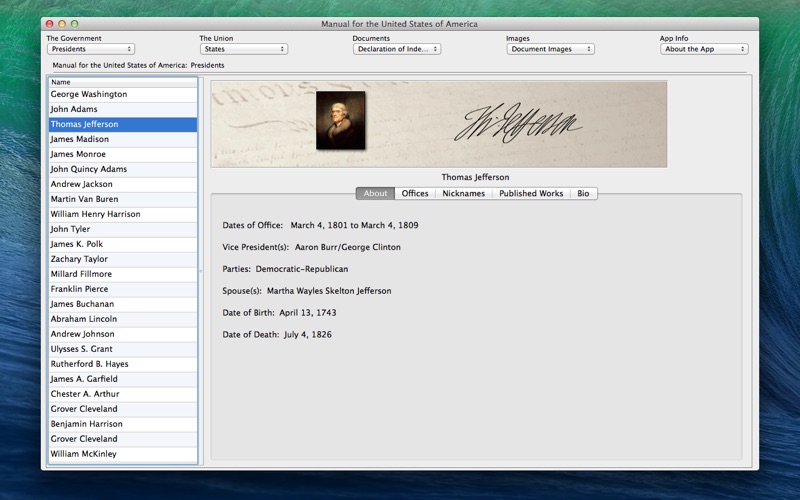 Ver en Mac App Store
$39.00

Categoría:

Referencia

Actualizado :

09/11/2013

Versión:

1.1

Tamaño:

109 MB

Idioma:

Inglés

Vendedor:

Clint Bagwell Consulting
Compatibilidad: Mac OS X 10.8 o posterior, 64-bit processor