Fare Check - Instant Uber Price and Arrival Estimates
Oleh Great Time Apps
Aplikasi ini hanya tersedia di App Store untuk peranti iOS.
Penerangan
Instant Time Estimates and Fare Quotes for Uber across all services

- Quickly compare uberX, uberXL, Black and SUV pricing
- Spot surge pricing
- Enter your destination for a full fare quote, including arrival estimate
- Tap to open the uber app, and request your car instantly

A free, awesome service for the amazing Uber Community

Powered by the Uber API
Apakah yang Terbaru dalam Versi 1.0.2
Place Search Improvements via Goolge Autocomplete
Tangkapan skrin iPhone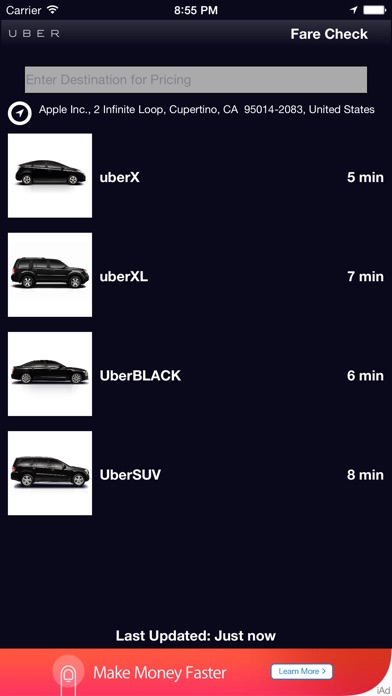 Pelanggan Juga Telah Membeli
Lihat Dalam iTunes
Percuma

Kategori:

Pelancongan

Dikemas Kini:

18/03/2015

Versi:

1.0.2

Saiz:

10.9 MB

Bahasa:

Inggeris

Pembangun:

Great Time Apps
Keserasian: Memerlukan iOS 7.0 atau terkini. Serasi dengan iPhone, iPad dan iPod touch.