Nota Magnet
By iReka Soft
This app is only available on the App Store for iOS devices.
Description
Nota tentang 'barang' yang menarik kejayaan, kebahagiaan dan kekayaan.
Tujuan Nota Magnet ini ditulis adalah untuk berkongsi key point dengan rakan-rakan kelas IMKK kelolaan Dr. Azizan Osman yang pernah hadir sendiri untuk mengalami experience installation magnet dan NLP yang lain.
Semoga menjadi manfaat kepada pembaca. Diharap agar pembaca dapat memberi maklumbalas jika terdapat sebarang tambahan atau kesilapan. Sebagai seorang manusia kita tak sempurna, dan memerlukan panduan.

Kelebihan menulis atas platform ebook app adalah kita boleh update dalam masa akan datang dengan mudah, dan pengguna pun boleh update app mereka.

Nota ini dipetik dari pengalaman saya sendiri menghadiri 2 kali program IMKK pada bulan Februari dan September 2015.

Aplikasi ini adalah untuk tujuan rujukan dan pembelajaran semata-mata, iReka Soft Ent. tidak ada kaitan dengan Richworks Sdn Bhd atau seumpamanya. Semua formula asal adalah ciptaan Dr Azizan sendiri dan pihak kami hanya menyampaikan dari apa yang kami fahami.

1. Mempelajari MAGNET
2. Tahap-Tahap Keyakinan
3. Mengenali Potensi Diri
4. LUCK
5. 10 Matlamat Anda
6. Formula Be-Do-Have
7. Pyramid of Result
8. Thought-Emotion-Action
9. Kolam Jiwa
10. Maintain Consistent High Energy
11. Human Psychology
12. Energy in Motion
13. Emotional Drive
14. Menorobos Halangan Diri
15. Formula M.E.S.T.I
16. Musuh Utama Kejayaan
17. Halangan Utama Mencapai Kejayaan
18. Kelemahan untuk Berjaya
19. Ketakutan Penghalang Kejayaan
20. Reprogramming Road Map : Kejayaan
21. 8 Forms of Wealth
22. Bangkit Berniaga
23. Berkawan dengan En. Wang
24. Bisnes Plan Mentor buat Bisnes Karipap 'Janpap'
25. ESBI QUADRANT
26. Kebebasan Kewangan
27. 6 Tabung
28. Prinsip Asas Bisnes
29. RM1 juta Dalam Tempoh Setahun
30. 10 Salah Faham Tentang Bisnes
31. Kesilapan Berniaga
32. Ketegori-Kategori Bisnes
33. Tips bisnes
34. Tips Kepada Pekerja
35. Emosi Nak
36. Look Everything is Affordable
37. Di Mana Diri Kita
38. The power of proximity.
39. Teknik pernafasan
40. Senyuman
41. 20S
42. 14 Kunci Magnet
43. Brainwave
44. Change Your Brain Change Your Life
45. Bonus : Quantum Physics
What's New in Version 1.2.1
• fix layout on 4s
iPhone Screenshots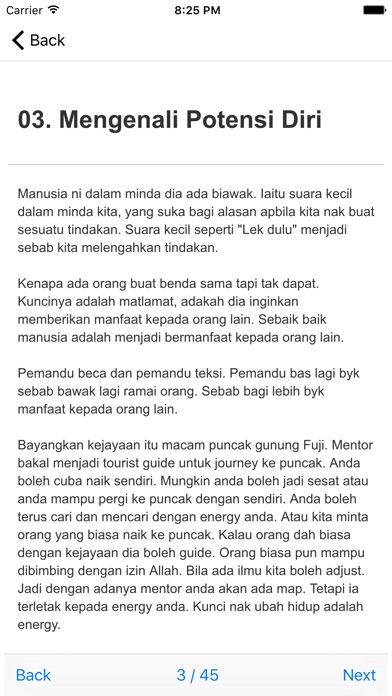 View in iTunes
Free

Category:

Books

Updated:

01 June 2016

Version:

1.2.1

Size:

10.3 MB

Language:

English

Developer:

iReka Soft
Compatibility: Requires iOS 8.0 or later. Compatible with iPhone, iPad and iPod touch.