Schedaroo Lite
By edenpod
This app is only available on the App Store for iOS devices.
Description
Schedaroo Lite allows you to schedule all your emails to be sent out at a later time. Upgrade to the full version of Schedaroo to enjoy additional features of Facebook Scheduler and Twitter Scheduler!

Schedule all your future emails, Facebook and Twitter updates all in one account with the full version of Schedaroo.

★★★ PRAISE FOR SCHEDAROO ★★★

✔ Featured in iTunes in 90 places

"... I'm won over by the app's functionality and ease of use and planning to stick with Schedaroo." - The iPhone Mom

"... if you're looking for a way to schedule the sending of emails and social networking posts, Schedaroo is what you need." - Fresh Apps

"The simple interface and managed communication history make Schedaroo a very useful utility and an efficient tool for day to day communications." - iPhoneFootPrint.com

★ HOW IT WORKS ★ 

Schedaroo is your future time machine for messages all rolled up in an iPhone app. With a simple 3-step process, Schedaroo ensures that your message gets delivered on time, every time!

1. Type out a message.

2. Choose the type of message, whether its Facebook/Twitter or email (Facebook/Twitter Scheduler available only with the upgraded version of Schedaroo).

3. Choose the date and time that you want the message to be sent out and DONE!

When your email/message gets sent, you get a push-notification confirming the sent message. With Schedaroo, you can manage your emails and social media postings anytime anywhere without worries!

Schedaroo helps you to

Plan Ahead

• email before your holidays
• updates on Facebook pages before your meetings
• schedule all your tweets before you get to a place with no Internet connection

Manage your time

• no more sleepless nights or early morning starts
• multiple posts to appear at the same time during the high traffic time slots on social media to garner better impressions and engagement
• keep the hot news going out on your social platforms at regular intervals without interrupting your busy day


Already using Schedaroo?
Great! Consider adding a review at the iTunes App store. Stay up to date via http://www.facebook.com/Schedaroo


---------------------------


信息定时发送器(Schedaroo)

使用"信息定时发送器",只需一个帐号,就可以安排您所有未来的电子邮件。

"信息定时发送器"是您管理信息发送的时间机器。只需要3个简单步骤,"信息定时发送器"就能确保您的信息能够准时、随时发送。
1.输入您想发送的信息
2.信息类型:电子邮件
3.选择您希望的信息发送日期和时间。一切搞定!

当您的电子邮件或信息发送后,您将能收到一条系统推送,告知您信息已发出。使用"信息定时发送器",您就可以随时随地管理您的电子邮件的发送,不再有任何烦恼!

"信息定时发送器"能帮助您:
提前计划
•在您的假期或者会议之前写好邮件
•在您前往一个没有网络的地方之前编写好推特信息

管理您的时间
•再也不会有缺少睡眠的夜晚与早起的清晨
•在高峰期也能使您的多条信息同时发出,帮助您获取更佳的印象


★★★★★"信息定时发送器"所获成就 ★★★★★
✔ 在90个地方被iTunes重点推介


★★★★★"信息定时发送器"所获赞誉★★★★★
"……我被这款应用的功能与易用性征服了,我想我会一直使用下去的。"——iPhone老妈(The iPhone Mom)

"……如果你正在找一种定时发送电子邮件与社交网络信息的工具,那么'信息定时发送器'就是你想要的。"——新潮应用(Fresh Apps)

"清爽的界面与易管理的通讯记录使得"信息定时发送器"成为一个非常有用与高效的日常通讯工具。"——iPhoneFootPrint.com


已经使用过"信息定时发送器"了?
太棒了!考虑一下在苹果商店里给我们写一个评价吧。最新信息请关注:http://www.facebook.com/Schedaroo
 
What's New in Version 2.2
Now you can schedule the messages to LinkedIn Connections
iPhone Screenshots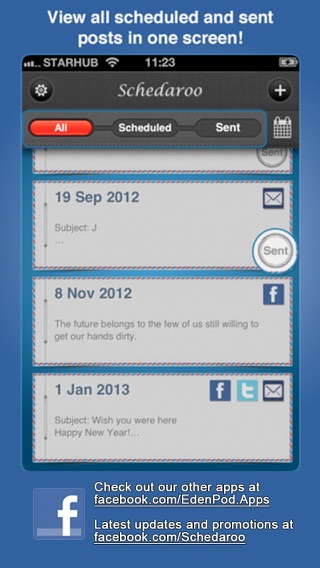 View in iTunes
Free

Category:

Utilities

Updated:

31 December 2013

Version:

2.2

Size:

9.3 MB

Language:

English

Developer:

Edencr8 Pte Ltd
Compatibility: Requires iOS 6.0 or later. Compatible with iPhone, iPad and iPod touch.
Top In-App Purchases
Facebook SchedulerRM3.90