AmpliTube FREE
van IK Multimedia
Open iTunes om apps te kopen en te downloaden.
Omschrijving
EXPAND YOUR RIG FOR A GREAT PRICE WITH THE ULTIMATE ALL-INCLUSIVE BUNDLES: ALL-IN GEAR BUNDLE 2014 AND LOOP DRUMMER ALL STYLE PACKS 1&2. SAVE UP TO 70%!

Turn your iPhone®/iPod touch® into the ultimate mobile guitar and bass multi-FX processor and DAW recording studio with AmpliTube FREE! Play, practice and record with a massive collection of virtual amplifiers, cabinets, stompboxes and more from the leader in analog gear modeling.

AmpliTube gives you control of a full guitar or bass rig with 3 effects, an amp, a speaker cabinet and a mic. Sculpt the perfect tone with its 3 built-in effects (delay, noise filter and distortion once registered), 1 amp, 1 speaker cabinet and 2 mics.

Plug your guitar into AmpliTube via IK's iRig® HD or iRig® PRO digital instrument interfaces (or iRig® or iRig® STOMP). And for the ultimate playing experience, plug in your iRig® BlueBoard to control AmpliTube straight from the floor — the latest version features comprehensive iRig BlueBoard integration.

When you're ready to rock, you can use AmpliTube's built-in recorder and DAW-style Studio* feature (available via in-app purchase) to record and edit multitrack audio like a pro. With the latest version of AmpliTube you can expand its recorder to 8 tracks via in-app purchase.

For practice and performance, use the built-in Loop Drummer drum module to jam to killer drum tracks. It can intelligently create rhythms or you can build your own by dragging and dropping its prerecorded loops on the timeline. Get more loops via the in-app purchase of Style Packs — the latest version adds 3 new style packs and 5 variations on existing Style Packs for you to try.

AmpliTube features:
- Real-time guitar and bass mobile multi FX and recording app
- Use 3 simultaneous stomp boxes, 1 amp, 1 cab and 1 mic
- Comes with 3 stomps, 1 amp, 1 cabinet and 2 mics
- Add more gear models via in-app purchase: Official amps from Soldano®, Ampeg® and ENGL®, 5 official Fender™ amps and 5 stomps, 6 official Orange® amps and 3 stomps, 2 official Jimi Hendrix™ amps and 4 stomps, an official stomp from T-Rex® and more
- Single-track recorder expands to 8-track studio with master effects via in-app purchase
- AutoFreeze feature allows for separate effects rigs on each recorder track
- Studio feature* (available via in-app purchase) turns multitrack into a DAW with full editing features
- UltraTuner, the high precision tuner, available as in-app purchase
- Loop drummer module that plays in sync with the recorder
- Includes Speed Trainer, Metronome & Tuner
- Inter-App Audio support (available on iOS 7 and above)
- Project sharing between versions and devices
- Preroll function
- Import and play songs as backing tracks from your Music Library or computer
- Export via E-mail, SoundCloud, FTP or File Sharing
- Audio copy/paste
- Speed up or slow down tempo of imported songs without changing pitch
- NO VOICE removes lead vocal or guitar solo from imported songs
- Powerful management of presets and favorites
- Tuner and metronome
- Digital audio in/out
- MIDI controllable
- Low-latency for real-time playing
- FULL and LE versions also available

More apps info:

www.amplitube.com/iphone
www.amplitube.com/hendrix
www.amplitube.com/slash
www.amplitube.com/fenderiphone
www.ikmultimedia.com/vocalive

Accessory info:

www.irigblueboard.com
www.irigpro.com
www.irighd.com
www.ikmultimedia.com/irigmidi2
www.amplitube.com/irig
www.irigstomp.com

* requires iPhone 4, iPod touch (5th generation), iPad 2 or later
Wat is er nieuw in versie 3.4
- New ENGL Amps for in-app purchase
- Native support for iRig BlueBoard
- New Loop Drummer 2 loop collections for in-app purchase
- Project sharing between versions and different devices
- AmpliTube recorder has been expanded to 8 tracks
- Improved MIDI control
- New multi-language dynamic tooltips
- Use iCloud to transfer in-app purchases between the 5 main AmpliTube versions
- Now compatible with Audiobus on iOS 8
iPhone schermafbeelding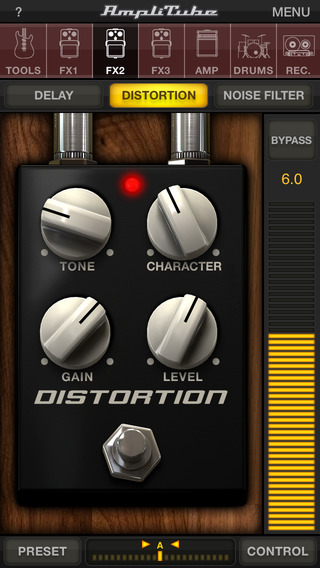 Bekijk in iTunes
Gratis

Categorie:

Muziek

Bijgewerkt:

16-10-2014

Versie:

3.4

Grootte:

315 MB

Talen:

Engels, Frans, Italiaans, Japans, Portugees, Spaans

Ontwikkelaar:

IK Multimedia US, LLC
Compatibiliteit: Vereist iOS 7.0 of nieuwer. Compatibel met iPhone, iPad en iPod touch. Deze app is geoptimaliseerd voor iPhone 5.
Top aankopen vanuit app
Recorder + Master Fx€ 14,99
Chorus€ 2,99
Overdrive€ 2,99
Bass Amp€ 4,99
Clean Amp€ 4,99
Complete Fender Bundle€ 14,99
Metal Amp€ 4,99
Envelope Filter€ 2,99
Wah€ 2,99
Reverb€ 2,99
Meer iPhone apps van IK Multimedia