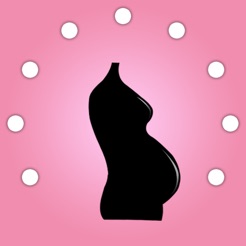 Contraction Timer Deluxe
4+
#157 in Gezondheid en fitness
iPhone-schermafbeeldingen
Beschrijving
Is it really time? The main thing separating "real" labor from "false" labor is that in true labor, your contractions will get progressively longer, stronger, and closer together. Use this app to help you time your contractions!

Key Features:
√ Streamlined and easy to use interface
√ Tracks time and duration of each contraction
√ Plots trends on graphical chart for your contraction timing
√ Contraction statistics and logs
√ Emails your contraction timings
√ Password protection


Our support email: support@delworks.com
== v2.0 ==
NEW:
-Supports contraction and interval chart
-Stats for max contraction duration and minimum interval
-Group contraction as sessions
-Reset a contraction session
-Minor bug fixes
Beoordelingen en recensies
Perfecte app!
Erg goed gebruik van gemaakt tijdens de bevalling. De perfecte manier om de weeen en de pauzes te meten en inzichtbaar te maken!

Ps. It's a boy too!!
Perfect
Perfect app, best you can get of its kind.
App keeps hanging
When it works the app is simple to use. But it keeps hanging. I open the app and it doesn't respond. Also not after restarting the iphone 4s. Pity of my 99ct.
Informatie
Verkoper

Deltaworks Limited

Grootte

5.7 MB

Categorie

Compatibiliteit

Vereist iOS 4.0 of nieuwer. Compatibel met iPhone, iPad en iPod touch.

Leeftijd

Beoordeeld 4+

Copyright

© 2010 Deltaworks

Prijs

€ 1,09
Ondersteunt
Delen met gezin

Tot zes gezinsleden kunnen deze app gebruiken als Delen met gezin staat ingeschakeld.