Documents Free (Mobile Office Suite)
Van Savy Soda
Open iTunes om apps te kopen en te downloaden.
Omschrijving
Documents Free
by SavySoda™


••• Ranked the #1 overall BUSINESS APP •••
••• on iTunes in OVER 40 COUNTRIES. •••
••• Over 20 Million Users on iOS •••
••• AS FEATURED ON APPLE, USA TODAY •••


iPhone's and iPad's light weight mobile office suite. This essential application allows you to edit and manage spreadsheet & rich text files on your iPhone. Works both online and offline. You can also synchronize files to your Google Drive, Dropbox, Box, and SkyDrive accounts and open files on your PC or Mac.


Works with Dropbox™
Works with Google Drive™
Works with Microsoft OneDrive™


Files can be opened using Microsoft Word and Excel, Open Office, Numbers, and all major office suites.


INCLUDES

• iSpreadsheet (a premier spreadsheet app)
• Text Editor (to edit basic text)
• iPhone file browser (to view iPhone files)
• Google Sync (to upload/download documents)
• Dropbox Integration


FEATURES

• Smooth User Interface
• Portrait & Landscape mode
• Full support for .txt and .csv files
• Limited support for .doc, .docx, .xls, .xlsx files from Google Docs
• Google upload & download
• Files can be opened in Microsoft Excel, Word, Apple Numbers, TextEdit, Notepad, Openoffice & all leading office suites.
• Works anywhere online or offline.
• Spreadsheet supports formulas, formatting, resizing, and all basic spreadsheet features.
• Beautiful UI.
• Free updates


SOME USES

• Lightweight office work on the run
• Backup of documents
• Quick access to spreadsheets, notes, memos
• Basic word processing
• Pocket Spreadsheet


The Documents suite of apps is the ORIGINAL and most popular mobile office and file management solution for the iPhone and iPod. Over 20 million users choose Documents for their everyday business and productivity use. And it's now available for everyone to use for FREE. There is also option to upgrade.


Free iPhone Business Apps:
http://www.savysoda.com
Wat is er nieuw in versie 9.3
-= v9.3 =-
- Native iPad Pro Support
- Improved support for hardware keyboards
- Improved support for iPads

-= v9.2 =-
- Fixed a issue with rich text editing where changing to some font sizes causes the app to crash.

-= v9.0 =-
- Fixes various stability issues when running on iOS 9
- Apple Watch Support
- Spotlight Search Support
- 3D Touch Support

-= v8.1 =-
- Fixed issue with iCloud document list not refreshing correctly on iOS 8.1.x

-= v8.0 =-
- Added quick link Today Widget
- Fixed connectivity bugs running on iOS 8
- Improved stability
- Improved speed on 64bit devices

-= v7.9 =-
- Additional iOS 8 Fixes and Enhancements
- Fixed crash issues on iPad when sharing/printing
- Added iCloud Drive import/export option
- Google Drive improvements
- Improved Icons in iPhone 6 and 6 Plus

-= v7.8 =-
- iPhone 6 & iPhone 6 Plus Native Support
- iOS 8 Compatibility fix
- Fixed crash in text editing
- Stability update in Spreadsheet
- Fixed icon rendering on iOS 7.1
- Improved file browsing speed

-= v7.7 =-
- Improved landscape support
- Additional subscription length
- Stability improvements

-= v7.6 =-
- Faster file browsing
- Multipage and B&W scanning
- Stability bugfixes

-= v7.5 =-
- Minor Bugfixes

-= v7.4 =-
- Improved Landscape Support
- Added Chinese Localization
- Speed improvements
- Stability improvements
- Fixed issue with autoscroll

-= v7.3 =-
- Fixed minor UI glitches

-= v7.2 =-
- Fixed issue exiting scanning mode

-= v7.1 =-
- Fixed a issue crash on launch when large pdf files exist
- Fixed a UI display issue
- Fixed Save As Logic

-= v7.0 =-
- iOS 7 Update
- Improved performance
- Improved rich text file support
- Improved support for attachments
- Refreshed UI and transitions
- New file transfer options
- New tutorial screens
- Fixed a rare crash issue on saving

-= v6.4 =-
- Fixed a slowdown/crash issue on directory screen

-= v6.3 =-
- Added support for new video codecs
- Fixed a rare launch crash bug

-= v6.2 =-
- Fixed open with bug
- Fixed default print margins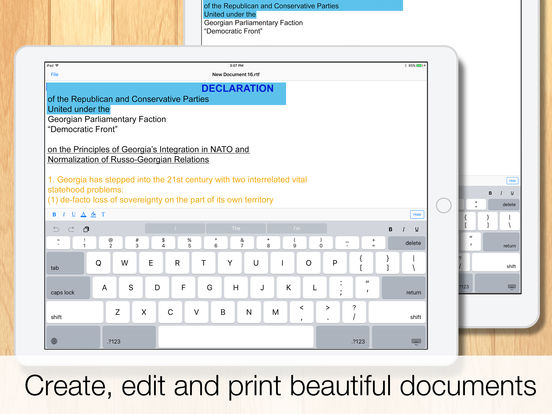 Recensies van klanten
Documents
Ideale app.
Thuis lijstje maken en vervolgens altijd alle info die van belang is bij je hebben.
Ik ben er erg blij mee.
Bekijk in iTunes
Deze app is voor iPhone en iPad ontwikkeld
Biedt Apple Watch App voor iPhone
Gratis

Categorie:

Zakelijk

Bijgewerkt:

08-01-2016

Versie:

9.3

Grootte:

36.9 MB

Apple Watch:

Ja

Talen:

Duits, Engels, Frans, Italiaans, Japans, Koreaans, Portugees, Russisch, Spaans, Thai, Trad. Chinees, Vereenv. Chinees, Vietnamees

Ontwikkelaar:

Savy Soda Pty Ltd
Compatibiliteit: Vereist iOS 6.0 of nieuwer. Compatibel met iPhone, iPad en iPod touch.