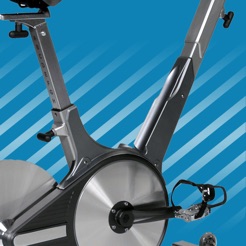 Keiser Ride Buddy Lite
4+
iPhone-schermafbeeldingen
Beschrijving
Keiser Ride Buddy™ Lite (also known as Keiser Buddy) has been specifically designed to work with the Keiser m3 Indoor Cycle with power. Keiser Buddy is an app that focuses on training load.
• After-ride data entry and viewing is now on a Keiser-M3 style console.
• You can use the five-zone Heart Zones® model, or the three-zone Zoning model.
• Tapping the time bar at the top will toggle between elapsed and remaining time.
• Numerous bug fixes and small improvements
Informatie
Verkoper

cyclingdvds.com, LLC

*WEA.AppPages.Size*

4.9 MB

Categorie

Compatibiliteit

Vereist iOS 4.2 of nieuwer. Compatibel met iPhone, iPad en iPod touch.

Leeftijd

Beoordeeld 4+

Copyright

© copyright 2011, Cycling Fusion

Prijs

Gratis
Ondersteunt
Delen met gezin

Tot zes gezinsleden kunnen deze app gebruiken als Delen met gezin staat ingeschakeld.