Kodable - Coding for Kids
Van SurfScore, Inc
Deze app is uitsluitend beschikbaar in de App Store voor iOS-apparaten.
Omschrijving
Kodable – Coding for Kids
Award-winning coding curriculum for kids! Kodable is designed to teach computer science to elementary students grades K-5 (Ages 4-11).

LOST IN SPACE
The furry aliens, known as Fuzzes were exploring space when their ship unexpectedly crashed on the maze-covered planet Smeeborg. The naturally curious fuzzes need kids to program them to explore all the colorful Technomazes on the planet's surface.

Kids learn the fundamentals of every modern programming language in a fun and inviting way. Concepts learned through the Kodable include:
- Sequence/ Order of operations
- Algorithmic operations
- Conditional logic statements
- Syntax
- Variables including Strings, Integers, and Arrays
- Object Oriented Programming
- Classes and Subclasses
- Properties
- Methods

KODABLE CURRICULUM (Common Core Aligned)
Kodable is the only complete K-5 curriculum taking students from learning to think like a programmer in Kindergarten to writing REAL JavaScript by 5th grade. No computer science knowledge required of teachers! It includes -
- Over 40 scripted, grab & go lesson plans
- Complete pacing for each grade
- Over 200 on-screen activities for students
- Roster Upload + Google Classroom Integration
- Homeschool and Parent curriculum available!


WHY CODE WITH KODABLE?
Even before your children can pronounce the word "algorithm" they have an astounding ability to learn how to use them. Today's best programmers fell in love with coding at a young age by experimenting with the concepts taught in Kodable. Understanding computer science empowers your child for the jobs of tomorrow, and expands your child's mind to solve problems today in more intelligent ways. Students also learn incredibly important 'soft skills' such as

- Problem solving skills
- Higher level thinking skills
- Collaboration skills
- Communication skills
- Critical thinking skills
Wat is er nieuw in versie 7.4.0
BUILD, COLLABORATE, SHARE!

Now you can share your created mazes with classmates and family! With our new improvements to the Kodable Maze Maker, now you can:

- Build mazes for your classmates and family members to play
- See the mazes your classmates and family have built, and play them yourself
- Once you've beaten them, you can "Fork" their mazes, and make them better! Good programmers never stop improving their code ;)

Mazes are automatically shared with classmates, or if you are using Kodable at home, your mazes will be shared with all of the other profiles under your parent's account. This feature is FREE and automatically enabled for everyone, happy coding!
iPad schermafdrukken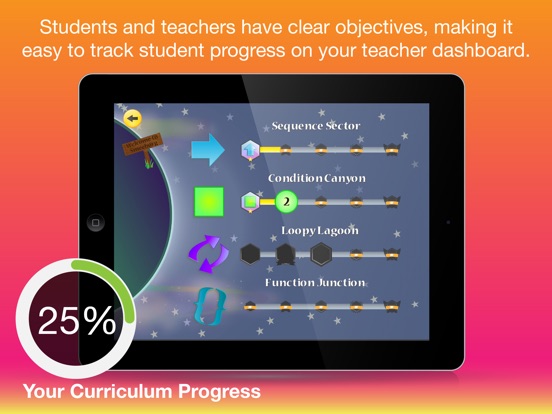 Bekijk in iTunes
Gratis

Categorie:

Onderwijs

Bijgewerkt:

05-10-2017

Versie:

7.4.0

Grootte:

166 MB

Taal:

Engels

Ontwikkelaar:

SurfScore, Inc
Compatibiliteit: Vereist iOS 8.0 of nieuwer. Compatibel met iPad.
Top in‑app aankopen
Parent Plan€ 32,99