Live!Aurora for iPhone(Aurora live broadcasting from Alaska)
van U-ZO co,.ltd.
Open iTunes om apps te kopen en te downloaden.
Omschrijving
*** News 2011/12/13 ***
We recovered from the big earthquake!
Thank you for your support and pray!
So we are performing X'mas campaign.
The license for viewing to the live till December 25, 2011 is under discount.
Thank you.

*** Important News 2011/03/13 from Tokyo,Japan ***
It'll be influence of the big earthquake
which occurred in Japan on March 11th in 2011 and be a blackout
until April by Tokyo with a broadcasting server.
Therefore" An application doesn't start." the symptom happens much. Please accept it.
Thank you very much, and please pray for the people who suffered.
**************************

This app delivers an Alaskan Aurora to your hand in real time. Snap
shot of our DigitalCamera & Video camera for Live broadcasting.
And this app has live movies which is
generated automatically about every 2hours from live snapshot image.
Project "Live!Aurora"
The sales of apprication are the funds to keep delivering a dream to many people.
In order to use this app, you should purchase contents-watching licenses.
This app send your unique device identify to live-server.
This application need a internet connection and iPhoneOS more than 3.0.

Yuzo Koga (Director of Project)
Wat is nieuw in versie 4.0
iOS5 supported.
iPhone schermafdrukken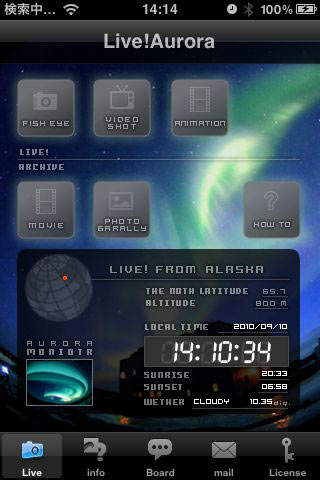 Bekijk in iTunes
Gratis

Categorie:

Het weer

Bijgewerkt:

05-01-2012

Versie:

4.0

Grootte:

2.1 MB

Taal:

Engels

Ontwikkelaar:

U-ZO co,.ltd.
Compatibiliteit: Vereist iOS 4.0 of nieuwer. Compatibel met iPhone, iPad en iPod touch.
Top aankopen vanuit app
30days App-Contentes(Live etc.) watching license€ 3,59
365days App-Contentes(Live etc.) watching license. € 19,99
90days App-Contentes(Live etc.) watching license € 9,99