Lume Cube
Van Lume Cube, LLC
Deze app is uitsluitend beschikbaar in de App Store voor iOS-apparaten.
Omschrijving
Lume Cube - Staff pick on Kickstarter, named USA Today's Best of CES and VideoMaker Editor's CES Choice Award winner.

With this intuitive companion iPhone app, you can simultaneously sync and individually control up to 5 Lume Cubes to create dynamic, dramatic, professional quality images and video to add to your portfolio or upload directly to social media.

Photography is the study of light, the right light is critical to the creation of any masterpiece. Lume Cube is controlled by this iPhone app, opening new creative possibilities for photographers of any skill level. The ability to simultaneously sync and individually control up to 5 Cubes through the app makes Lume Cube the ultimate tool for capturing content on the fly or setting up an entire scene. With each light producing over 1,500 lumens in both flash and video mode, these rugged little Cubes are the perfect solution for the novice iPhonographer looking to take their images to the next level or for the seasoned vet needing to add the perfect light to get their desired result.

Features/Modes
Flash Mode - Fire simultaneously with shutter clicks. Adjustable light output
Video Mode - Constant video light with adjustable light intensity (0 - 1,500 lumens)
Strobe Mode - Adjustable strobe frequency (0.5Hz - 10Hz)
Opto Trigger - Allows Lume Cube to identify external flash sources and fire simultaneously in conjunction with the external flash
Red Eye - Fires a pre-flash to eliminate unwanted red eye in your pictures
5 Cubes - Connect and individually control up to 5 Lume Cubes
Sharing - Share imagery across multiple platforms directly through the Lume Cube app
Library - Save images to your device's native image library
Filters - Choose one of Lume Cube's filters to put the finishing touches on your images
Dual Camera Use - Functions with both your device's front and back facing cameras
Indicators - View Battery and Signal Strength indicators
Battery Life - Over 25 minutes on full power (1,500 lumens) video mode and over 4 hours with varied use

Flash Specs:
9 flash brightness settings: 1/128, 1/64, 1/32, 1/16, 1/8, 1/4, 1/2, 3/4 and 1 x 1500 lumens
1 flash duration for built in camera mode : 1 second
14 flash durations for pro mode: 1/8000, 1/5000, 1/2500, 1/1000, 1/500, 1/250, 1/125, 1/60, 1/30, 1/15, 1/8, 1/4, 1/2, 1 second

Video Specs:
100 video brightness settings: 1%-100% (0 - 1,500 lumens)
8 video durations/strobe frequencies for built in camera mode : always on, 0.5Hz, 1Hz, 1.5Hz, 2Hz, 3Hz, 5Hz, 10Hz
8 video durations for pro mode: 1, 2 5, 10, 15, 20, 30 minutes and always on.
7 strobe frequencies for pro mode: 0.5Hz, 1Hz, 1.5Hz, 2Hz, 3Hz, 5Hz, 10Hz

Register your Lume Cube at www.LumeCube.com so it's unique to you!

Photo Credit: Eddie DiCroce
Photo Credit: Matthew Cummins
Wat is er nieuw in versie 1.13
- Fixes potential layout issue on iOS 10
iPhone schermafdrukken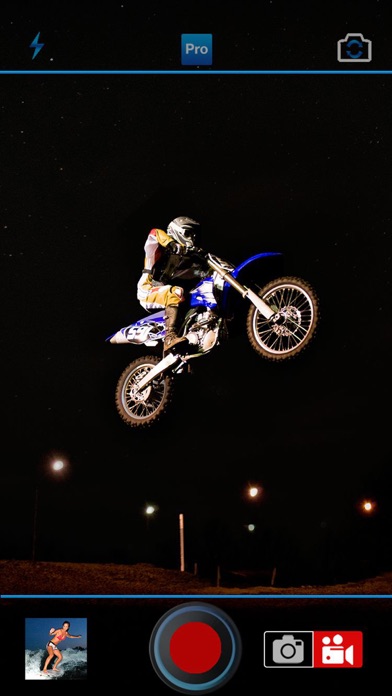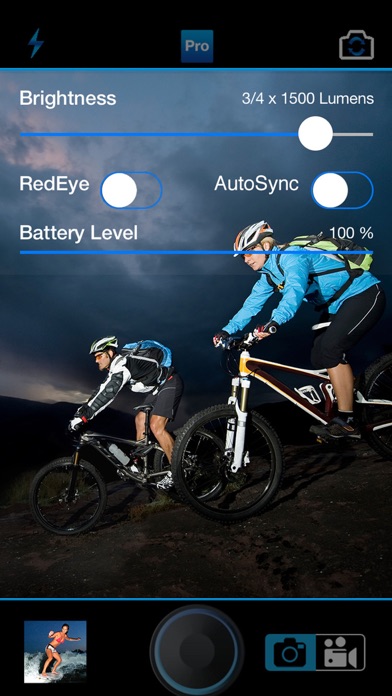 Recensies van klanten
Not optimized for iPhone 6/7 Plus
It's a shame this app is not optimized for the Plus screen size! Please update!
Bekijk in iTunes
Gratis

Categorie:

Foto en video

Bijgewerkt:

06-01-2017

Versie:

1.13

Grootte:

3.6 MB

Taal:

Engels

Ontwikkelaar:

Lume Cube LLC
Compatibiliteit: Vereist iOS 8.0 of nieuwer. Compatibel met iPhone, iPad en iPod touch.